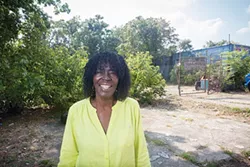 On Pittsburgh City Council's first day back from summer recess, Hill District resident Ramele Davis was the only person there to testify.
"I'm coming here today to ask you, will you please stand with me to stop these teenagers from shooting each other," Davis said. "It's getting worse. I'm getting scared to sleep in my house at night."
This summer, City Paper tracked the number of gun homicides in Pittsburgh between Memorial Day and Labor Day. According to the Pittsburgh Bureau of Police, that number is down from last year. There were 16 firearm-related deaths between the end of May and the beginning of September, compared to 21 the summer before.
But those numbers don't tell the whole story, bureau officials say. Confirming Davis' city-council testimony, police say the number of shootings in Pittsburgh was up this summer — way up. As of Sept. 3, there were 83 non-fatal shooting in the city, compared to 60 last year.
"There's been so many shootings every day, and sometimes multiple shootings in a day," District 2 Councilor Theresa Kail-Smith said at the Aug. 28 council meeting. "You can hear the pain in their voices and how terrified people are."
The discussion at city council reflects conversations happening in every neighborhood of the city. In Manchester, residents turn to Facebook to triangulate the location of the gunshots they hear. Last week, more than 100 Carrick residents gathered to talk about blight and crime in their neighborhood.
"The murder rate is down, but the gun violence is not down," says Pittsburgh Police Major Crimes Commander Larry Scirotto. "It's disruptive to our community. While we're happy to say we know we have a safer city, we have some portions of our city that are very volatile relative to gun violence."
The problem is somewhat self-contained. Police say that in most cases, the victims and perpetrators in these shootings are tied to criminal activity. But that doesn't eliminate the fear of those living in these communities who, from their living-room couches, listen to the gunshots ring out nightly.
The solutions for reducing gun violence remain varied. Some are calling for more economic opportunities. Others demand fewer guns. But many argue that the key to reducing violence means dusting off city laws and programs that have never been enforced.
On Sept. 2, Davis was standing across the street from the Bedford Dwellings housing community, a few blocks from her home in the Hill District. On Aug. 13, 26-year-old Ramar Grant had been shot and killed in the housing development.
"They shot him for nothing," Davis says. "It's fearful when it gets dark around here. You wonder if your kid's going to come home."
Word travels fast throughout her neighborhood, Davis says. As soon as the yellow police caution tape goes up around the scene of a shooting, she says, many residents are already hearing rumors about the cause behind it.
"The majority of things happening in the Hill District are because of these online videos. This group is disrespecting this other group," says Davis, who explained that shootings are spurred when rival factions post videos on websites like YouTube insulting each other.
Davis often worries about her children and others in the neighborhood, where she says they are being pressured or forced to join an ecosystem where arguments quickly turn to violence.
"What they're doing is they're preying on the meek," Davis says. "As soon as they step outside, people are shooting at them. Right now, some of them haven't picked up a gun yet, but if people are shooting at them, it won't be long before they go out and get a gun."
Throughout the summer, City Paper reporters often struggled to find people willing to talk about gun violence in their communities. The families of the victims killed in these shootings were also often unwilling to come forward.
"They are afraid because they don't know what's going to happen," says Andre Scott, a former Hill District resident, currently living in Wilkinsburg, who has known several of this summer's victims. "People are becoming somewhat numb to it. [They think], 'This happened, I'm going to mourn, then I'm going to post on Facebook and be done with it.'"
His own cousin was shot and killed four weeks ago in Rankin, a Pittsburgh suburb also struggling under the weight of gun violence.
"Death has definitely been on my doorstep this summer," says Scott. "It's disheartening."
Like Davis, Scott says the majority of the shootings this summer have been caused by disagreements. He also says several have been the result of attempted robberies gone wrong.
"Shooting is the first option now," says Scott.
Activists often talk about how the lack of economic opportunities in the African-American community has lead to the increase in violence. But those living in these communities say that nowhere has that been more apparent than in the number of shootings that have involved robberies.
"It's more, 'I see you getting money. I want to take what you have and either you let me or you don't,'" says Scott.
But without guns, Scott says, many of this summer's deaths might not have happened. On Sept. 2, police say, a 22-month-old baby was shot and killed in Fineview's Allegheny Dwellings apartment complex, allegedly by Harrison Marshman, the boyfriend of the boy's mother. Police say the suspect claims the shooting was an accident.
"There's so many random acts. Twelve-year-olds with guns, 14-year-olds with guns," says Scott. "One of the young men who got killed more recently … was in the back seat adjusting the gun in his waistband and shot his friend in the front."
In August, the police bureau announced that they were reorganizing the robbery and homicide squads into one Violent Crime Unit in an effort to better combat violence throughout the city. That reorganization is underway and should be fully in effect by Sept. 15.
Another new police initiative is actually an old one. Under the banner of the Group Violence Intervention Strategy, the bureau is working to implement David Kennedy's violence-reduction model, which first came to Pittsburgh in 2008, under the name the Pittsburgh Initiative to Reduce Crime.
"You have to reach people in a different manner and convince them not to arm themselves," says Scirotto. "Trying to convince the youth or those involved in group violence to allow the police to do our part and be your protectors is a very difficult task."
Right now, the bureau is in the first phase of the program, where it is identifying violent groups throughout the city. The next step will be reaching out to those groups.
"It seems like there are longstanding feuds that may even go back two or three years," says Scirotto. "Those longstanding feuds — that there's no profit for the murder, there's really no territorial advantage gained by the murder. It's purely because one of your associates shot one of my associates, and now the retaliation leads me to you or one of your associates."
Scirotto says that gun control or creating harsher gun laws is not the key to tamping down on illegal gun-trafficking. Instead, he says, the justice system needs to enforce harsher sentences for those who violate existing firearms laws.
"It seems like it is not very difficult to obtain a firearm in urban America, or anywhere for that matter," says Scirotto. "Our victims or actors of gun violence, how many times have they been through the criminal-justice system? Fear is a great motivator, and if you're not afraid of being detained, or incarceration for a firearms possession, soon enough they learn that there's really no penalty for possessing a gun."
But others argue that local governments can help address gun violence by crafting legislation to address the illegal sale and trade of firearms.
"My focus has always been that if the gun isn't available, perhaps we would buy [perpetrators] an extra 20 or 30 seconds to resolve that conflict," says Pittsburgh City Council President Bruce Kraus. "Guns are so readily available, I believe that's where my efforts should be focused. To protect its citizenry is the first call of local government."
And Kraus believes he took a step to protect the citizens of Pittsburgh when he helped pass an ordinance that requires gun-owners to report when their firearms are lost or stolen. However, the law has yet to be enforced: The mayor's office has said that it fears a lawsuit because, according to state law, local municipalities are not allowed to regulate gun ownership.
"My argument is that when the firearm is not possessed legally, then we do have directive over it on a local level," says Kraus. "If a handgun has been stolen or sold on the black market, it is not legal."
Gun-control advocacy group CeaseFirePA has long supported lost-and-stolen-gun legislation as a method for reducing gun violence.
"When a police officer traces a firearm back to the last lawful gun-owner, they usually say it was lost or stolen. They say, 'We have no idea how it got into the hand of someone who killed someone,'" says Rob Conroy, director of organizing for CeaseFirePA. "This way, at least, the police can file a summary charge against them."
CeaseFirePA is currently fighting for a statewide lost-and-stolen law. It's also supporting a state bill implementing background checks in gun sales that has already begun circulating.
"We at CeaseFirePA and any of us in the gun-violence prevention movement make no claims that there is one hard-and-fast solution. But we're pushing for the same solutions we've been pushing for for the past several years," says Conroy. "The number of homicides this summer has been completely insane."