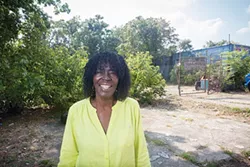 On Pittsburgh City Council's first day back from summer recess, Hill District resident Ramele Davis was the only person there to testify.
"I'm coming here today to ask you, will you please stand with me to stop these teenagers from shooting each other," Davis said. "It's getting worse. I'm getting scared to sleep in my house at night."
This summer, City Paper tracked the number of gun homicides in Pittsburgh between Memorial Day and Labor Day. According to the Pittsburgh Bureau of Police, that number is down from last year. There were 16 firearm-related deaths between the end of May and the beginning of September, compared to 21 the summer before.
But those numbers don't tell the whole story, bureau officials say. Confirming Davis' city-council testimony, police say the number of shootings in Pittsburgh was up this summer — way up. As of Sept. 3, there were 83 non-fatal shooting in the city, compared to 60 last year.
"There's been so many shootings every day, and sometimes multiple shootings in a day," District 2 Councilor Theresa Kail-Smith said at the Aug. 28 council meeting. "You can hear the pain in their voices and how terrified people are."
The discussion at city council reflects conversations happening in every neighborhood of the city. In Manchester, residents turn to Facebook to triangulate the location of the gunshots they hear. Last week, more than 100 Carrick residents gathered to talk about blight and crime in their neighborhood.
"The murder rate is down, but the gun violence is not down," says Pittsburgh Police Major Crimes Commander Larry Scirotto. "It's disruptive to our community. While we're happy to say we know we have a safer city, we have some portions of our city that are very volatile relative to gun violence."
The problem is somewhat self-contained. Police say that in most cases, the victims and perpetrators in these shootings are tied to criminal activity. But that doesn't eliminate the fear of those living in these communities who, from their living-room couches, listen to the gunshots ring out nightly.
The solutions for reducing gun violence remain varied. Some are calling for more economic opportunities. Others demand fewer guns. But many argue that the key to reducing violence means dusting off city laws and programs that have never been enforced.
On Sept. 2, Davis was standing across the street from the Bedford Dwellings housing community, a few blocks from her home in the Hill District. On Aug. 13, 26-year-old Ramar Grant had been shot and killed in the housing development.
"They shot him for nothing," Davis says. "It's fearful when it gets dark around here. You wonder if your kid's going to come home."
Word travels fast throughout her neighborhood, Davis says. As soon as the yellow police caution tape goes up around the scene of a shooting, she says, many residents are already hearing rumors about the cause behind it.
"The majority of things happening in the Hill District are because of these online videos. This group is disrespecting this other group," says Davis, who explained that shootings are spurred when rival factions post videos on websites like YouTube insulting each other.