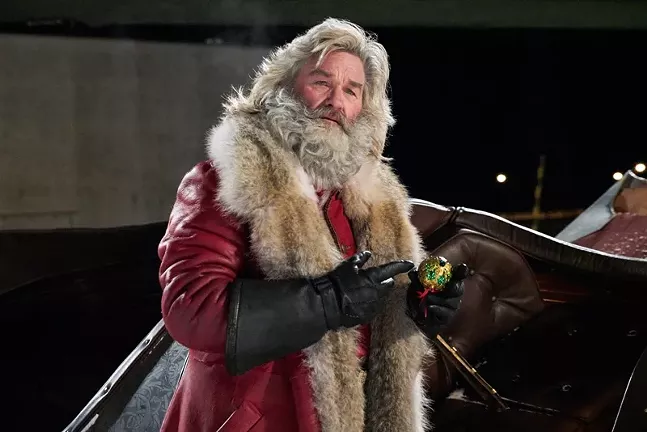 In the spirit of the holiday season,
Pittsburgh City Paper
presents a holiday movie advent calendar. One holiday movie review, every day 'til Christmas (probably).
Where does one even start with
The
Christmas Chronicles
, a movie whose bland name profoundly undersells the chaos it contains? It stars Kurt Russell as a grizzled anti-hero Santa who wears a red leather jacket. It's fast-paced, fun, and truly insane.
Kate (Darby Camp) and Teddy (Judah Lewis) are siblings who don't get along, especially in the wake of their father's death. Teddy is a true Garbage Son who steals cars and calls his sister a "boring slug." Unrelated, Kate insists on trying to catch Kurt Russell's extra burly Santa Claus on video, and does. She and Teddy find Santa's sleigh and hop on without him knowing.

Cut to the sky where Santa realizes there are kids on board as they begin to experience turbulence. The reindeer accidentally break off the sleigh, which goes tumbling through the sky and turns into a plane before crash-landing in Chicago. It's a sequence that excited my boyfriend, who loves
Mission Impossible
and said, "This is like
Mission Impossible
!"
The kids now realize they are with the one and only actual Santa and have so many burning questions, like "do you say 'ho ho ho?'" To which he replies "no, that's fake news." (We live in a terrible time.)
The team walks into a bar but no one knows or believes that Kurt Russell is Santa because he's so trim/badass and not jolly/big-bellied. As a result, they steal a Dodge Challenger and a massive police chase ensues (
Baby Driver 2: the Road to Christmas
). The kids escape on flying reindeer and Santa goes to jail.
Don't feel bad! Santa literally deserves to be in jail because he stole a car and did some light kidnapping. Plus, while in his cell, Santa materializes instruments for all the other criminals locked up and they put on an impeccable and jazzy performance of "Santa Claus is Coming to Town" (look out for Steven Van Zandt of the E Street Band on lead guitar). At this point, it's safe to admit that Santa is at least a kind of hot.
While Santa's living his rock 'n roll dreamz, Kate finds Santa's sack of presents, climbs inside, and it transports her to the North Pole. The magic really happens when Santa's elves pop out. They are plentiful and energetic, created in the image of their Minion and Troll ancestors. They speak a creepy language and become violently excited upon learning Kate is a "true believer" (really believes in Santa) They start flossing. It's so beautiful.
The Christmas Chronicles
is full of so many tropes and archetypes, yet I've never seen anything like it. It's obviously made for both kids and adults to enjoy but it doesn't feel appropriate for either. It's too childish and it's too dark.
Teddy gets accosted by a gang who kidnaps him and the gift bag in which Kate/the North Pole reside. They bring it to their gang leader who threatens to burn the bag/Kate. The elves fight back and defeat the gang. The elves also mistake Teddy for a gang member and almost cut his nuts off with a chainsaw. Is this just what kids movies are like nowadays?
Santa gets out of jail because he's such a cool musician. He reunites with the kids, the team delivers the rest of the presents, and make it home before their mom gets back from work! Santa leaves presents under the tree and mom isn't shocked because she too is a "true believer."
Going into this movie, I thought I might fast-forward through some of the slower parts if it got boring but there were no slow parts and I never got bored. It will be a thrilling ride as long as you accept Silver Fox Santa as the true meaning of Christmas.
The Christmas Chronicles
is available on Netflix.