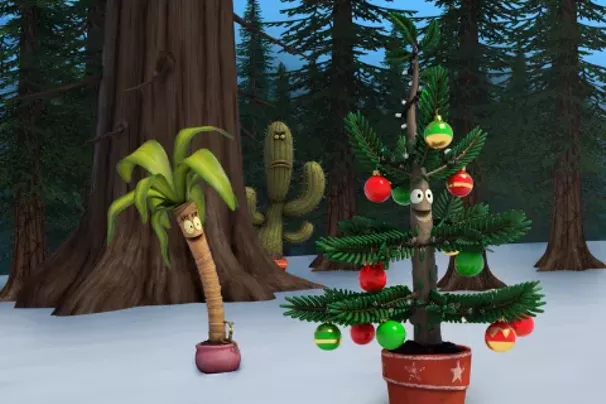 In the spirit of the holiday season, Pittsburgh City Paper presents a holiday movie advent calendar. One holiday movie review, every day 'til Christmas (probably).

Who doesn't love when a bunch of normally inanimate objects come alive while silly humans are none the wiser?
Albert
, a Nickelodeon animated short, follows Albert, a mini fir tree that wants to be this year's Empire City Christmas Tree, which stands in the center of town. So, he goes on an adventure to make his dream a reality.
The short starts in Earth Mama's, a nursery run by a woman whose name is also Earth Mama (Mary Pat Gleason)—at least that's what the plants call her when she's not around, but she does wear a nametag that says "Mama." Albert (Bobby Moynihan) is introduced when Herman – an old, stumpy trunk looking plant with a big nose – loses a leaf.
A succulent yells "Winter is coming!" in a vaguely
Game of Thrones
tone. "Herman lost another leaf. That means it's almost Christmas!" Herman, the cliché grumpy character says, "Don't say Christma—" But it's too late. Out pops Albert!
Cut to a montage of Albert singing while working with the other plants in the nursery to decorate the store for the holiday. But then, Earth Mama unexpectedly comes inside, and all the plants quickly become lifeless, as they tend to do when humans are around. Albert isn't able to move to his normal "pot spot," and Earth Mama finds him sitting on the floor.
Somehow Earth Mama doesn't notice any of the other decorations, but sees Albert on the floor and tells her granddaughter to take off all the tree's ornaments. This is the ultimate disgrace because all Albert wants to do is be taken home and used as someone's Christmas tree. But he's too small. Luckily, the granddaughter doesn't de-ornament Albert, because she says, "Lots of people think I'm a pipsqueak too." And instead, plugs in Albert's lights.
She leaves, and a TV somehow turns on, and there is a newscast announcing that Baker Hill, the neighboring town, is looking for the Empire City Tree, the highest honor a Christmas tree in that area could achieve! Or as the grandchild says, "The Greatest Christmas Tree in the World!" Albert believes this is where is meant to be. He is the greatest tree alive! Thus begins Albert's journey to become the Empire City Tree. Albert is joined by Maisie (Sasheer Zamata), a palm tree, and Gene (Judah Friedlander), a weed.
In the end, another tree is chosen over Albert, but because of the hijinks of a cacti, the top of the Empire City Tree is cut off. Oh no! Where will the star go? It's the most important part!
Enter, Albert. It's his time to shine! The little tree is vicariously placed on top of the gigantic tree and somehow doesn't collapse under the weight of the star, nor does his pot slide off the chopped off part of the tree.
It's a Christmas miracle!
Other things that happen:
They meet a gang of roughed up cacti outside of a Mexican restaurant. (How would they survive in the snow??)

There's a lot of breaking into song because you know, it's for kids

In Albert's absence, the other plants at Earth Mama's try dressing up like Christmas Trees and of course it goes hilariously wrong.

A pack of super cute bunnies tries to attack Albert and Maisie. I guess the furry creatures are a threat when you're a plant?
Albert
is available for streaming on Hulu.