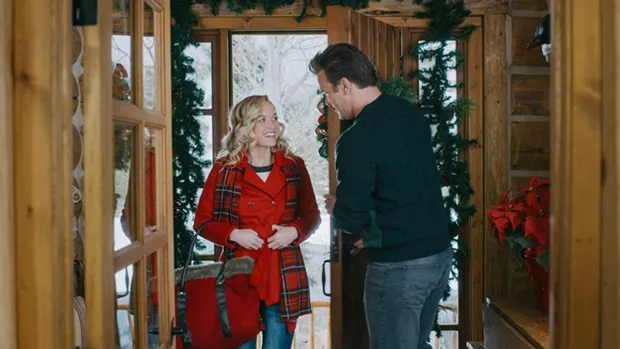 In the spirit of the holiday season, Pittsburgh City Paper presents a holiday movie advent calendar. One holiday movie review, every day 'til Christmas (probably).
Ever listen to a song so dull, so aggressively inoffensive that it actually becomes offensive, since it clearly wastes the talents of the musicians playing it?
Well, the Lifetime movie
Christmas Harmony
is filled with several. The songs are written by the movie's protagonist, Harmony (Kelley Jakle), who is a songwriter for her popstar boyfriend. They both live in Los Angeles, when out of the blue, the boyfriend breaks up with Harmony for some reason.
Distraught, she returns home to the small mountain town of Miracle to heal from the breakup. While there, she meets a nice handsome man, Luke (Adam Mayfield), and works with him to put on the town's Christmas concert. Harmony falls for Luke, reconnects with her dad, finally deals with the trauma of losing her mom, and decides her true happiness is in Miracle.
It's pretty standard stuff for an enjoyable Lifetime rom-com. But when dramatic and heart-felt scenes culminated in terribly bland songs with nonsense lyrics, every sense of joy I had melted into mocking laughter and confusion.
Here are some of the lyrics from "Hearts Know It's Not Goodbye," the movie's main song: "Awake until dawn/Sweet winter reveries/Still in my thoughts/Bright tree-lit memories all mine/Sing timeless angles/Echo in snow/Hearts know it's never goodbye." (I implore you to listen to the song for yourself. Yes those are the lyrics).
And all the songs in the movie have the same toned-down mediocrity of Christian Rock, but without the positive messages of faith and piety. Instead of a message about the love of Christ, we get "sweet winter reveries." Just as Christian Rock tries to emulate modern rock, but is worse, the songs from
Christmas Harmony
try to emulate Christian Rock, but are worse.
It was impossible for me to look past these songs and enjoy the formulaic story. Maybe if the script would have even met holiday movie cliches or had a few corny jokes, it could have been salvageable.
Instead,
Christmas Harmony
included the overwrought "big cities are evil" trope. It's time to stop this; 31 percent of Americans live in big cities and 55 percent live in suburbs just miles away from those cities. What demographic is this trope appealing to?
Nonetheless, Harmony's problems are forced through the lens of LA being a problem, when really the only thing wrong in her life is her jerk popstar boyfriend. Furthermore, the script is so lazy it never really describes why the small town of Miracle is better than LA, except for that Harmony's dad lives there and they have a holiday concert. Begging the question: Couldn't the dad just move to LA and take his daughter to see the Philharmonic?
Additionally, Luke's nephew, the "cute kid" character, is annoying and the conflict between Harmony and Luke is contrived. I would warn viewers to completely stay away from
Christmas Harmony
, but I want more people to talk to about the dullness of the songs.
So watch
Christmas Harmony
, then email me about "sweet winter reveries" and we can become friends.
Christmas Harmony
is available on Lifetime.