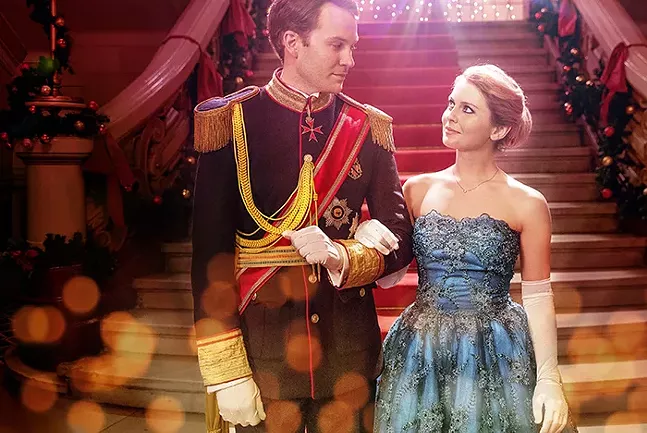 In the spirit of the holiday season, Pittsburgh City Paper presents a holiday movie advent calendar. One holiday movie review, every day 'til Christmas (probably).

If you love inspiring tales of underdogs overcoming the insurmountable, A Christmas Prince is not for you. However, if you're into decadent, empty-calorie streaming, Netflix has whipped up quite the seasonal soufflé.
Amber (Rose McIver) is an overworked, underappreciated journalist. She has talent. She is frequently asked to rewrite stories by arrogant, male senior writers. All she really needs, you guessed it, is a break.
Enter the break.
Amber's clickbait-driven editor-in-chief assigns her the scoop of a lifetime, "because every other writer is busy." (This editor appreciates nothing.) The "international playboy" heir to the throne of Aldovia, Prince Richard (Ben Lamb), is to be coronated King during the nation-state's Christmas Eve Ball, unless he abdicates (aka shirking responsibility).
Before you can say "Where is Aldovia?!" Amber lands in what looks like Switzerland but sounds like England. She joins the rest of the journalists en route to the castle for the prince's presser. The feckless prince doesn't show, and all of the journalists are asked to go home without a story.
Desperate to dig up some dirt for her boss, Amber sneaks back into the castle where she is caught taking pictures by ongoing foil, Mrs. Averill (Sarah Douglas). Much like the rest of what appears to be an easy life for Amber, Mrs. Averill invites her into the castle after mistaking her for the princess' tutor.

The next third of the film is dedicated shedding light on the real Prince Richard. He's not the swinging celeb that we were led to believe. Sometimes he aptly plays solemn Christmas carols on a piano in a room by himself with no intention of be stumbled upon by Amber. Intriguing. He skips royal obligations to have snowball fights with the local orphans. This is a man for all seasons. It feels at times that Amber is the unseemly character of this narrative, conniving a well-intentioned prince for career-advancing Tumblr posts.

There's a surplus of ancillary characters that flesh out some of the finer plot points. Richard's jealous cousin Simon is trying to usurp the prince's ascension to the throne. He is easily the least threatening villain in the history of streaming. He almost draws sympathy. Lady Sophia, an ex-girlfriend of Richard's or what Aldovians would call a paramour, lunges for royal power through any means possible, including stooping to align with milquetoast Simon.

And young princess Emily, who has spina bifida, aids and abets Amber, because Amber is the only who "treats her like she is normal." Don't forget Amber's emotional rock, her widower father who runs a restaurant in Brooklyn and is about as blue-collar as this story would dare at the risk of offending its audience.
Before the Shyamalan-esque climax, the audience is gifted romantic moonlit walks, flirtatious snowball fights, playful sled riding and an Ill-advised horse adventure that leads to Amber being rescued by the prince. All of which helps put the viewer deeper under an Aldovian spell.
While A Christmas Prince relies heavily on The Bachelor formula: Attractive people courting one another in exotic lands fills some kind of void, even die-hard rom-com fans will appreciate the subtle twists, turns and sentimentality that help top off what would otherwise be a shallow pond of hijinks.
A Christmas Prince
is available to stream on Netflix.