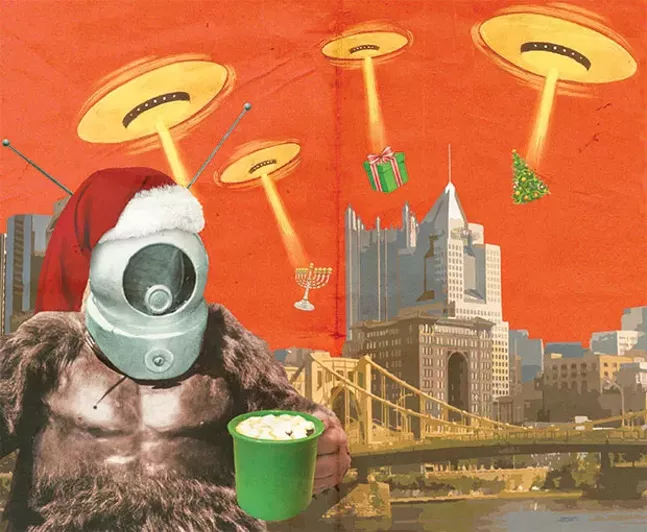 Monsters have been appearing in Matthew Buchholz's artwork since he first inserted one in an historic Pittsburgh landscape back in 2010. Buchholz tells CP that Rebecca Morris, the owner of local gift shop Wildcard in Lawrenceville, liked the idea so much that she gave him his own show and Alternate Histories was born.

Since then, Alternate Histories' monsters have shown up in prints, calendars, holiday cards and yes, even your local alt-weekly. The artwork above can be found on the front of this week's Pittsburgh City Paper.

Here, we're featuring some of Alternate Histories' best holiday cards available for sale this year, along with a selection from other local artists who deserve to show up in the mailboxes of your friends and family this holiday season.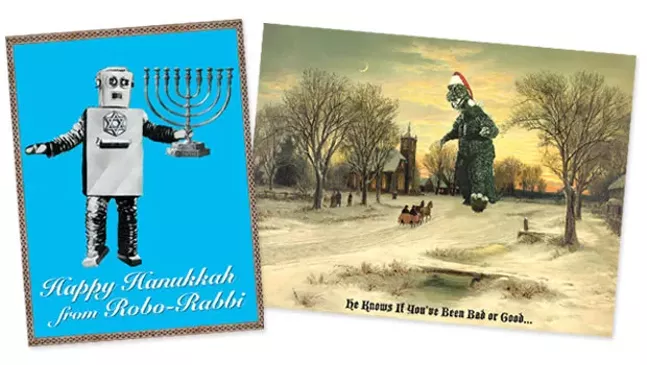 Alternate Histories

Buchholz says his all-time favorite monster is the one on the Hanukkah card above. "My favorite 'monster' is actually the robot Torg from the legendarily bad 1964 film 'Santa Claus Conquers the Martians.' I loved low-budget sci-fi films from the 1950s and '60s and how homemade/DIY all the special effects look, but Torg is especially bad. He's literally just a cardboard box with some dials painted on him. I love him so much."

The Godzilla card on the right is his best-selling holiday card. "It was one of the first Holiday cards I came up with in 2010, and it's remained very popular," he tells CP.
What can I say, people love the idea of a giant, menacing, Godzilla-type creature as Santa Claus."
Purchase at: alternatehistories.com


Some of our other locally-made favorites: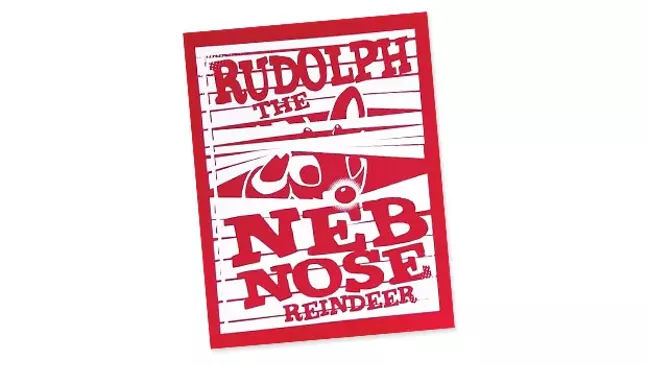 Purchase at:
compressmerch.com


Black Dog Print Shop
Purchase at:
www.etsy.com/shop/blackdogprintshop

Yeah Yelhsa
Purchase at:
www.etsy.com/shop/YEAHYELHSA

John the Craftist
Available at local stores, including:
love, Pittsburgh
(Mount Washington) and
Steel City
(Downtown)
The Bird and The Beard
Purchase at:
www.etsy.com/shop/theBirdandtheBeard

Strawberry Luna
Purchase at:
www.etsy.com/shop/strawberryluna

And, last but definitely not least: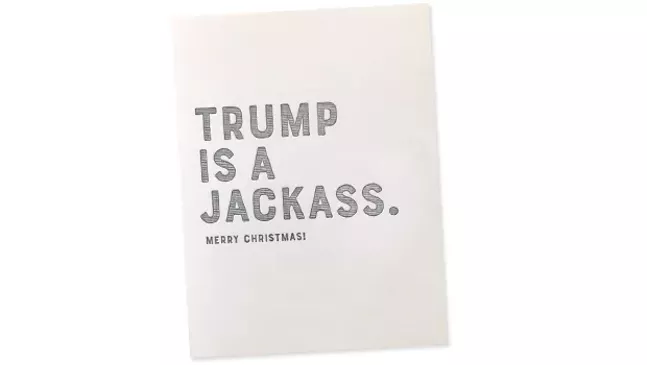 Sapling Press
Purchase at:
saplingpress.com