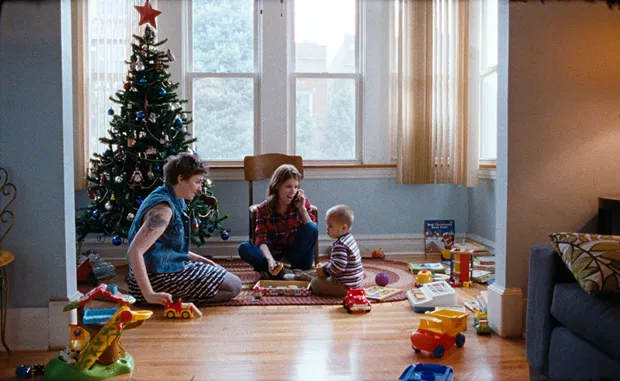 In the spirit of the holiday season,
Pittsburgh City Paper
presents a holiday movie advent calendar. One holiday movie review, every day 'til Christmas (probably).
Searching through the holiday section on Hulu, I came across
Happy Christmas
, a 2014 movie directed by Joe Swanberg, starring Anna Kendrick and with an appearance by Lena Dunham. I thought to myself, why have I never heard of this movie? Is this a hidden treasure early in their careers?
It turns out, there's a reason this movie, with its very generic title, has managed to stay under the radar.
Everything about
Happy Christmas
is deceiving. For starters, Christmas is barely relevant besides a few decorations meshed into the scenery. The holiday is merely a fixture in the background of the movie.

The story has a vague theme of female empowerment. Jenny (Anna Kendrick) moves in with her older brother Kevin (Mark Webber), his wife Kelly (Melanie Lynskey), and their two-year-old son. Jenny is a young party girl and Kelly, who only sometimes has a British accent, does not want that lifestyle in her house, interfering with their quiet domestic setup.
But Kelly is also a stay-at-home mom who used to be a writer. She doesn't realize that she is unhappy, missing out on parts of life until Carson (Lena Dunham) invites Kelly to join Jenny and herself for a drink. The rising action can be wrapped up in Carson's line: "I think you're so pretty. It's like you're a lot prettier than you feel like you are." So, Carson and Jenny help Kelly rediscover herself, her career, and her life outside of motherhood.
The disappointment comes in with the acting (as a fan of Kendrick's and Dunham's), and
experimental
feel of the movie. Kendrick is like a shadow of herself. Her normal, quirky acting is dull and flat.
Happy Christmas
is an independent film, and everything about it screams, "I'M AN INDEPENDENT FILM! I'M SUPER ARTSY" – grainy video quality, long, long pauses with no dialogue in addition to long, long, scenes of dialogue, sharp camera angles, and an awkward feeling while watching. The acting seems semi-improvised.
The movie had so much potential, but the directing makes it hard to watch, and perhaps it would have served better without the Christmas ties. During this season of holiday cheer,
Happy Christmas
proved to be the opposite of happy. The movie left me underwhelmed and filled with chagrin.
Happy Christmas
is now streaming on Hulu.