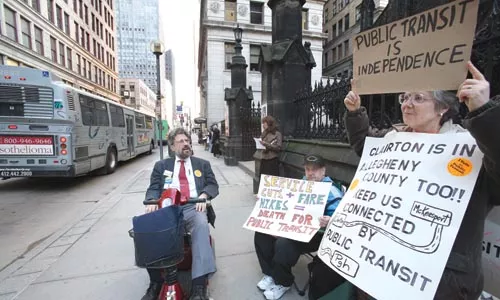 The Port Authority of Allegheny County voted unanimously on March 30 to scale back transit cuts from 25 percent to 15 percent, sparing 95 of the 124 daily routes initially targeted for elimination. But the revised plan, effective June 17, may give riders little relief -- because transit officials admit that they are merely buying time.
The harsher cuts originally proposed will take effect by Sept. 2, unless the transit agency gets more money from the state.
ÒWe're holding out for the legislators and the community to come together to address the issues that face public transportation,Ó says Carmen Bray, spokeswoman for the Port Authority.
The revised cuts will eliminate 29 routes while retaining at least partial service on other routes originally set to be scrapped. One of the most notable changes is that the 28X Airport Flyer will continue to operate, albeit with fewer daily trips.
These more-modest cuts will fill about $35 million of the projected $80 million hole in the agency's budget. A savings of another $6 million will come from salary freezes for senior management, including the agency's executive director Steve Bland, and cutbacks in other administrative benefits.
Wages and benefits for unionized staff like drivers and mechanics are unaffected.Allegheny County Chief Executive Dan Onorato says returning the Port Authority to solvency will require trimming those costs. Those union contracts don't expire until 2008, and so far neither side has returned to the bargaining table. But that may happen soon, says Onorato. He said recent calls by the transit board for the unions to give back are not finger-pointing, but rather show that the union must be "part of the solution."
Pat McMahon, head of ATU Local 85, says the authority has yet to offer specifics on the union concession it wants.
ÒIf they invite us to the table and they have some proposals for us to consider, we'll consider them,Ó says McMahon. But Òthey're not going to balance the budget on the backs of my workers.Ó
While the Port Authority has managed to trim its budget without paralyzing as many commuters, some transit riders say their own pocketbook will likely take a hit.
With both the JL and CL flyers still slated for elimination, Nancy Lackner of Jefferson Hills says she'd have to drive farther in order to pick up a bus that takes her to her paralegal job Downtown.
"If I'm going to have to find another park and ride," says Lackner, "it'll be more miles on my car." And if she parks in a private lot to catch the 46G to work, she'll likely to pay $4 more a day. That's a 50 percent hike in her commuting cost.
"They're screwing me up," says Lackner, "if [the Port Authority] cannot get their financial act together."
To that end, Onorato announced on April 2 that the agency has invited County Controller Mark Flaherty to do a full-blown audit. The audit, says Flaherty, will "shed light on a lot of the problems that are existing right now" so that his office can offer recommendations on how to run a more efficient operation.
The Port Authority's complete revised service proposal can be found at www.portauthority.org/PAAC/News/RevisedServiceProposal/tabid/334/Default.aspx