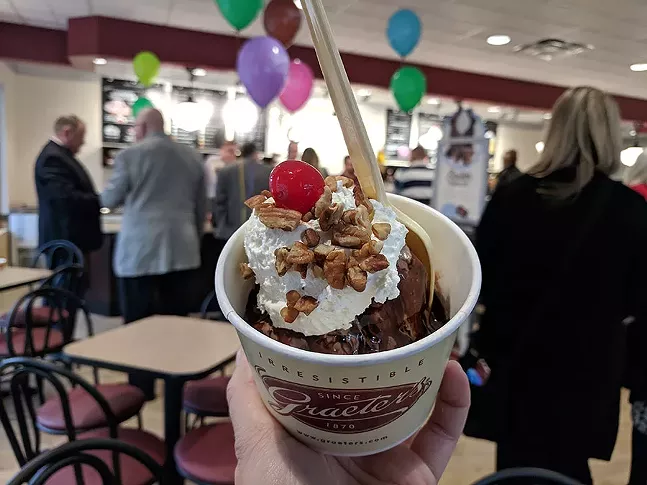 Graeter's Ice Cream
This ice cream season, a new scoop shop is joining the ranks of city greats. Today, Graeter's Ice Cream has officially opened a location in Castle Shannon.
Graeter's (also known as Oprah's favorite ice cream), has been scooping in the U.S. since 1868. For over 145 years, the company has used the same small-batch French Pot freezing technique, keeping a unique, creamy texture. They are known for their chocolate chips, the famously huge chunks that appear in almost all of the signature flavors.

The Castle Shannon shop offers all of Graeter's classics, from single scoops to signature sundaes. In addition to their daily flavors, the shop has a rotating list of seasonal options, including the recently released mystery flavor, maple cinnamon crunch. Around the store, Graeter's features handcrafted candies, ice cream cakes (made with real cake!!), and pre-packed pints.

For their entire opening day (April 5) a portion of all proceeds will benefit Pressley Ridge, a local nonprofit that provides aid to low-income residents. The scoop shop closes at 10 p.m.; head over before the day is over for a sweet treat that supports the community!

Leo. Public House
Since fall, rumors have been circling of a new restaurant from the brains of Lola Bistro and Mayfly Market & Deli. The pub has been keeping Pittsburghers on their toes, teasing images of the interior, menu, and more — without divulging an opening date.

Finally, the pub announced its official opening. On Tuesday, the much-anticipated Leo. a Public House on the Northside posted an image on social media that contained two words: "Opening Thursday."

Leo. a Public House is named for Michael Barnhouse's (head chef of Lola Bistro and the deli at Mayfly Market) grandfather, Leo "Bull" Handler. Dishes include fresh takes on standard pub fare like roast beef sandwiches, meatloaf, and bahn mi.

Sewickley Tavern
Sewickley, in recent months, has lost two of its prime fine-dining locations, Bruneaux and Cocothé. But fans of the latter can breathe a sigh of relief. The team behind Cocothé, Courtney Yates and chef Dave DeVoss, are partnering up once again.

The duo's new concept, Sewickley Tavern, is taking over the former space of Bruneaux. It will be tavern food with a twist, the menu listing traditional plates like potato skins and wings next to higher-end options, such as burrata salad and beer-battered crab cakes.

As of right now, the restaurant is set to open in early fall. Visit sewickleytavern.com or follow @sewickleytavern on Instagram to get the latest.

Iron Born 2.0
Chef Pete Tolman of Iron Born Pizza started small, launching his Detroit-style joint in the second round of restaurant concepts at Smallman Galley. But soon, it was clear that Iron Born was anything but small. The thick-crust pizza became an obsession for many Pittsburghers, eventually leading toward an Iron Born branch in Millvale. The hand-forged pies are changing the way Pittsburgh thought about pizza.
Now, the pizzeria is heading into Iron Born 2.0, a standalone restaurant in the Strip District announced this week via social media. There's no hints at menu changes or additions, but Iron Born does emphasize that there will be "WINE AND BEER."

Keep an eye on the restaurant's social media for updates — that's where they'll announce the official opening date.

Coffee Passport
Struggling to stay caffeinated and explore the city at the same time? Thanks to Pittsburgh's Coffee Passport, you can do both.

The coffee passport, which launched a new program on April 1, is a way to taste drinks at cafes across the city for one price. Each passport (there are two versions), lists 10 participating locations. Visit each store for a free drink, get a stamp, and repeat until the passport is filled. Once it's stamped out, you'll have been to 10 of the city's best coffee shops.

Buy your passport at coffeepassportpgh.com!