The Rachel Carson Trail Conservancy wants to create a hiking trail more than 170 miles long, stretching from Pittsburgh's North Side all the way to the Allegheny National Forest, on the northern edge of Pennsylvania. It would traverse forestland and pass through county parks, over vistas gazing at green gorges, alongside the occasional rural road and next to bubbling streams and rivers.
The small group of dedicated hikers who make up the RCTC have been working under the radar to maintain hundreds of miles of trails in the region for more than 20 years. Recently, their vision of a super-trail came a bit closer to reality when Allegheny County purchased property next to Harrison Hills Park that brings the Rachel Carson Trail, known for its annual 34-mile challenge race, to within a few hundred yards of linking with the Baker Trail, which extends 132 miles north from the Allegheny-Armstrong County border.
Allegheny County Executive Rich Fitzgerald says he is "very supportive of trails" and is currently working to extend the Three Rivers Heritage Trail from Station Square to connect with the Montour Trail near Coraopolis.
"We are in a challenge to recruit people to Allegheny County, and people want amenities like trails," says Fitzgerald. "The trail system is a big asset that has drawn a lot of people to this county."
But unfortunately for the Conservancy, many parts of the final dozen miles of a potential super-trail pass through scores of private properties, and getting owners to allow it on their land has been an ongoing battle. Some owners are supportive and encourage trails, but others fear their privacy would be encroached. Even though the RCTC is building more and more support, it takes only a few naysayers to stall a project in perpetuity.
One of the owners opposed to the trail is Ron Eichner. He owns Eichner Farm on the edge of McCandless, and his property marks the end of RCTC's first trail, the mile-long Harmony Trail. The conservancy was founded in 1992 with the goal of creating a trail that would follow the old Harmony Short Line trolley route and provide a car-free path from the North Hills to the North Side. But expansion of the Harmony Trail stalled once property owners like Eichner nixed potential easements to allow the trail to go through their land.
"It comes down to a simple right of the property owner," says Eichner. "The trail opens up too many problems and invites [hikers] to trespass across my property."
Eichner says that about 10 neighbors share his concerns, which include privacy, parking and lack of facilities on the trail. "We worry about privacy concerns," he says, "and where are people going to go to the bathroom."
With about 12 miles to complete before reaching the North Side, Eichner argues that the project is too cumbersome to take on. "There are a lot of neat concepts that could be done, but sometimes you just have to understand that it is too difficult to get something complete," he says.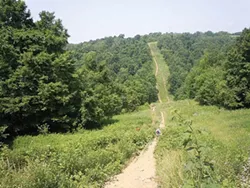 But John Stephen, of the RCTC, recognizes the process is going to "take a long time," and says that residents' desire to enjoy nature could eventually win out.
"People always want to get outdoors. It is part of being human," he says. When the Harmony Trail stalled, the Conservancy focused its attention on the Rachel Carson Trail and the Baker Trail, stewardship of which it inherited from a youth-hostel organization in 2004.
"I often get out to Hampton Township Community Park and walk the Rachel Carson Trail, and after a while I hear no cars and I remember that I am living in forest," says Stephen.
Stephen also argues that the vast majority of trails are blazed and maintained amicably, and that being a great neighbor is "critical to the success of the conservancy." He says RCTC's trail stewards keep the trails clear and maintain relationships with property owners.
Nicola DiCio, who owns White Oak Farm, in Hampton Township, believes that there should be more trails in the area. He has allowed the Rachel Carson Trail to cut through the middle of his property for decades.
"I am extremely protective of my property and sometimes exposure can bite you, but I have never had an issue with the trail," says DiCio. "People are there to walk, not to vandalize."
Local municipalities are supportive, too. Marshall Township Parks and Recreation director Heather Jerry says her goal is to connect the Rachel Carson Trail to the 10-mile trail system zigzagging through Marshall. She says a connection to trails in Cranberry Township is already complete and that, after a new township park is built, a connection to the Harmony Trail will be a couple of blocks away.
"Trail development happens piece by piece," says Jerry. "Half a mile here and there, and eventually they all connect. ... It is a bit of waiting game, but we definitely have our eye on the future."