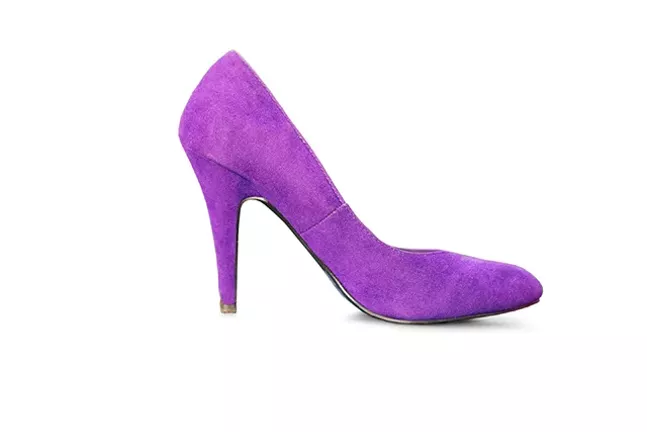 Stand up slowly and be careful. Take one small step — if your ankles buckle, stop walking."
My ballet teacher employed the same tone of voice used when instructing me on a new ballet position. Hopeful but cautious. She held my hand as if moving me from the barre to the floor. I was 13 years old and we were buying my first pair of high heels: a pair of eggplant purple suede pumps that were about two and a half inches high.
As we stood in Kinney's Shoes in Allegheny Center Mall on the North Side, I was nervous. Just like learning a new ballet move, I wanted to get it right. So I took a deep breath, lifted my right foot to take my first step. Ignoring my ballet teacher's advice, it was not a small step. I was thinking of making a grand ballet entrance not just walking. And then it happened.
Somehow I channeled the sashay-slay-ability of supermodels Iman and Pat Cleveland. As Beyoncé sings in "Get Me Bodied," "Walk across the room like Naomi Campbell."
And I did.
My ballet teacher gasped. The sales clerk gasped. I smiled. Oh, I was built for heels! OK, maybe I didn't walk like a supermodel, but I felt like I did. And just like I jumped into the deep end of the South Side pool at two years old, I dived into the deep end of grown woman fashion at 13.
High heels are a rite of passage for many girls, women, and femmes. How many girls have tried on their mom's heels, looked in the mirror, clip-clop-clopping while imagining themselves in a gown at a ball or in a suit being sworn in as president of the United States?
In Europe, high heels were historically worn by nobility and more often than not, by men. The goal was height, an attribute often associated with power and strength. Men wanted to appear as tall as possible. Louis XIV of France could rock a pair of tights and stacked heels. I bet he could do a Naomi Campbell walk.
My own personal heel journey continued to rise in height. I cannot think of how high I have gone: platform, wedges, stilettos up to five inches tall, yes to all of it and more.
A woman in heels is rarely ignored. In New York City, it was often, "Oh work it, I love those shoes, you're killing it." But in more dressed down places — like Pittsburgh or the Hudson Valley in New York — it is very different.
In "liberal" New Paltz, New York, I was told to "stop wearing heels and get a pair of Birkenstocks." Excuse me, what?
In Pittsburgh I often hear, "Oh how can you walk in those?" I answer, "One foot in front of the other."
High heels denote both power and vulnerability. For some, they are feminist icons. To others high heels are a trap, a symbol of misogyny, controlling women's bodies their ability to move.
Decades from those first steps in Kinney's shoes, heels remain a symbol of my own growth into womanhood and my ability walk with strength in my own power.