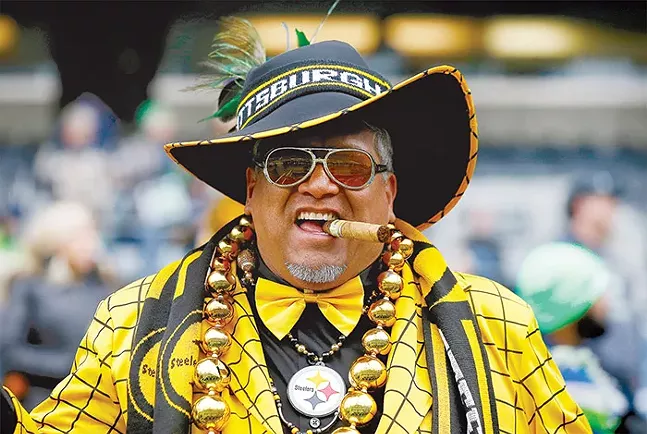 Football season is approaching, and you know what that means: Catholic masses will be shortened by half and hundreds of Erric Pegram and Lethon Flowers jerseys will emerge from their dens to descend upon North Shore parking lots like 17-year cicadas.
While I love watching the Steelers, I prefer my vantage point to be from the safety of my couch, where I'm offered every angle of the action, including that intolerable NBC SkyCam, the only beer spilled on me comes from my own drunken hands, and I can enjoy a fancier selection of foods, like Aldi's Little Salad Bar Hummus Quartet.
So, I'm not exactly sure what five hours of tailgating consists of. I know there is alcohol, cased meats, and topless guys throwing their arms out while trying to connect with 60-yard passes. (And you know they walked out the yardage to make sure their competition was official.)
There are people arguing about things they both agree and disagree on. There are women wearing official Touch by Alyssa Milano Lace-up Tanks. There is smoke coming from every direction: grills, Parliament Menthols, vapes, generators. There is a lot of cornhole being played, and the best cornholers have the Steelers logo on their boards. Someone has brought an airhorn. Half of the fans are overdressed, and half are underdressed, because it is impossible to get it right. At least one vehicle has a Steelers-logo custom paint job. There's a baby unattended somewhere in the parking lot, but he'll be okay, because Steelers Nation looks out for its own. Am I close?
I found a handful of companies online that offer tailgating services. One in particular offers a package that includes six-foot tables with linens, three cocktail tables, and a DISH Media Package. I don't know a ton about Pittsburgh tailgate culture, but I do know this city will not stand for linens involved in any gathering, outside a handful of Shadyside weddings. This is a Rust Belt tailgate party, not Luke Ravenstahl making it rain misappropriated campaign funds all over his bros from Troy Hill.
This is the Steel City. The City of Bridges. And according to one strange and poorly cited Wikipedia entry, "The City of Knowledge," where "Google, Apple Inc., Bosch, Facebook, Uber, Nokia, Autodesk, Microsoft and IBM are among 1,600 technology firms generating $20.7 billion in annual Pittsburgh payrolls" (also from Wikipedia). And Pittsburgh was named Food City of the Year by restaurant and hospitality consultants af&co. But have you seen the Monday Night Football promotional packages for games in Pittsburgh? We pour molten steel here, America! And that's all we've been doing since the extinction of our steel industry almost 40 years ago.
Stay gritty out there, yinz tailgaters.