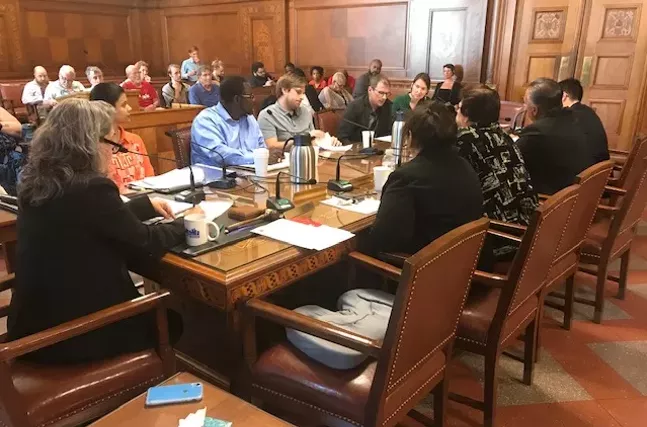 At a Tuesday post-agenda hearing in Pittsburgh City Council chambers, a panel of technology, environmental, and labor experts weighed in on some issues the council might want to consider when contemplating support for autonomous vehicles in Pittsburgh.
Pittsburgh is not only home to autonomous vehicle companies, like
Uber and Argo AI
, but the city is also proposing a
driverless shuttle transit line
from Oakland to Hazelwood. This has brought criticism from public-transit advocates, like Pittsburghers for Public Transit (PPT), who organized the panel of experts for the post-agenda hearing.
PPT has long been critical of autonomous vehicles, aka driverless cars, worrying the technology will eliminate jobs for bus drivers and the groups is generally apprehensive that the technology can
adequately serve the needs of transit riders
.
Their commissioned panel also shared
concerns about autonomous vehicles
(AVs) as transit and personal use, including the potential loss of jobs, data and privacy concerns, traffic, and environmental problems if AVs are run on fossil fuels. And some of the experts offered up alternatives to focusing on driverless cars to solve Pittsburgh's mobility problems.
Here's what they suggested:
Electric Buses
Shefali Rai of the Union of Concerned Scientists spoke at the post-agenda hearing. She said that, contrary to many proponents' beliefs, autonomous vehicles are likely to increase greenhouse-gas emissions, especially if they are gas-powered.
Rai said that AVs could also increase vehicle use and increase vehicle miles traveled, since there is more incentive to sit in a long car ride when no one has drive.
Rai suggested that improved land-use policies be implemented, so more people live closer to frequent bus service, and that the city converts to
electric
buses to cut down on greenhouse gas emissions.
Basically, get more people to take the bus, and ensure those buses are green.
Laura Wiens of PPT also emphasized this as a good transit strategy. She noted that if private AVs were to proliferate, and especially without improved land use, it would encourage people to take their AV to work, and then the AV would travel back home during the work day. This would lead to potentially four commute trips a day, instead of two.
"The only thing worse than a single-occupancy vehicle is a zero-occupancy vehicle," said Wiens.
Bike Lanes
Rai also emphasized land-use in terms of road redesign to accommodate more bicycle lanes. She said the more modes that people have to travel, the less need there is for AVs.
Bicycles are also better for the environment since they don't emit any greenhouse gases, and for maintenance of roads, since they contribute far less wear and tear than cars.
Erik Boerer of advocacy group Bike Pittsburgh also spoke as part of the panel. He also advocated for more bike lanes.
Even many AV companies have called for more bike lanes, as the companies have said they help AVs to navigate on city streets.
But Boerer also cautioned against the idea that AVs are close to ready for
safe interactions with cyclists
.
Boerer was open to city officials and nonprofits seeking grants for the implementation of AV infrastructure, but said that community, cycling, and transit advocates should be at the table when those plans are being discussed. He worried that if a city like Pittsburgh is too open to AV use, then car use will increase.
"We want a city of all to live in, not just cars," said Boerer. "It's hard to see that when the industry is driving this effort."
Reinstate former transit service
Jarvis Williams, the president of Transport Workers Union Local 208 out of Columbus, argued for preserving bus drivers' jobs.
The Ohio city was awarded a $50 million grant to establish the use of autonomous shuttles as public transit. As a union representative of bus drivers, Williams said AVs pose a threat to not only the jobs of bus drivers, but also to viability transit routes.
Williams said autonomous shuttles in Columbus were originally proposed to run a route to the Easton neighborhood of Columbus, but since the shuttles were too slow, they couldn't function efficiently enough to serve that area. Instead, the
autonomous shuttles were given about a 1.5 mile loop
that circles near downtown Columbus that drops tourists off at some cultural attractions.
Even though the Columbus autonomous shuttle failed to serve Easton, Williams said the shuttles are being proposed to serve the Linden area in North Columbus. According to Columbus public radio station
WOSU
, 23.8 percent of Linden residents don't own a car, which is significantly higher than the city as a whole.
But Williams says Linden formerly had bus service, and he questioned the idea that autonomous shuttles should be used to replace transit service in neighborhoods, especially when the Ohio state government
boosted state funds for mass transit this year
.
Williams says reinstating, and possibly expanding, bus service would be better for people's mobility purposes, since buses are more efficient than the slow autonomous shuttles, which usually travel a maximum of 15 mph.
Transit advocates are currently requesting weekend service from Hazelwood to Oakland be reinstated, instead of the proposed autonomous shuttle.