The Pittsburgh Steelers won't be winning their seventh Super Bowl this year. And after being pushed around by the Jacksonville Jaguars Jan. 14 at Heinz Field, it's obvious that there's plenty of blame to go around, that everybody sucks and some big changes need to happen.
How do I know? Twitter told me:
Ben Roethlisberger is so good, he's only had the greatest running back-wide receiver tandem in history and done absolutely nothing with them."

"Fire Mike Tomlin. ASAP!"

"Other fans can say fire Mike Tomlin, but not me. Believe he will get Steelers #7. Todd Haley will probably go though."

"I still can't believe Haley ran a pitch play on 4th down against the league's fastest D."

"One takeaway from this NFL weekend. after a decade plus as starting QB. Ben Roethlisberger isn't a leader for the Pittsburgh Steelers. Far from it, tbh."

"I hope Big Ben hangs it up ... i want a franchise QB who doesn't act like a drama queen after every loss. Guy doesn't play with heart. I think we should fire Keith Butler our D coordinator and Mike Tomlin's job should be on the hot seat. We got embarrassed."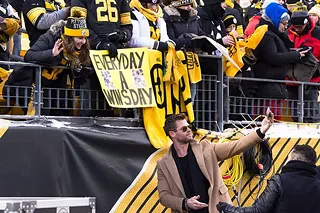 "Mike Tomlin needs to go, Todd Haley needs to go, Keith Butler needs to go. This coaching staff calls the most ridiculous plays at the wrong times. Fire them all and bring Bill Cowher back."

It's natural after a big loss like this for folks to take the game way too seriously. But these fans don't understand the game like I do. Yes, heads need to roll, but most fans are only looking at the surface of things. It's easy to fire a coach and trade a quarterback, but only a real football visionary knows how to fix the Steelers. With that: Here are the personnel moves that I would make in the offseason:



Blow up Heinz Field and build a domed stadium. Obviously, the frigid temperatures were the main reason the Steelers lost. Who could possibly play in inhumane temperatures like that. Well, except a team from Jacksonville, Fla.


Fire Steely McBeam. Everyone hates that buffoon in the hard hat with perpetual 5 o'clock shadow. He's a horrible mascot. No player in his right mind would want to come out and win one for Steely. I think that played a huge role in Sunday's loss.


Fire Mike Tomlin and rehire Bill Cowher. It makes perfect sense. In 14 seasons, Cowher won eight AFC North Titles and two AFC Championships and was 1-1 in the Super Bowl. Tomlin, on the other hand, has won six AFC North Titles and two AFC Championships and is 1-1 in Super Bowls. Cowher amassed his record in 14 years. Tomlin won the Super Bowl in his second year and made a return trip two seasons later. The thing is, Tomlin has done this all in a much shorter time than Cowher (10 seasons). Mike Tomlin gives Steelers fans the chance to win a Super Bowl every year. Bill Cowher would be a better choice because then we could all lower our expectations and be less disappointed.


Fire offensive coordinator Todd Haley. No sarcastic humor this time. The guy's got play-calling issues. No quarterback sneak on fourth-and-nothing twice? Time to go, Todd.


Sign Thor to play quarterback. It's no secret that Thor's alter ego, Chris Hemsworth was at the game Sunday. The public perception is that he was there promoting a movie. But no, Hemsworth is actually Thor. A Steelers insider tells me that the God of Thunder is being considered because fans want more than a mere mortal under center. I have not been able to confirm rumors that Hulk is being brought in to play defensive end.


Hire a young scientist from CMU who believes in the power of time travel. Let him build a time machine. Take that time machine back to the year 2000 and force Cowher not to draft Tennessee quarterback Tee Martin in the fifth round, and instead take a chance on a young QB out of Michigan named Tom Brady.