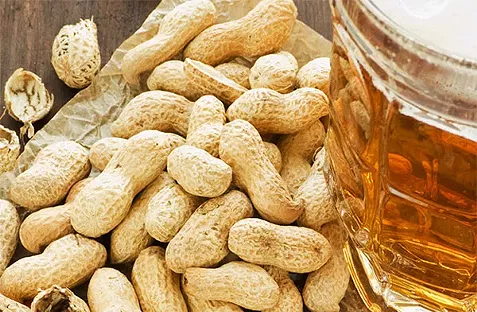 Our weekly ode to choice libations is on hold to give their equally deserving partner, the bar snack, a moment in the sun. It might play second fiddle to night of sipping cocktails or clinking beers, but there's nothing that can turn a bar from good to great like something tasty to crunch on.
From staples to fancy small plates, every bar snack requires certain elements. An extensive but informal survey (including but not limited to friends, family, unlucky guy sitting next to me at the bar, servers, chefs and co-workers) finds that the four most important criteria are salinity, texture, amount and price. Here are a few Pittsburgh bars that serve great snacks that hit all four.
At the North Side's Park House Pub, look down and you'll find evidence of a classic bar snack: peanut shells. With high fat content and a little bit of saltiness, peanuts go great with a beer. At the Park House, they're also free and come with the oddly satisfying experience of throwing the shells on the floor when you've finished.
For another filling but bargain option, the Rock Room, in Polish Hill, sells 15-cent pierogies. All the charm of a Rust Belt bar comes with a loaded plate and a cheap beer to boot. East Liberty's new Ace Hotel offers pickled and — in a twist on a classic — deviled eggs. While they aren't served up from the prototypical jar on the back of the bar, the pickle brine still cuts through sweetness in your cocktail, and a plate of six is filling enough to take off the edge of the alcohol. A little cheese with your wine makes for an excellent evening at Allegheny Wine Mixer; choose from sheep, goat or cow cheese, and add cured meats for extra saltiness. Lastly, basically anything fried — from onion rings to mozzarella sticks at D's Six Pax & Dogz to arancini at Bar Marco. But don't take my word for it: Everyone has a preferred place for greasy bites.