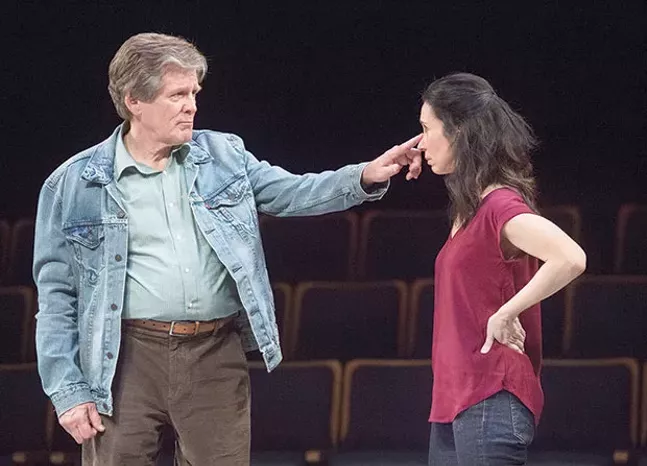 The connection between the title and the plot of Heisenberg may seem a little foggy at first, but it's not quite as heady as you might think.
Simon Stephens' drama tells a meandering story about an unlikely romance (not a Breaking Bad musical, although that sounds terrific), in which the two leads are never quite sure of each other but are inexplicably drawn together. It's part romantic comedy, part dramatic character study, featuring a young American woman named Georgie (Robin Abramson) and an older Irishman named Alex (Anthony Heald).
The story begins with the two characters waiting alone at a train station in London. Alex is bashful, well-dressed and polite; Georgie is uninhibited, funny, a little pushy and almost cartoonishly American. Their night-and-day personalities are almost as evident as their age difference, but an unexpected chemistry emerges. Georgie kisses Alex impulsively, setting the play in motion. What follows is a rocky but endearing story of an indistinct love that develops between the two.
Heald (two-time Tony nominee, he played the head doctor of Hannibal Lector's prison in Silence of the Lambs) is likable and sincere as Alex, though at times so meek you just want to give him a blanket. Abramson takes what could veer into pixie-dream-girl territory and grounds Georgie with humor and a convincing underlying mania. The actors — and the characters — shine best when sparring, and since this is a two-person cast with almost no set and few production frills, there's a lot of sparring to go around.
The title refers to the German physicist Werner Heisenberg, most famous for publishing his "uncertainty principle" in 1927. The show's program dedicates several pages to Heisenberg's biography — the characters make no reference to the man or his principle on stage — and explains the theory as the idea that "the act of observation affects whatever is being observed, making it impossible to predict the outcome."
It's fitting, then, for Heisenberg to be staged theater-in-the-round style, leaving the characters exposed on all sides to both the audience and each other. It's a minimal set, leaving nothing for the couple to hide behind, as the push and pull of their romance develops. There's mistrust and attraction on both sides, and as happens in courtship, moments of posturing, and of vulnerability. They want to share themselves with each other, but can't help be affected by the other's attention.
OK, maybe it's a little heady.