Beaver is truly a standout among the county seats surrounding Allegheny — a riverfront city with an august history, small-town feel, impressive architecture and gracious streets.
Third Street, Beaver's broad main thoroughfare, features two solid blocks of all kinds of businesses, including some fairly urbane restaurants. A recent addition is Heirloom, whose website touts a fresh and local take on "modern European cuisine."
Perhaps the website was exaggerating, or perhaps it hasn't kept up with the kitchen, whose offerings when we dined were mostly Italian and American with a smattering of international options. A few are vegetarian, but a focus on meat was apparent in the house-smoked barbecue section, as well as the house-cured bacon and pancetta.
Pulled pork appeared in a number of guises; we tried it on a flatbread with smoked gouda and buttermilk-fried onions.
The crust trended toward cracker-like crispness rather than doughy chew, but it wasn't too brittle. The pork was of very good quality, tender but with some extra-smoky, nearly charred shreds. Though the barbecue sauce was a touch sweet, the ultra-crispy onion straws balanced it with their salty savor.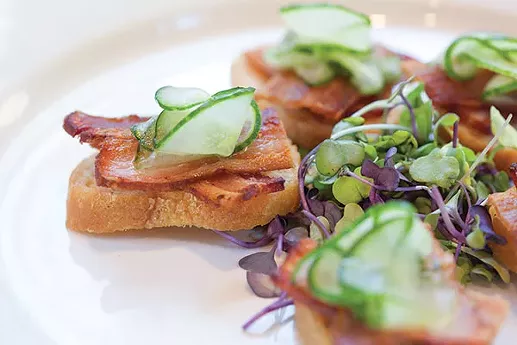 A crab tostada was simple, perhaps too simple: just a small scoop of shredded crab atop a small round of fried tortilla, topped with a couple of thin slices of avocado and diced tomato. The presentation was beautiful, the tostada was gloriously crisp, the crab was fresh and succulent, and the avocado was soft and ripe.
But these component flavors and textures failed to meld and add up to more than the sum of their parts. Lime wedges helped a little, but bolder seasoning, or even a light sauce, was needed to pull this dish together and make it sing.
Chicken saltimbocca was also elemental, but this preparation wasn't lacking, thanks to beautifully tender breasts topped with sage leaves, thinly sliced pancetta and a lemon-butter sauce that was light yet luscious. Mashed potatoes on the side were rustic and rich, while green beans were brilliant green and crisp, barely cooked but not tough.
Certain pasta dishes are offered as entrees, and there is also a build-your-own pasta option.
From the entrée menu, Heirloom's penne all'Amatriciana was among the best we've had anywhere, including a cherished home recipe. The rich flavor of perfectly ripe, roasted tomatoes, at the peak of their season, bloomed throughout the sauce, which was studded with both bacon and pancetta — the former meaty and smoky, the latter more delicate and salty — both in fine dice and in abundance. Just writing about it makes us wish we could taste it again, right now.
Our son was richly rewarded for his restraint in ordering from the build-you-own pasta menu, adding bacon to Alfredo sauce to create a slight variant on classic fettucine Alfredo. The sauce displayed the perfect balance between sweetly creamy and salty notes, with a texture that was luxurious but not heavy or clumpy.
Heirloom is proud of its from-scratch approach, though it can result in some timing issues. But when a large party ordered shortly before we did, slowing our order, the chef made it up to us with a complimentary dessert.
From the three choices (surprisingly, none chocolate) on a regularly rotating list, we chose an apple turnover. Warm from the oven, it featured a light, flaky crust filled with soon-to-be-seasonal apples. Adding to its appeal, it was lightly spiced rather than cinnamon-bombed, and topped with good vanilla ice cream.
This was a superb finish to an all-around excellent meal. Downtown Beaver can now add fine dining to its list of already considerable charms.