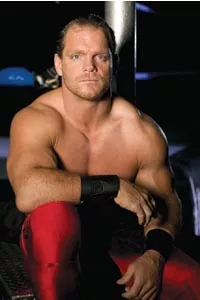 Ask most Pittsburghers about the city's contributions to professional wrestling, and you'll likely hear the name Kurt Angle, the former Olympian who doubled down on his fame by becoming a professional-wrestling superstar. Older fans will recall the greatness of Bruno Sammartino, who once squared off against the likes of Ivan Koloff and Cowboy Billy Watts.
Very few Pittsburghers will mention Jerry McDevitt. And yet it may be McDevitt, an attorney with the law firm of K&L Gates, whose legacy will be the most lasting.
McDevitt has represented World Wrestling Entertainment since the late 1980s. Over the years, he has helped its performers, and impresario Vince McMahon himself, out of various legal scrapes. And McDevitt helped establish a medical-testing program to protect the wrestlers' health -- a program that was a key issue in the failed Connecticut Senate bid of McMahon's wife, Linda.
Which is why I found myself in McDevitt's Downtown offices -- decorated with four small wrestling action figures and a stack of wrestling books and biographies on the window ledge -- in mid-August, talking about the WWE's vaunted wellness policy. The protocols, devised by Pittsburgh neurosurgeon Dr. Joseph Maroon, stress regular drug-testing and an increased awareness of concussions and cardiac health. It was, McDevitt boasted, the finest monitoring program in American sports -- and one sign of its success, he said, was that since it was adopted, the number of headlines involving dead wrestlers had trailed off.
As we spoke, though, McDevitt's phone rang several times. His incoming e-mail alert went off, but he ignored that, too. Minutes later, his assistant came to the door and called him into the hallway.
After a few moments, he re-entered the room, looking shaken.
"I just found out that one of our former wrestlers died last night," he said.
That wrestler was Lance Cade. He was 29 years old, and his death -- although ruled an accident -- came from ingesting multiple drugs on top of a weak heart. McMahon's election opponent had a new talking point. But for wrestling fans everywhere, the real question is what more, if anything, can be done to protect their stars.
Going to the Mat
Pittsburgh's ties to the WWE were established in 1987, when it was known as the World Wrestling Federation -- and when a wrestler named Jim "The Anvil" Neidhart was brought up on federal charges of assaulting a flight attendant on a flight to Pittsburgh. At the time, McDevitt was working an unrelated case with the WWF's corporate counsel; because the incident took place in Pittsburgh, McDevitt's colleague put him in touch with Neidhart.
Neidhart "was this big guy with these weird sunglasses, close-cropped haircut and this ZZ Top beard," says McDevitt with a laugh. "But he kept telling me he was really worried about what this guy named Vince was going to do to him."
Neidhart would eventually be acquitted -- "he's a guy who stands out and no one on that plane saw him do anything," says the lawyer -- and McDevitt got his introduction to Vince McMahon.
After the Neidhart case, McDevitt began to do other work for McMahon, ranging from intellectual-property work to winning a 1994 acquittal on charges that McMahon had been distributing steroids to his performers.
"I've watched this company grow over the years," says McDevitt. "I've also developed a strong relationship with Vince and Linda. I think that comes from going through a criminal trial with someone. ... I was with them when the jury came back 'not guilty,' and I stood on the stage with their family when Linda recently gave her concession speech" on election night.
And McDevitt has been there when wrestlers have died too young.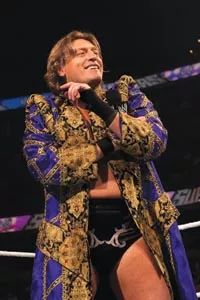 On Nov. 13, 2005, for instance, when a wildly popular 38-year-old wrestling superstar named Eddie Guerrero was found dead in his Minneapolis hotel room.
Medical examiners ruled that Guerrero died a natural death due to arteriosclerotic heart disease -- a hardening of the arteries. However, according to the Associated Press, officials said that past anabolic steroid use enlarged Guerrero's heart and other organs, contributing to his death. Guerrero also had a history of using prescription drugs.
Guerrero was hardly the first wrestler to die prematurely. In March 2004, 18 months earlier, USA Today reported that 65 wrestlers younger than the age of 45 had died. Of those, 25 had died from heart-related illnesses. Twelve others showed evidence of having abused pain killers, cocaine and other drugs. Since that report in 2004, 16 additional professional wrestlers under the age of 45 have died. Four died of heart ailments, three from drug overdoses, four from suicide, one from homicide and five from other causes such as cancer and kidney disease.
Still, "Eddie's death was a shock to everyone," McDevitt says. "It was the catalyst to the program that we now have in place." That program "checks for drugs, we monitor head injuries and we monitor cardiac health. We are doing everything we possibly can to make sure these men and women are healthy."
And to set it up, in 2006, with McDevitt's recommendation, WWE turned to another Pittsburgher: Joseph Maroon, UPMC's director of neurosurgery.
Tag-Teaming
When McDevitt first introduced Maroon to Linda McMahon, the neurosurgeon admits he "did wonder, quite frankly, what this was all about. Because I had no background in it whatsoever."
But Maroon, who has also served on the NFL's head-injury committee and is the Pittsburgh Steelers' team neurosurgeon, soon saw an opportunity.
"I spent my entire career trying to fix the cars after they were already broken," he says. But working with WWE was a "chance to institute preventative measures. ... And I truly believe that this is the best preventative medical program I have ever seen in sports."
Among other innovations, Maroon and colleague Dr. Mark Lovell had developed a head-injury evaluation tool called ImPACT (Immediate Post-Concussion Assessment and Cognitive Testing). The system is used in the NFL and on athletes from the high school level on up. ImPACT is a visual test: Images flash on a computer screen and measures memory and reaction time. That data is compared to a baseline test taken when the athlete is healthy. That test is just one part of an extensive drug-testing regimen and wellness program.
During the Sept. 20 edition of Monday Night Raw, the results were on display, although just outside camera range. City Paper was granted access to a large locker room on the bottom floor of Indianapolis' Conseco Fieldhouse, where WWE had set up a traveling training room/examination room/medical testing center. Some of the industry's biggest stars -- Jon Cena, The Undertaker and Randy Orton -- walked in and out, getting ankles taped and muscles stretched.
"We travel with a full complement of medical equipment which is, for all intents and purposes, a mini-emergency room," says Dr. Christopher Amman, WWE's senior ringside physician. Before the health and wellness policy was established, WWE hired a local doctor in each city that hosted an event. But Amman, the former doctor for the U.S. Women's Olympic soccer team, now travels with the athletes and deals with all of their injuries -- from bumps and bruises to concussions and broken bones.
"One of the most important things [in medicine] is continuity of care and knowing the patients," says Amman. "[H]aving a full-time physician who knows these guys and can follow them on a continual basis made more sense."
Stephen Farelly, a tall, pale, red-headed Irishman who performs under the name Sheamus, has first-hand knowledge of the program. During a Feb. 23 match, Farelly suffered a concussion when his head bounced off the ring mat. He was in the middle of a big storyline and was supposed to headline a match the next evening on live television.
"I was pretty much knocked out," Farelly recalls. The doctor "didn't let me out of his sight. He even had someone stay with me that night to keep an eye on me."
The next day Farelly took Maroon's ImPACT test ... and was told that until he recovered, he was out of action.
"It was in my best interest professionally to be on television that night," he says. "But they kept me off until I not only passed the ImPACT test, but a cardio test as well to see how your body responds to the stress. Some other group might have said, 'Ah, go ahead and go.'"
This program -- and a similar one offered by the WWE's companion Smackdown series -- doesn't come cheap. WWE spends roughly $3 million every year, says McDevitt. That pays for ringside care as well as annual exams.
And the money gets results.
Take Hassan Hamin Assad, who performs under the name MVP. During his annual screening, doctors discovered he had a rare and potentially dangerous heart condition. "Depending on who you ask, this can be a fatal condition," Assad says -- and "the more active you are, the worse it can be. So I take exception when someone says this program is a sham. It discovered something in me that needed to be fixed."
Maroon also boasts of being proactive in other ways. WWE's roster is "steroid-free," he says. Just one performer -- Carlos "Carlitos" Colon Jr. -- has been released for violating the drug policy this year. Doctors have aggressively reviewed other drugs for potential abuse as well.
Take the muscle relaxant marketed under the name Soma, which was being used by some WWE performers. But earlier this year, the WWE banned Soma use for its performers, although it's a legal drug when prescribed. Aside from its medical uses, Soma is used as a party drug that can make the user high, especially when combined with alcohol and other drugs.
The WWE took that step because it feared Soma was too addictive. "We are testing for medications that are widely used but hold a high degree of risk for abuse," says forensic toxicologist David Black, the CEO of Aegis Labs, which administers WWE drug tests. The WWE, he adds, "wanted to address prescription-drug abuse ... which is now a much bigger problem than illegal drugs."
Black recognizes that athletes may try to game the system, seeking trumped-up prescriptions to feed their addictions. That's why the WWE "monitors what kind of a doctor is prescribing medication, and what kind of clinics are they going [to] to get the drug. ... We [scrutinize] whether the physician they go to use is a legitimate doctor and whether or not the prescription is legitimate."
Maroon also takes credit for trying to reduce brain injuries. A minor-league WWE facility in Florida, he found, was seeing a large number of concussions, he says, "So we went and we added more padding to the mat so it would absorb that kinetic energy when the body hit it.
"We approach this job very aggressively. The performers are the lifeblood of this organization."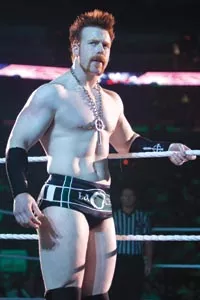 Fake Sport, Real Consequences
Not everyone is impressed.
"The only reason they instituted the wellness program was the high-profile death of Eddie Guerrero," says wrestling author and WWE critic Irvin Muchnick. "That program is a joke. Although they have steroid testing, the contract lab is controlled by the WWE. The decisions on suspensions and other discipline are completely controlled by Vince McMahon."
It's true that the WWE administers its policy internally without outside scrutiny. But that doesn't mean that McMahon calls the shots. McDevitt says WWE pays for the Wellness policy, but it's the doctors and administrators at the drug testing lab that call the shots.
"Vince McMahon has no idea when they're testing these guys and the punishments are set forth clearly in the wellness policy," McDevitt says. "This is handled completely by the doctors and the testing lab. Vince McMahon is left completely out of that loop. Anyone who says differently, just doesn't understand the policy and how it works."
Other major sports leagues like the NBA and the NFL -- which has paid $9.2 million to 123 former players suffering from dementia attributable to their gridiron careers -- also control their own drug-testing mechanisms. And wrestling, McDevitt says, gets a disproportionate share of scrutiny: "People see wrestling as low-brow and they have no problems taking shots at it because it's good fodder for news shows."
Still, some studies have shown that wrestlers face special risks. In 2004, USA Today reported that pro wrestlers have death rates seven times higher than the U.S. average, with wrestlers age 24 to 44 having 12 times the risk of dying from heart disease. "[W]restlers are about 20 times more likely to die before 45 than are pro football players, another profession that's exceptionally hard on the body," the paper reported.
"The number of deaths [in wrestling] -- which paradoxically is fake -- is so much higher than it is in the so-called 'real' sports," Muchnick says. "We need to come to grips that we're facing these deaths in professional wrestling."
Muchnick has written two books faulting the WWE's medical procedures. His gripes got ample airing during Linda McMahon's Senate campaign. "WWE and Linda McMahon created the atmosphere and the working conditions that have caused many, many deaths in the industry," Muchnick told Connecticut television station WTNH in March 2010. "The WWE has what they call a wellness policy and it's a joke."
And he's joined by others who say that while wrestling may be fake, the pressure it puts on performers is very real.
Tragedies do still happen, like the one that took place on June 27, 2007. On that night in a suburb of Atlanta, authorities say WWE wrestler Chris Benoit bound and strangled his wife, then sedated and strangled his young son, Daniel. He then went to his home's weight room and hung himself using a cable from a Nautilus machine. Medical examiners later found high levels of Xanax, hydrocodone and testosterone in Benoit's body.
At the time, Benoit, the former world champion, was one of the industry's top stars, and his father, Michael, says his son was doing whatever it took to stay there. He says his son changed in the final years of his life -- physically and mentally.
"If I look at my son in 2003 and 2004, and then I look at a picture of him in 2007, he was a totally different person," Benoit says. "I thought, 'My God, this guy was abusing.'"
Soon after his son's death, Michael Benoit was approached by Chris Nowinski, a former professional wrestler and Harvard graduate whose career was cut short by concussions. Nowinski had formed a group, the Sports Legacy Institute, which was studying the brains of former athletes to see if they suffered from a condition called Chronic Traumatic Encephalopathy (CTE).
Again, Pittsburgh played a pivotal role: CTE was first identified in 2002, in Pittsburgh, by pathologist Dr. Bennett Omalu. Now a medical examiner in California, Omalu previously worked for then-Allegheny County Coroner Cyril Wecht. (Wecht is a former client of Jerry McDevitt, who successfully defended him against federal charges of misusing his office. In fact, Omalu testified against Wecht in his criminal trial.) Omalu diagnosed the condition in the brain of former Steelers center Mike Webster, who died in September 2002, as well as in other athletes.
CTE involves the release of certain proteins in the brain. These proteins are often found in the brains of elderly dementia patients, but Omalu was finding them in the brains of young, otherwise healthy athletes who engaged in contact sports. Benoit, he says, had a severe case.
"I became interested in the case of Chris Benoit," says Omalu, "because of the suicide that he committed." Omalu had previously spoken out in publications like The New York Times, asserting that CTE could lead victims to commit suicide. He says CTE led former NFL stars Terry Long and Andre Watters to kill themselves, and Benoit's death added to his certainty.
"I'll tell you clearly," says Omalu: "Chris Benoit committed suicide because of CTE. His berserk behavior was caused by CTE. Period."
Muchnick too finds confirmation in Omalu's findings. Omalu has also diagnosed CTE in another wrestler, Andrew Martin, who died at 33 from an accidental overdose of oxycodone in 2009: "They're two for two on finding this in wrestlers," says Muchnick.
"The WWE has been very reactive to what's gone on with these guys over the years," says Michael Benoit. "They did these things after Eddie Guerrero's death and after the death of my son. ... [T]hey've only reacted after the high number of deaths over the years and the bad publicity that's come with it."
As for Maroon, Omalu calls him "a good brand name [who] has high name recognition." But he faults Maroon for not recognizing that repeated concussions can cause abnormal behavior. ImPACT, Omalu says, "quantifies the amount of damage to the brain, but it's not a diagnostic, preventive tool. It's like killing someone and then testing them to see if they're dead."
For his part, Maroon says CTE deserves more study -- something he and a colleague are doing, in fact. But at this stage it's just too early to say what its consequences are.
"Can head injuries in sports lead to chronic brain problems?" asks Maroon. "I've been preaching it my entire career. I treat dozens of kids and concussions in here every week." Still, he adds, "I haven't agreed with some of Dr. Omalu's findings, particularly that CTE definitely causes behavioral issues. Maybe he's upset with some of my opinions about his work."
"It all gets thrown back on us"
Wrestlers interviewed by City Paper lauded WWE's efforts.
Among them is William Regal. When Regal came to WWE in 1999, he had what he calls a "serious addiction to pain pills." Though wrestling was criticized at the time for having slipshod drug-testing, he says, "They figured out in pretty short order that I had a problem and they sent me to rehab.
"I hear the criticisms today and I just try to ignore them," says Regal. "I wouldn't be alive today if it weren't for this company."
WWE boosters say the fact that Regal is clean and still working -- while guys like Cade were removed from the roster after refusing help -- proves the policy is serious.
"If you don't believe this program is for real, go ask the people that don't work here no more," says former Olympic weightlifter Mark Henry, who has been a WWE performer since 1995.
McDevitt notes that since the formation of the company in 1982, "only five wrestlers have died while under contract with the WWE." Along with Guerrero, those wrestlers are Brian Pillman, Russ Haas, Chris Benoit and Owen Hart. Hart died in an infamous ring accident when a stunt went awry and he plummeted to his death during a live pay-per-view event. Haas and Pillman both died of the same heart condition that killed Guerrero. Pillman had documented drug problems and prescription-pill bottles were found near his body when he died. Haas was never linked to drug abuse.
Still, Muchnick points out that McDevitt's list doesn't include wrestlers like Cade, who were no longer with WWE at the time of their death. Says Muchnick: "WWE put Cade through rehab, then fired him again in time for him not to make the official corporate list of five people whose death certificates were signed at a moment when they were under contract."
The official number also doesn't include athletes like Andrew Martin, who died of a drug overdose. Or former WWE wrestlers like: Eddie "Umaga" Fatu, 36 (drug toxicity); Brian "Crush" Adams, 43 (accidental overdose of painkillers); Scott "Bam Bam" Bigelow, 42 (drug toxicity); Ray "Big Bossman" Traylor, 42 (heart attack); Hercules Hernandez, 45 (heart attack); Curt Henning, 44 (drug overdose); Davey Boy Smith, 39 (heart attack); or Rick Rude, 41 (heart attack).
And there's another challenge for wrestlers who leave, or are forced from, the ring, Muchnick says. Wrestlers are classified as independent contractors rather than employees -- even though "[o]nce you sign a WWE contract, you can't go to work anywhere else." WWE officials "tell wrestlers what to say, what to wear, where to be, what time to be [there], what hotels to stay in. They direct their life."
As a result of their independent status, wrestlers can't count on pensions, as athletes in the NFL can (though WWE offers financial counseling to help wrestlers prepare for the day they leave the ring). Nor can employees unionize as athletes in other leagues do, says Joseph Slater, a law professor with the University of Toledo. Their status is more like golfers -- albeit golfers who body-slam each other on the 18th green.
Slater is an avid wrestling fan, but he says that, based on his reading of the law and his understanding of the WWE's operations, "I can't see for the life of me how WWE can have a legally supported position that these people are independent contractors."
Still, Slater says if wrestlers did unionize, work rules might make extensive testing harder to enforce, since the union would have to agree to it. And WWE spokesman Robert Zimmerman says that as independent contractors, performers can negotiate royalty deals when their image or name appears in video games, T-shirts or other merchandise.
"As an employee, if I were in a video, I don't get a cut of that," Zimmerman says. "If you're hurt in the ring WWE pays for all of your treatment and rehab, which is essentially what worker's comp is."
And McDevitt says wrestlers have never been full-time employees. But that doesn't mean the business is the same.
"These guys are paid well for what they do," says McDevitt. In the early years, "You never knew how much money you were going to get at the end of the night from a promoter."
McDevitt also stresses WWE's willingness to stand by its athletes. "We offer to pay for rehab for any individual that ever worked for this company -- even if they were only up here long enough to have a cup of coffee."
But there's no denying that, among the athletes who are drawn to wrestling are those who live on the edge, and are willing to pay a heavy price for fame.
Here too, problems used to be worse, says Olympian-turned-pro Mark Henry. "There was a time when you were leery about whether or not some people were going to even make it to the next town because they were too drunk to drive," he recalls. "If you do that now, you'll be deemed as unreliable. ... There are a lot of guys behind you who are more than willing to take your spot."
"The new superstars are a lot more head-down, business-oriented and fitness-focused," agrees Stephen "Sheamus" Farelly. But "if one former superstar does something, it all gets thrown back on us."
Which is why -- as long as there's a market for watching large men with outsized personalities simulating acts of violence on each other -- Jerry McDevitt knows there's a chance his next phone call will be a painful one.
"Some people," he says, "no matter how hard you try, can't be saved."