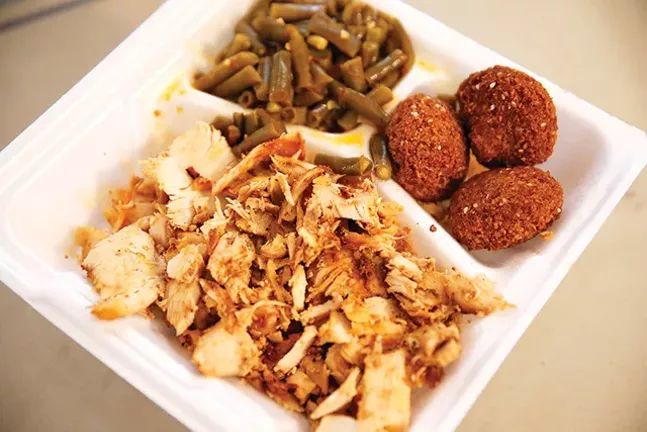 The clock strikes noon. It's your lunch break. You ditch the cubicle and head for Pittsburgh's streets. If you're lucky, lunch provides an actual break. If you're like most of us, lunch is a sprint with precious time eaten up by lines. You shovel food into your mouth as fast as possible, hopefully without choking.
Fast-paced restaurants generally fall into a few categories: subs, tacos, pizza, burgers, delis, and overpriced salads. But there are exceptions.
Madonna's Mediterranean Cuisine in Downtown Pittsburgh is one of those exceptions.
Originally, Madonna's served Mexican food. In 2014, the restaurant reopened with a focus on Greek, Mediterranean, and Middle Eastern food.
The cafeteria-style restaurant on Smithfield Street has a few small tables surrounding the kitchen. The setting is nothing fancy. The walls are colored bright orange. The smell of frying falafel wafts from behind the counter.
I arrived after the lunch rush. The restaurant was buzzing but not flooded with diners. My wait was short, just enough time to study the extensive menu. I settled on the mixed grill entree, with sides of falafel and fattoush, a salad made from cucumbers, tomatoes, parsley, onions, and a tart dressing. I chose a lamb kabob and chicken shawarma, which was doused in a garlic-onion sauce.
Madonna's Mediterranean Cuisine, 408 Smithfield St., Downtown. 412-281-4693
Madonna's puts faith in their food. Nothing is dressed up. It's placed in Styrofoam containers with the stereotypical cafeteria 'flop.' The restaurant is geared towards a 9-to-5 crowd. Fast in, fast out.
The dishes come in large portions, but with a mixed grill, there wasn't too much of one meat. The lamb was cooked to perfection, still pink in the middle but not bloody. When overcooked, lamb can turn into a chewy mess. Madonna's was tender and practically fell apart in my mouth.
The chicken was shredded and loaded with the garlic-onion sauce. Make sure to pack some mints or you'll be breathing garlic all day (your coworkers will thank me). I mixed the sauce and chicken together, which kept the smaller pieces moist and added acid and a slight sweetness to the mild meat.
I was torn between hummus and falafel, but once I saw the falafel sizzling in the kitchen, my decision was made. The falafel was crispy on the outside and fluffy on the inside. Oil seeped through the crust, stopping about millimeter in. The texture was spot-on, not weighed down by grease and bolstered by a slight crunch from the chickpeas.
The meal came with fresh pita, which I used as a hands-on utensil. Piling the falafel, shawarma, lamb, and cucumber tomato salad into one hand, I made my way through the dish.
I do have one qualm with Madonna's: I wanted more sauce. Not to drown other flavors out, but to add another layer. Certain bites, particularly the shawarma, needed a boost.
Despite the lack of sauce, I am sold on Madonna's. It's ideal for a work day. The food isn't heavy and the line moves quickly. I wasn't waiting for 30 minutes in line at Chipotle with the rest of the Downtown lunch crowd.

Favorite Features:
1. Family-Owned and Operated
The family treats you like family. As I ate, I watched the owner chat with regulars and newbies alike. All customers loved him and his welcoming smile never faded.
2. Wall Color

In contemporary decor, bright orange and neon green are not colors often used. Madonna's throws away conventional design and includes walls of both colors in the restaurant. It's quirky and fits in with the unassuming cuisine.
3. Heavenly smells

The minute I opened my Styrofoam box, a wall of aromatic spices hit me in the face. It was the most mouthwatering, unexpected, seductive smell. Without hesitation, I dug my fork in and didn't stop.