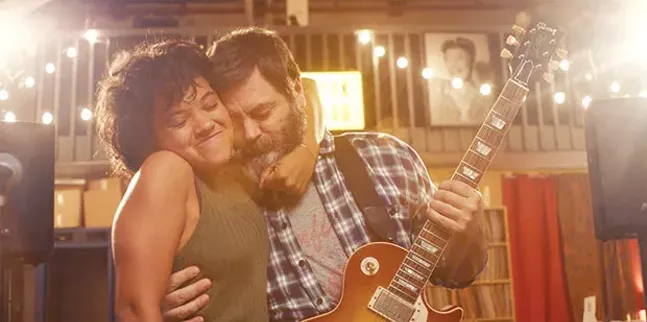 The trailer for indie dramedy Hearts Beat Loud, out Friday, has everything a good trailer should: catchy song, lively montages and enough to pique your interest into watching the full-length feature. But watching the movie feels too much like watching an extended version of the trailer. The entire time, it seems like the real movie is about to start, setting parts in motion for a story that never comes. It's a movie that likes the idea of itself – the aesthetics, the description – but doesn't go deeper than that.
Also, I have a conspiracy theory that it's sponsored by Spotify™.
Frank (Nick Offerman, as the hot dad he was born to play) owns a cool record store in Brooklyn that's going out of business, which makes little sense because record stores are probably thriving more now than when he opened it 17 years ago. His daughter, Sam (Kiersey Clemons), is spending her summer taking pre-med classes before going off to college. But Frank, a former musician, begs Sam to jam with him, like they apparently used to in the old days. She reluctantly gives in, and in one night they end up writing and recording a perfect song. Without telling Sam, Frank uploads it to Spotify™ (a scene that conveniently shows how you, too, can upload music to Spotify™). Soon after, Frank hears "Hearts Beat Loud" at a coffee shop on a Spotify™ indie mix playlist and freaks out, but Sam is less than excited. She wants to focus on school and her new girlfriend, but Frank wants her to postpone her future to be in a band.
The songs they write are genuinely good, and there are a few funny lines that come from Offerman as a doofy dad, but the lukewarm script mostly falls flat, despite the stacked supporting casted. Ted Danson plays a bartender in yet another Cheers callback. Toni Collette's talent is wasted as Frank's cool landlord who kisses him once and then has to accept an Animal Collective vinyl as a gift. Frank's mother, played by Blythe Danner, gets arrested for shoplifting, but that subplot never becomes relevant. It's refreshing for Sam and her girlfriend to depict a sweet black lesbian couple, but that too feels surface-level and incomplete.
The whole movie looks too polished, like you asked suburban parents to describe what Brooklyn looks like. Frank and Sam live in a beautiful, airy apartment with exposed brick, despite their only income being a failing record store. The store is cool, inviting and looks like it could've opened last year. When Frank and Sam play their songs on the store's last day, they do so perfectly despite having never played live before.
Hearts is a little more than an hour and a half, and 10 minutes of that is taken up by them performing three songs all the way through. It's a nice idea of a movie but doesn't use its time or cast wisely.
Plus, do we really wanna trust a movie that is probably sponsored by Spotify™?