It's mostly death on the mind of artist, musician and filmmaker Laurie Anderson in her new film essay, Heart of a Dog. Death and its tributaries, such as memory, grief and moving on. Her work isn't gloomy or depressing, but rather a gentler reminder to give death some consideration.
The film incorporates music, home movies, illustrations, doctored film, spoken word and whatever else catches Anderson's fancy (a painting by Goya, philosophical quotes). One thread concerns the life and death of her rat terrier Lolabelle, rescued from a broken home and well integrated into Anderson's emotional and creative life. (When Lola goes blind, her trainer works with her to learn painting, sculpture and piano.)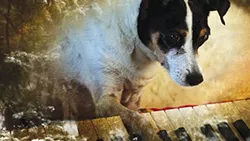 The work isn't specifically about Lola's death, but also the death of Anderson's mother, an artist friend and seemingly many unnamed others. (Anderson's well-known husband, musician Lou Reed, died in 2013. His unmentioned absence hangs over the work, until a moment of resolution late in the film.) Anderson ruminates on what death means, how to process the loss it creates, how to mark its meaning.
The easy emotional bond that people have with their pets is good entry point. We stipulate the mutual devotion between man and beast, so that the loss can be examined without the complications the deaths of humans bring. (Compare Lola's peaceful at-home death with Anderson's mother, expiring in a hospital with words left unsaid.)
Anderson also ruminates on the impact of 9/11 on lower Manhattan (again, without specifically noting the deaths), and the new normals in surveillance the event initiated. She links 9/11 with an episode in which her dog was targeted by a hawk, noting the shift to now fearing death from the sky. She consults with Buddhists and finds solace in the teachings, imaging the spirited Lola traversing the Tibetan bardo. In the end, Anderson likely has no better answers than the rest of us, but decides that "the purpose of death is the release of love."