I left my yoga nidra session at Healing Roots smelling of lavender, tear stains on my face. I was alert and more aware of myself and my place in the world than I was when I entered.
Nidra means sleep in Sanskrit, and yoga nidra is a deep meditative form of yoga. The word yoga is often associated with a full-body exercise, but with yoga nidra, there is little to no movement. Age, gender, or fitness level is not a restriction. All you need to do is follow guided instructions and lie on the floor; the practice can also be completed sitting down.
I went to Healing Roots Massage and Wellness Center in Shadyside to try yoga nidra, which is meant to awaken the connection between body, mind, and soul – like what happens during deep sleep –while you are still awake. One perk of yoga nidra is that there is no wrong way to practice it. It all depends on your mood and what's going on in your life at the moment.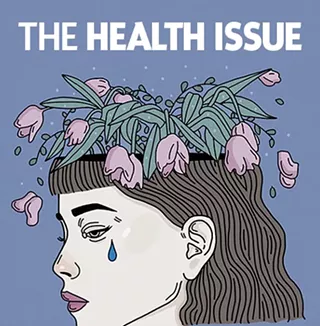 Owner Sarah Sadaka offers a variety of services, including massages, private yoga sessions, and reiki. While I could have chosen something else to try, I was drawn to yoga nidra as the practice is recommended for those experiencing emotional discomfort, difficulty sleeping, anxiety, or depression. Earlier this year, I lost my only sister in a car accident. I carry with me every day a sadness that is deeply instilled in my soul. Yoga nidra offers an opportunity to work on releasing such long-held emotions.
Sadaka led me into a cozy, dark room where blankets were folded on top of a yoga mat. I laid down and she asked if I wanted a blanket on top of me, which I accepted. Music played softly in the background as she put lavender essential oil on her palms and began to lightly massage my head and temples. I had come from work and was acutely aware that I could not relax my eyes – my lids were fluttering like crazy, making me self-conscious. The fact that it was just her and me in a room, with my eyes closed, knowing she was watching me try to relax was a weird feeling to get over. But, as Sadaka's smooth and steady voice guided me through levels of consciousness, I felt myself falling deeper and deeper into relaxation, and my hour-long session flew by. I was aware and present, yet in a completely different state of mind.
Towards the end, I was hit with a wave of happiness, then sadness. Hot tears fell from my eyes. Then the feelings released. In her intoxicatingly sweet voice, Sadaka cooed for me to be aware of the emotions, but not ashamed about feeling either, which is something I have been struggling with – feeling sad because I'm happy, or feeling embarrassed for being sad.
She eased me back into consciousness and took time to talk with me about how I felt. It was the most spiritually healing holistic session I have experienced. My mind wanders too much, and with her voice guiding me, I was able to focus.
On my way home, I could feel myself alternating between happiness and silent sadness. Realizing, as Sadaka said during the session, that both emotions could exist, side by side.