Skull Fest is the kind of event whose guerilla promotion methods peek through the windows of punk coffee shops and record stores. The kind of festival big enough to celebrate its ninth year of existence with four days of shows featuring 60 bands across six venues, but still insular and community-driven enough to offer events that require you to "ask a punk" for the address.
The festival is assembled by a collective of punks whose musical tastes range across the spectrum of metal and punk, offering a lineup that appeals to all of those who harbor a taste for music with an aggressive edge. It began in 2009 with a joint birthday celebration show for founders Dusty Hanna and Jimmy Rose. Since then it's gotten a whole lot larger.
A weekend this chock-full of good music to see and a loving community to be a part of requires planning and preparation. My advice? If you're planning to make it out to a show a night or more, absolutely buy a weekend pass, as it's the best bargain. Drink lots of water, be sure to sleep at least five hours every night, and bring a bunch of earplugs for you and your forgetful friends. Punks don't let punks get tinnitus!
THU., AUG. 17

Kicking off the first night of Skull Fest at Rock Room is a riotous collection of political punk and black metal, featuring the likes of Cleveland punk supergroup MAGIC CITY and the high energy Oi!-afropunk ensemble Black on Black Crimes (BBC). Scalpel brings a grinding black-metal sound, while Baltimore's Syringe burns the system down with its blistering punk sound. Cleveland also represents, with noise and punk blenders Rubber Mate, and Germany, with Kollision.

5 p.m. 1054 Herron Ave., Polish Hill. $12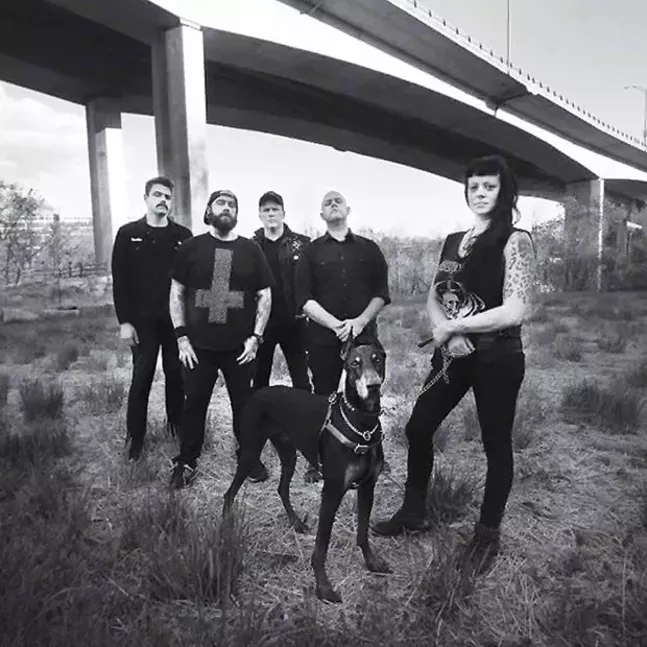 Zip across the Bloomfield Bridge for the second show of the evening, at Brillobox. Crossover punk with thrashy undertones comes by way of Richmond, Va.'s Occultist and Philadelphia's Incisor. You also get to hear some crushing d-beat from Philadelphia's Dronez and Pittsburgh's own Möwer. All of these bands sound like the kind that deliver short sets packed with aggression that make 20 minutes really count, so don't worry about being up too late on a school/work night.
9 p.m. 4104 Penn Ave., Bloomfield. $12
FRI., AUG. 18
Spirit's upstairs hall will be taken over by Doom, a crusty d-beat band formed in the U.K. in 1987, but armed with anti-capitalist and anti-consumer lyrics that you can apply to your own U.S. life. Joining Doom is Siege, an Italian extreme-death-metal band. Cleveland's Fuck You Pay Me oozes thrashy hardcore vibes, while my personal favorite Appalachian Terror Unit crushes with its anarcho-d-beat from the heart of Huntington, W.Va.. Oh, and Pittsburgh crust legends Behind Enemy Lines reunite at this one, no biggie.

6 p.m. 242 51st St., Lawrenceville. $20

This show is for the Oi! enthusiast in your life. The recently reformed mid-'90s street-punk band The Sussed will be on the prowl at the Rock Room for the earlier evening show, joined by Oi! heroes Rixe of Paris, France; The Brass, of Brooklyn; Concrete Elite, of Austin; Rogue Trooper, of Amherst, Mass.; and Pittsburgh's own No Time.

8 p.m. 1054 Herron Ave., Polish Hill. $12
Texas'
Secret Prostitutes
comes out of semi-retirement to bring its garage-laden punk sung mostly in Indonesian to
Belvedere's Ultra-Dive
. Halifax, Nova Scotia, shows up with
Booji Boys
' hard-rock sound, complemented by the noisy punk rock of New York's
Urochromes
. This gig truly thrives with the presence of Pittsburgh punk favorite
Peace Talks The Electric Word Life Band
.
9 p.m. 4026 Butler St., Lawrenceville. $12
SAT., AUG. 19
This all-ages matinee gig is an absolute must for your Skull Fest adventure. It's never too early to start the little ones on punk. Here's the run-down for this gig at Artists Image Resource: Midnight (insanely loud, hardcore punk), Sourvein (North Carolina doom rock), Secret Prostitutes (round two), O.D.D. (doom-driven sludgy noise from Germany), Los Huaycos (Peruvian-American psych-tinged skate-thrash punk from Oakland), Chiller and D.O.G. (both HxC punk from Pittsburgh.)

1 p.m. 518 Foreland St., North Side. $20. All ages.
Start your Saturday-night festivities at Cattivo with another stacked lineup. Enjoy some pizza as you consume the anarcho-punk cabaret of the U.K.'s Omega Tribe; punk from Proletariat, of Massachusetts; and the goth-driven post-punk of The Bellicose Minds, from Portland. The darkwave, post-punk goth train continues with RVA's Shadow Age and Unmaker, Pgh's Silence, Philly's Somninum Mori and Seattle's Arcane. Philly's Alement and California's Life Once Flourished Here crust up the gig.

8 p.m. 146 44th St., Lawrenceville. $20.

If you're feeling like the goth and darkwave presence isn't your thing, the Rock Room will be running a simultaneous show that is far more focused on hardcore. S.H.I.T., of Toronto, surely will elicit some headbanging, while Nova Scotia's Alienation consumes you until you find yourself circle-pitting with the best of 'em. Jump around to Cleveland's Roobydocks and its bouncy punk sound. The hardcore punk of Concealed Blade remains some of my favorite in Pittsburgh because, come on, riffs for days! Digital Octopus takes over post-gig to keep the party going.

9 p.m. 1054 Herron Ave., Polish Hill. $12
SUN., AUG. 20
Limber up for the final day of debauchery at Rock Room, with Savageheads (catchy-as-hell U.K. punk), Urchin (Portland stoner metal), Blood Pressure (HxC punk from Pgh), Extended Hell (Brooklyn HxC punk) and Scavenger O.D. (Pgh trash).

4 p.m. 1054 Herron Ave., Polish Hill. $12
Eat some pierogies in the pit at Gooski's while you watch Die Choking (grind from Philly), Mister Lizard (spastic U.K. grind), Bathe (doom-y metal) and Slaves B.C. (HxC with tinges of black metal and doom).

7 p.m. 3117 Brereton St., Polish Hill. $10.
Closing out the fest at Belvedere's is another performance from the Bellicose Minds, this time with Submachine (hardcore punk), Vastation (death-meets-punk-meets-crust from Portland), Abraxas (Cincinnati HxC punk) and a record-release celebration for Killer of Sheep (Pittsburgh hardcore protest band).

9 p.m. 4026 Butler St., Lawrenceville. $12