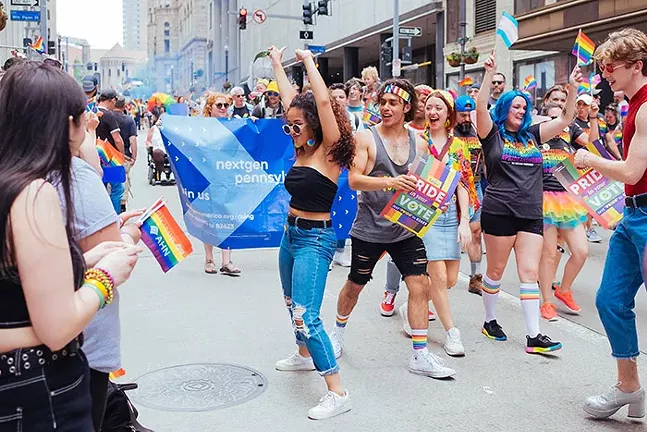 Yesterday, Delta Foundation Board President Gary Van Horn turned himself in on charges of impersonating a law enforcement officer stemming from an April 6 incident in Shadyside.
In response to these charges and upcoming legal action, the
Delta Foundation
, Pittsburgh's largest LGBTQ advocacy organization, announced that Van Horn would be taking a leave of absence from his role as board president. The Delta Foundation organizes the annual
Pittsburgh Pride festival
.
According to a Facebook post, Van Horn offered to take a leave of absence and the board accepted.
Van Horn's lawyer, Phil DiLucente, said of his decision to take a leave of absence from the foundation: "At this junction, we are reviewing all the things that need to be done. That will make this whole matter more bearable for him."
According to a criminal complaint filed by state police, a Pittsburgh police officer noticed that Van Horn's white Ford SUV was equipped with a siren and emergency lights in April near his home in Shadyside. Van Horn was out of the car wearing an emergency vest and directing traffic.
Van Horn told the Emergency Management Authority he was authorized to direct traffic, but police said no one had authorized him to do so. Van Horn then provided police with a signed form, but police later determined Van Horn had forged Allegheny County Sheriff William Mullen's signature, according to the complaint.
DiLucente told
TribLive
that Van Horn is a reserve deputy with the Allegheny County Sheriff, having served 468 hours and was issued a uniform.
DiLucente told
City Paper
he believes the situation will be resolved amicably.
"Gary is a very kind caring and giving man, and after reviewing the police criminal complaint, this is not a characteristic of his conduct," said DiLucente. "We look forward to having his day in court and getting this resolved."
According to
TribLive
, Van Horn was released into the custody of his attorneys, following his municipal court hearing yesterday.