On Monday morning, about a dozen marchers walked down Irvine Avenue in Hazelwood to highlight the lack of safe pedestrian and cyclist access in the neighborhood. Irvine has one sidewalk, and many sections are overgrown, with uneven pavement and parked cars that force pedestrians into the roadway.
Hazelwood resident Connor Sites-Bowen organized the march and wanted to signify that pedestrians and cyclists have rights to safe access in and out of the neighborhood.
"We share our valley with 10,000 cars and 60 trains a day," said Sites-Bowen. "We just want pedestrian- and bike-access for our neighborhood. … If we can't leave our own neighborhood, we are in a prison."
Sites-Bowen called on the owners of
Hazelwood Green
, a new neighborhood development almost fully completed, to open up its streets and paths. Formally called Almono, the development is a 178-ace brownfield. Most of the property, 165 acres, is owned by the Almono Limited Partnership. The remaining 12 acres is owned by the Regional Industrial Development Corporation (RIDC). The area will be Pittsburgh's first
Complete Streets
neighborhood, where cars, bikes, and pedestrians are given equal access. Tenants like Carnegie Mellon University and
Uber
have already committed to moving into Hazelwood Green.
Starting the march, protesters attempted to enter the Hazelwood Green complex, but were denied entry.
According to a press release, a 1.8 mile trail will be constructed through Hazelwood Green, providing bike and pedestrian access from Hazelwood to the Hot Metal Bridge in South Oakland. Construction of the trail will start in September and is expected to be completed in early 2019. Representatives from Hazelwood Green told marchers that a protective canopy underneath a railroad bridge is needed before pedestrians can walk through the site.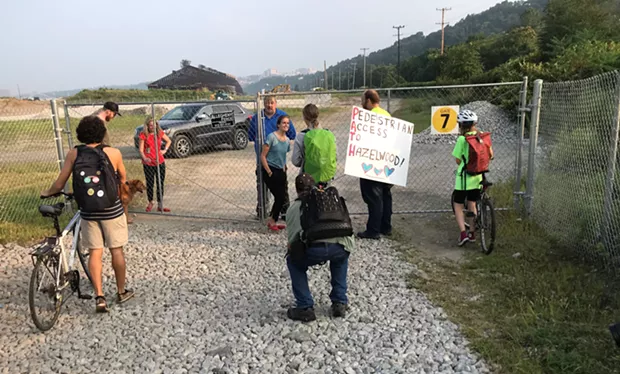 "Once construction is completed, the entire street will be dedicated to [Pittsburgh] for public use to occur in early 2019," said Hazelwood Green Project Director Rebecca Flora in a press release. "This new street and separate cycle path will provide a long-needed direct connection from Hazelwood to other bicycle and pedestrian networks throughout the city. This trail will be a wonderful amenity not only for the site and Hazelwood residents, but for all of Pittsburgh."
State Rep. Jake Wheatley (D-Hill District) marched with the demonstrators and discussed the possibility of making Irvine Avenue "less of a pass-through and more of a pedestrian friendly" road.
"Part of this road is a state road," said Wheatley. "I think we do have a role to play in this, like figuring out what the community wants to happen as a transportation thoroughfare."
Hazelwood resident Christian Williams did not participate in the march but was walking along Irvine Avenue on Monday morning. He said the path can be difficult to navigate at times and that it would be nice to have a clearer walkway. He said sometimes cars will not move to avoid pedestrians, even when pedestrians are forced to enter the road.
He takes the walk regularly, but said it is not safe for everyone, especially children.
"I have never taken this walk with a kid," said Williams. "It wouldn't be safe."