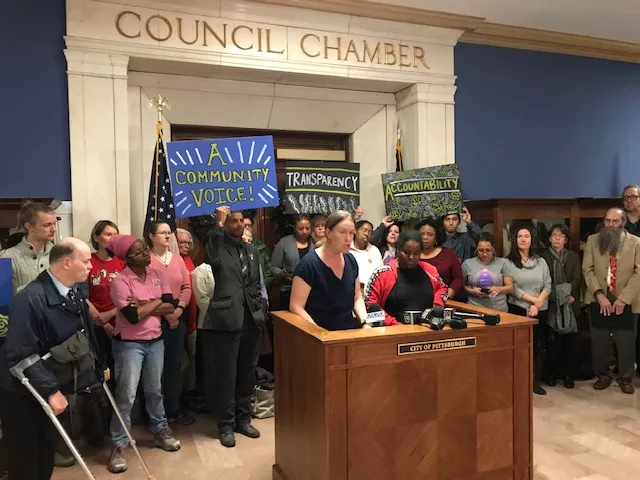 Pittsburgh officials have set aside a considerable amount of money for their proposed project that would ferry passengers from Oakland to Hazelwood with autonomous shuttles.
The
Mon-Oakland Connector
proposes to run small,
driverless shuttles
from North Oakland to Hazelwood through Junction Hollow. The city has already spent millions of dollars on this proposal and plans to spend between $18-23 million, according to Pittsburgh Mayor Bill Peduto's budget proposals. The project would likely also have financial support from local universities and other organizations.
The project has received criticism since it was first introduced a few years ago, and that criticism continues today.
Yesterday, a group of transit advocates and residents of Hazelwood and Greenfield spoke before Pittsburgh City Council to call on them to reject Peduto's budget. Neighbors and advocates asked city council to instead support a plan to improve mobility between Oakland and Hazelwood, as well as other initiatives for their neighborhoods.
"The people in the run, Greenfield, and Hazelwood do not need this road. What we need is flood relief," said Barbara Warwick, a resident of Four-Mile Run in Greenfield during a press conference. "We have won the funding but the city is holding that funding hostage by tying it to this road. What about our neighbors in Hazelwood who don't even have functional sidewalks?"
Residents in Four-Mile Run, a small neighborhood between Oakland and Hazelwood, have
long sought infrastructure changes to help mitigate damage from floods
that occur often in the neighborhood. Some of those funds have come through, but the city wants those projects to be included with the Mon-Oakland Connector proposal.
Teiara Collins, of Hazelwood, was also critical of the Mon-Oakland connector. She said the biggest problems in the neighborhood are inadequate sidewalks and drivers speeding on Second Avenue and Irvine Street.
"I have never heard anyone in Hazelwood complain that there is not a private road to Oakland," said Collins at the press conference before the city council meeting. "Second Avenue needs traffic calming and we need pedestrian infrastructure that works. We have been asking the city to fix these problems for years."
Several parts of Irvine Street, which becomes Second Avenue,
lack any sidewalks
.
Both Collins and Warwick were participating in a press conference organized by the Economic Justice Circle. This coalition included immigrant groups, affordable housing activists, and those advocating for police accountability.
The two were also backing a plan put forth recently by transit advocacy group
Pittsburghers for Public Transit
(PPT). The group believes that the city could subsidize the Port Authority of Allegheny County to help boost bus service in between Hazelwood and Oakland.
"We need more Port Authority buses," said Collins, pointing out that the 93 bus that runs from Hazelwood through Oakland only runs on weekdays. "If you are sick, you have to take two buses to get to the hospitals in Oakland. Instead of the Mon-Oakland Connector, the city should use the $16 million toward our needs."
Pittsburgh officials have argued that the Mon-Oakland Connector would better
serve the area
than more city buses.
PPT is also calling for the extension of the 75 bus line across the Hot Metal Bridge into Hazelwood, bus stops with benches and shelters, and traffic signal priority for buses on Hot Metal Bridge and Birmingham Bridge, as well as electric buses.
The transit advocates are also hoping the city will reallocate money for the
Mon-Oakland Connector
to sidewalk improvements, street lighting upgrades, and traffic-calming design throughout the Oakland-Hazelwood corridor. PPT requested bike infrastructure improvements as well, like a seamless connection between Hazelwood Green and the Eliza Furnace Trail, and to extend the Junction Hollow Trail to Carnegie Mellon University.
There were about 40 people at the press conference asking city council to reject Peduto's budget proposal (a $608 million operating budget and $110 million capital budget)
The Economic Justice Circle held the press conference before the city council to push back against Peduto's proposed budget. The coalition was focused on ensuring the city budget was transparent in how it expected to provide equity to all city residents.
Affordable housing advocate Ronell Guy decried the budget for trying to cut the city's investment in housing.
"We want to get behind the city, but we cannot tell if they care about affordability," said Guy. "We cannot tell if they care about equity."
Dan Gilman, Peduto's chief of staff, told the
Pittsburgh Post-Gazette
that the city has created the Housing Opportunity Fund and worked with the Housing Authority of the City of Pittsburgh on affordable homes in the Hill District, East Liberty, and Larimer during Peduto's tenure.
According to
WESA
, during the council meeting that followed the press conference, Councilor
Erika Strassburger
(D-Shadyside) said she was working with Councilor Corey O'Connor (D-Squirrel Hill) to address the mobility concerns raised by residents of the neighborhoods potentially affected by the Mon-Oakland Connector.