Lauren Fisher stands 5 feet 4 inches tall and weighs 119 pounds. Beneath the bright lights of the gym, her face and black headgear glisten from Vaseline and sweat. In the opposing corner stands Johnny Harmon, a lanky 135-pounder who earned two technical knockouts at recent Pittsburgh Golden Gloves matches. The top of Fisher's headgear barely reaches the bottom of his chin.
But Fisher didn't get here -- a gym in Indiana, Pa. -- by backing down. The two trade blows, their gloves thudding and smacking off headgear, torsos, sometimes faces. Fisher's jabs and crosses are sharp, fast. But Harmon closes in, delivering a flurry of punches at her face. Fisher jams her gloved fists to the side of her temples to cover -- until she spots an opening. She lashes out, and nails his chin with a jab.
"There you go, baby!" assistant coach Mike Donatelli yells from Fisher's corner. "Make him pay!"
Boxing is all about paying a price. Every punch Fisher throws, every calorie she ingests and almost every breath she takes is directed toward a single goal: earning a spot on the very first U.S. women's Olympic boxing team for 2012 -- the first year the sport is being offered.
Although she's boxed competitively for just a year, her credentials already include a Police Athletic League national title in her weight class. And her coaches insist she will be a contender.
She's fought for something that big before, but it was when her identity -- not a title belt or medal -- lay on the line.
The sparring match with Harmon concludes; he takes a seat on a wooden bench. Fisher, though, stays in the ring, taking on another challenger: Adam Littlejohn, 185 pounds and a two-time state champion runner-up.
Harmon and Littlejohn admit they don't hit Fisher as hard as they would a male competitor. When they spar with women, they focus more on technique and blocking.
But as Harmon says, "Everybody takes Lauren seriously."
It's not as if Fisher grew up with a calling to such a gritty vocation. At first, she thought her future lay in the fashion industry.
Fisher, 23, grew up the youngest of three children in suburban New Jersey, just across a bridge from Philadelphia. Her father, Neal, is a printer; her mother, Robin, a social worker. Together, they raised their children in a strict Baptist household. Growing up, Fisher says, her weekends usually consisted of spending time with her family and going to the movies. Her mother, who could make evening gowns from scratch, taught her how to knit and sew.
Fisher has modeled in runway competitions in Pittsburgh and tried out for America's Next Top Model and Survivor. A headshot from her not-too-distant modeling days shows her sporting blue, dangling earrings, lip gloss, and layers of light blue and green eye shadow.
Even today, "I can wear a pair of heels like a supermodel," Fisher boasts. "And that's not bullshit."
But her father was a strong influence as well: He has two black belts in Tang Soo Do and was a track athlete, and encouraged his children to become athletes. Lauren took up basketball and track, earning a pair of scholarships to Indiana University of Pennsylvania, where she intended to study fashion.
When she headed off to IUP in 2004, Fisher appeared a reflection of her parents in most ways: using the athletic discipline instilled by her father to pursue career interests sparked by her mother. She dreamed of becoming a celebrity stylist, involved in the industry like the fashionistas on Ugly Betty, her favorite television show.
But trouble lay ahead, and the first sign came in early 2007, when Fisher quit IUP's basketball team because of tensions with the coach.
"I was really upset about it," says Neal Fisher. "It was partially because she had a scholarship and track scholarship and between the two of them they were helping her pay [for school]."
"I felt like it was time for me to start making my own decisions," Lauren explains -- though she knew the decision was "heartbreaking for him because I didn't talk to him about it [first]." Basketball had been her "first love," she says.
But it had been supplanted by another love -- one much harder for Fisher's parents, and at times herself, to understand.
Those feelings were kindled when she met Siarra Cornelius, a native of North East, Pa., when Cornelius visited IUP as a basketball prospect. Fisher, a first-year student, was a recruiter at the time.
"I fell in love with her as soon as I saw her," Cornelius recalls. "She was one of my reasons to come to IUP. I could tell she was different."
Both were dating men before Cornelius' first year on the basketball squad began, but the two women hooked up. That encounter caused Fisher to "freak out," she admits.
"Yeah, I was gay [before Cornelius.] I was in denial," she says of her sexuality. "I suppressed it so much. ... I grew up in a real Christian household. I just did what I was told to do."
Eventually, Fisher and Cornelius reconciled, but Fisher kept the relationship secret from her parents -- though they knew she had quit the team partly because she felt Cornelius wasn't being treated fairly.
Fisher then traveled to Milan, Italy, to study fashion for the summer. There, far from her parents and anything familiar, she realized that she was "more strong willed" than she'd given herself credit for.
"I never thought I had my own mind," she recalls, but in Italy, "I could think whatever I wanted. I wasn't just thinking what everyone else thought."
When Fisher returned to New Jersey at summer's end, it was with a freshly shaven head ... and no interest in hiding her sexuality.
Lauren's parents had begun suspecting she was gay, but having her tell them so was "the worst-case scenario," Neal recalls.
"It was a dark time," he says. "You could see a storm brewing and both sides knew it's time to break out the umbrellas."
Fisher's parents aren't anxious to talk about the arguments that ensued. But when Fisher decided to leave home in a rented car, her father intercepted her at the rental station, which Fisher says eventually led to an ultimatum: Attend a Christian "camp" designed to "cure" people of homosexuality, or leave their home.
"I was like, 'No, I'm not doing that. I have to live my life,'" she recalls. With $300 raised by Cornelius and friends, Fisher rented a car and drove to Pennsylvania. She tried to pick up where she left off, taking classes at IUP, replacing the lost basketball scholarship with income from working a late-night shift at a grocery store -- all while taking classes by day and attending track practice at night.
It couldn't last. Burdened by her work schedule and distraught over her sexuality, Fisher flunked out of school. Her relationship suffered, and her thoughts turned increasingly to suicide. The week before Thanksgiving, when former classmates were preparing to spend time with their families, Fisher intentionally bashed some glass into her head ... and then committed herself to a psychiatric hospital in Westmoreland County.
"I was going through a lot, you know?" Fisher recalls. "Losing your family. Losing everything you had. Being broke. Working all day and night. So yeah, that week, I spent in a mental institution."
But Fisher isn't one to stay down for the count. While the hospitalization gave her a "break from everything," she says, but eventually she chafed at the confinement. With a counseling and a prescription for anti-depression medication, she left the hospital, heading back to Jersey.
And there, she says, "is where my life got interesting."
As far as Fisher might stray from home, she never lost touch with her family. And it was thanks to an uncle that she found her way into the ring.
Her uncle Travis Hollis owns a New Jersey gym where boxers trained, and Fisher joined up and started working out, although just for a short time.
She found a job working at a gay nightclub in Philadelphia. The job required a 10-mile commute by bicycle to the train station, but it brought Fisher into contact with a community of people just like her. She and Cornelius began seeing each other again, traveling across the state for weekend visits.
"We regrouped and just found each other again. I asked her a million times if she was going to be back with me, but she was just real hesitant," Fisher says. "She came to Philly and I was visiting Indiana, going back and forth for maybe two months. ... and after a while I moved back to Indiana."
She set her priorities on finding a gym, and joined the IUP Boxing Club, under head coach Rick Fanella.
"Most people move and look for a job. I looked for boxing," she says.
"My first impression of Lauren? 'Wow. She hits hard without much coaching. She's clearly an athlete,'" Fanella says. "She's special. And she keeps showing up."
Not everyone does. Fanella's gym operates out of a garage-turned-gym on the lowest floor of a house formerly owned by legendary boxer and trainer Johnny Kostas. Three framed images rest on top of the mantle inside. Tilted against the stone wall, paintings of Jesus in a crown of thorns and a group of Marines raising the flag at Iwo Jima flank a purple flag of the U.S. Marine Corps. Equal parts devotion, faith and pain live here.
Boxers come and go: Fanella estimates that "depending on their dedication," anywhere from four to 18 boxers may be training at the gym.
"I've always been kind of tough," Fisher says. "I was like, 'I'm gonna compete. I'm not worried about it.'"
The first time she sparred, Fisher threw up in the ring. But she'd found her calling.
Boxing, she says, "kept me sane. I had been through so much" -- and boxing was something "I could put all my energy in. It put things in perspective to see how hard I had to train and what I had to do to get where I wanted to be.
"I wanted to be the best. I want to be Ali."
Fisher is ranked fifth in the country in the 125-pound weight class. She trains five days a week, sparring with women when she can find them, and guys at least once a week. Having re-enrolled at IUP in 2008, she has since earned her degree in fashion merchandising. She also earned her certificate for personal training, and balances workouts with clients and her job at a restaurant.
In between bouts, she frequents weight rooms on IUP's campus, where she regularly lifts three-quarters of her own body weight. At the Kostas gym, assistant coach Mike Donatelli puts her through his "Spartan-like" training exercises: beating a truck tire with a mallet, for example, or carrying 90-pound logs up the winding, 0.6-mile hill to the gym's door.
"There's a lot of screaming and yelling that goes on in the gym," Donatelli says. 'Name-calling, swearing. It's not for the weak.
"I'd have never guessed that the females in this gym would outdo the guys," he adds. "I've trained girls before -- I don't like it. Boxing is a man's sport: I hate to say it [but] I still believe that. But you have somebody that comes along like Lauren, who proves it can be done, and done with style."
"If you give her an opening, she's going to take advantage of it," Fanella says. "She's kind of like a shark that smells blood."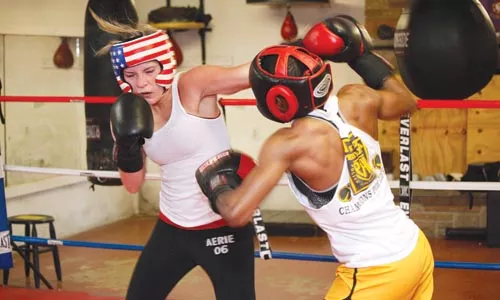 Still, the hardships take their toll. "This isn't orange paint," Fanella says, motioning to a blood-stained sink in the gym's locker room. And the morning after a sparring session -- when Fisher's nose looks crooked, her lip swollen -- it can be hard to imagine that Fisher ever wanted to be a model.
"Chauvinistic or not, men are stronger than women," observes Donatelli. "She gets pushed around and gets roughed up, but she's roughing up also. So when she gets in the ring with another female, there's nobody in this country that's going to push Lauren around."
Except, perhaps Fisher herself.
Currently fighting at 119 pounds, she hopes to drop to 112. She limits her daily calories to 1,200, and plans to reduce it even further, to just a 1,000. (The recommended caloric intake for women is 2,000.) Her one indulgence is a shot of Crown Royal whiskey (97 calories a shot) every night before bed -- to help her sleep.
"When I do something, I want to the best," Fisher says. "My dad's a real competitive person, and I think that's why I am the way I am."
Her father, though, admits that he's struggled to accept this facet of his daughter as well.
"My first reaction to her boxing was, 'I'm not sure this is something I want to see my daughter do, getting your head routed,'" recalls Neal Fisher. Even today, he says, "I haven't seen her face bloody yet. Maybe that's a good thing."
But "[a]fter the third event, I realized she is really gifted at it." And thanks to his own background in martial arts, he and his daughter have common ground again -- something they've sought since Fisher left IUP's basketball team.
Lauren's homosexuality ruptured the relationship, Neal admits. "But we're trying to renew it." And boxing "gave us something to talk about." Fisher's parents watch her fight whenever she's in New Jersey or eastern Pennsylvania. Neal adds: "She's even called me sometimes: 'Remember that girl I fought the other day? What should I do if I had to fight her again?'
"Sometimes I think she just needs to hear that word of encouragement. When you don't have anyone in your corner, it's harder to fight."
For four years now, the steadiest presence in Fisher's corner has been Cornelius -- though she says Fisher is the romantic partner in the relationship. Last Christmas, she recalls, Fisher gave her a white-gold "pre-engagement" ring. Fisher's forearm bears a self-designed tattoo that states "love never fails"; each of Cornelius' feet sports tattoos that include the couple's initials.
The two share a two-bedroom house with a pit-bull, Jinito, and a faded white Everlast heavy bag that hangs in the basement. It swings in front of a blown-up photograph of fitness trainer/television celeb/lesbian Jackie Warner. Add the time spent training, and there's little room for one-on-one time together. Cornelius, who graduated with a degree in marketing, often watches workouts in the Kostas gym, while babysitting for one of the coaches.
"It's pretty much 7 a.m. to 10 p.m.," Cornelius says. "But it's all to get to the Olympics."
"Women are piling into the gyms today, more frequently than ever," notes Wanda Bruce, CEO of Women In Support Together.
Much of the reason, says the Washington, D.C.-based promoter, is the 2012 London games.
This first demonstration of women's boxing will be less elaborate than the men's events. In men's boxing, there are 10 weight divisions; women will have only three -- in the 112-, 132- and 165-pound categories. Even so, Bruce has already held several "Road to London" amateur fights with all-female cards. Two of them included Fisher.
Fisher "always adds flavor to the card," Bruce says. "The way she fights, she fights like a guy. She's very intense."
Fisher isn't the only one with an Olympic dream. Also hoping for a shot is Pittsburgh fighter Tika Hemingway. A member of USA Boxing, she won the U.S. National Championship in the 178-pound weight class, in 2009. And one of Fisher's previous opponents, 27-year-old Christina Cruz, also plans to compete in the 112-pound weight class. The top-ranked Cruz, a Manhattan resident Fisher beat in the Police Athletic League championship in San Antonio in October, recently won her fourth New York Daily News Golden Gloves.
It's not yet clear what criteria boxers will have to meet to qualify for the Olympic team, though the U.S. Olympic Committee plans to set the selection procedure by the end of the year. But there will be only three spots available in each weight class. And even after the Olympic trials are concluded, the women will have to fight internationally in the year leading up to the Olympics -- in which only the world's 36 best fighters will be eligible to compete.
In the meantime, Fisher can only guess about the competition she will face.
The International Boxing Association, which manages boxing at the Olympics, will also hold World Championships later this year. That match, according to spokesman Paul O'Neil, will be the "best indicator of the competitive field for women's Olympic boxing." Until then, though, boxing coaches, promoters and Golden Gloves officials all say the hardest thing about women's boxing is finding women boxers and sparring partners.
"The biggest problem [women boxers] face is numbers," observes Bernard Bruni, executive director of the Pennsylvania Golden Gloves. In fact, he says, of the 1,000 boxers registered in Golden Gloves this year across the Pennsylvania, only 38 are females. It's not clear how many of them will try out for 2012, though as Bruni puts it, "Every boxer dreams of an Olympic spot."
Fisher contends that even if her dream doesn't come true, she won't be disappointed. "If I don't make it, I'll know I tried my best," she says. She has visions of turning pro, and of combining her interest in fashion and boxing by modeling sports apparel.
And already she has helped inspire the dreams of others.
At VYGOR Fitness + Nutrition in Glenshaw, 18-year-old Sarah Newby works out with trainer David Strait. Newby, a senior at Hampton High School and a potential valedictorian at graduation, started boxing just last fall. But she already has her sights on the Golden Gloves women tournament in Miami in June. There's no ring at VYGOR, but Newby and Strait, himself an amateur boxer, train nightly in a mirrored workout room with hanging heavy bags.
They train for three-minute rounds, an hour at a clip, with one-minute breaks in between. It's a grueling pace, but Newby, a bouncy blonde and former lacrosse player, grinds through it. When not training with Strait, Newby jumps ropes, lifts weights and runs five miles a day.
"People think it's worse than it is," she says. "Don't get me wrong: You get hit in the face. But it's fun."
Newby fought her first exhibition in March, against a 16-year-old from North Allegheny. The Golden Gloves tournament is the biggest thing on her mind right now, though she hopes to pursue the sport into college. And in her bedroom, for motivation, is a clipped-out article from IUP's alumni magazine, on Lauren Fisher.
Bruce, the fight promoter, says adding women's boxing to the Olympics is a long-overdue step toward gender equality. But it also means women will be fighting not just for the gold, but for respect as well.
"They have to fight like hell, and show great talent. They have to grab the audience," Bruce explains. "Because if we go to the Olympics and it's a bunch of crap, then the first thing they're going to say is, 'This is why we don't have women in the Olympics.'"
Fisher is also frustrated with the disparity in the men's and women's sports. But she's up to the challenge of knocking down a few stereotypes along with her opponents.
"She's no joke," observes her father, Neal. "When I think of her, I think of Ali and him saying, 'I shocked the world. I shocked the world!' I'm waiting for Lauren to shock the world."