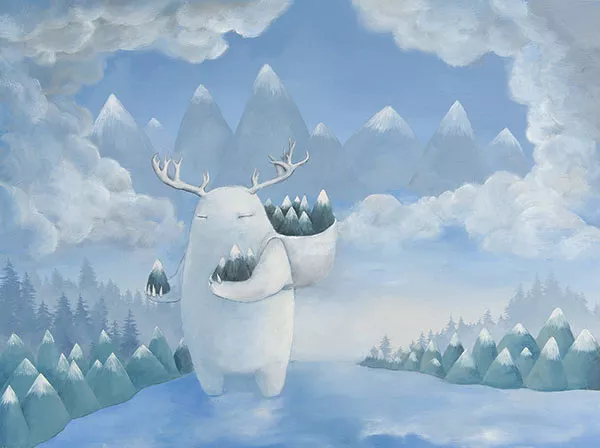 Ancient Gods & Hidden Worlds: Allegorical Paintings by Hannah Grace Clark offers entrance into a land of magic and enchantment, an exploration of nature as the guardian of nature, rich with comfort and fierce with love.
Using muted blues, soft lilacs and subdued greens, Pittsburgh-based Clark leads us into lush forests dense with pines and tranquil lakes embraced by mountains, all populated by creatures with hearts as colossal as their frames. Monumental bears stand submerged in placid ponds, the tops of their heads rising out of the water as miniature islands, their limbs beneath coddling docile whales. A giant tortoise lumbers through a village (bearing a remarkable likeness to the South Side Slopes) of cottages, trees and staircases, his shell bearing a handful of residents. An antlered creature cradles baby mountains lightly within curled talons.
It's a collection of gentle giants, stoic guardians and centered watchers. While there's always a seemingly capable or at least caring protector, with it is the implied need for one. That suggests a threat. But no menace, whether from within or without, is ever apparent. At the edges of the forests, no armies lurk, and no monsters spring forth from the depths of lakes. The beasts themselves are absent ill intent, as Clark avoids the artistic trend of spiking the sweet with toxins. She declines to place a hint of froth at the corner of a smile, or to corrupt a doe eye with a mad glint.
In most of these works, the eyes of the animals are closed, heads bent slightly forward and down, visages blank of readable expression. As viewer, one could hang a mantle of melancholy on the shoulders of these placid behemoths as easily as crown them with a halo of serenity. But if upon entering the gallery one begins viewing the exhibit on the left, and travels clockwise (suggested for the flow of narrative), the final piece, "I Have Loved the Stars Too Fondly to Be Fearful of the Night" offers assurance with beauty and absolute joy. Amid a stand of spindly, leafless trees, the round moon high above, a bear and deer hold lanterns glowing a luminescent gold. The sense of peaceful contentment is palpable and contagious, sending viewers on their way filled with its goodness.