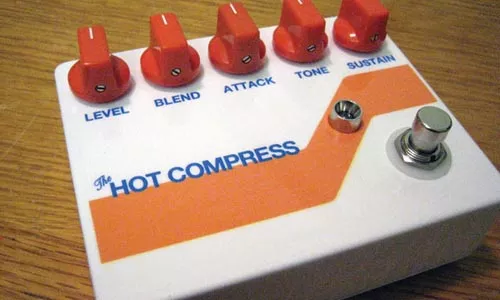 Trevor Baker began experimenting with music gear in 2007, squeezed between his day job and his accomplished indie-pop group, Good Night, States. Since then, servicing vintage gear and building custom effects and amps has become his main job, under the name TRVR Handwired.
Baker began taking on repair work from local music stores about a year ago, and since late August, he's rented shop space from Lawrenceville music store Backstage Guitars, which itself specializes in boutique gear.
His sensibilities favor old-school elegance, from "the heyday of classic tube-amp design," but with his own sonic and visual aesthetic twists. What you'll notice first are the finish -- custom decals and screen-printing -- and the playfulness. His update to the classic Fuzz Face effects pedal is the "Beard Face," while a bass effect is dubbed "Loud as Shit."
The inside, though, is what counts.
"I source as high-quality parts as I can," Baker says. "Some of the more mass-produced things are using components that are as cheap as possible." Philosophically, too, there's a difference. "It's a human aspect of things," Baker says. "It's not coming out of a factory in China; it's being made by hand in Pittsburgh."
A few local musicians now play Baker's gear, including guitarist Eric Cirelli and The Harlan Twins' James Hart, who wanted an effect that gave his guitar a Lynyrd Skynyrd quality.
"He wanted it to just say 'Skynyrd,' pointing to the knob," Baker says.
Amp-wise, Baker started with the "Little Boy," based on a Fender Deluxe Reverb. Now he's refining a more original design -- the "Trinity," inspired by a Fender Tweed Harvard, but with some Marshall tonal characteristics.
"The gear aspect and playing, for me, are very intertwined," Baker says, although "it's very easy for me to compartmentalize those two aspects of my life." His band Good Night, States has just finished writing material for a new album and is scouting recording locations.
"Ideally," he says, "I'd like there to be a pretty decent balance between making music and making gear."
For more information, visit www.facebook.com/TRVR.handwired.