On a sun-splashed September day, Attila Domos rides endless laps on his hand cycle at the Bud Harris Cycling Track in Highland Park. Like a jockey urging on a thoroughbred racehorse, he pumps the hand pedals, willing himself around a half-mile loop.
This exercises' monotony is occasionally excruciating, but necessary for his quest. Starting at 5 p.m., October 6, Domos will attempt to break the world record for most miles hand-cycled in 24 hours.
"It's totally brutal," says Domos. "After 12 hours, that's when it really gets hard. Your body wants to quit, your brain wants to quit, and they both agree you should quit."
Domos is not a quitter. In 1993, a fall left him paralyzed from the waist down just after his band, Big Bad Wolf, signed a contract with a Cleveland record label. This Squirrel Hill native has since devoted himself to hand-cycling, writing a self-published memoir, Because You Shouldn't Be Afraid to Chase Your Dreams, and releasing solo records.
Two years ago, he unofficially broke the world record (403.8 miles) by 3.9 miles at the Bud Harris loop, but it didn't count because of the track's banked turns. Last year, Domos traveled to Borrego Springs, Calif., for another attempt at the record.
A series of mishaps — including his bike being shipped to a Mexican border town, and a bladder infection — doomed that effort. "Everything went wrong in Borrego Springs," Domos says. "I totally appreciate now how hard it is, whether it's the Pirates, the Penguins, or the Steelers, to go on the road and win. There are so many distractions."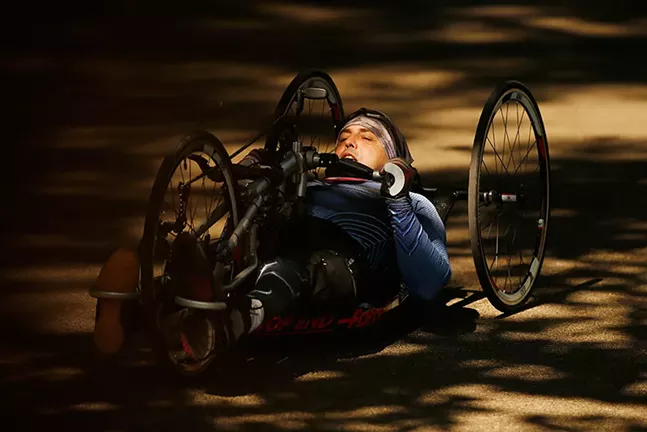 Domos thinks trying to break the record at home will make a difference. With the help of former WTAE news anchor Wendy Bell, he's garnered numerous sponsors. His mechanics and support staff will be on hand. Two film crews will document the attempt. And Uber's test track is the perfect venue to break the record because of its pristine condition and wide left turns (and one right-hand turn) that will make it easy for Domos to maintain his speed.
But according to Kenny Bestine, a member of Domos' support crew and a fellow hand-cyclist, weather conditions — rain or high temperatures will make Domos' task more difficult — are minor considerations compared to the mental stress.
Think about how exhausted one feels after driving 400 miles. Imagine cycling the same distance while attempting to do something no one else has done before. Bestine compares the first pursuit of any world record to jumping into a pool and being shocked by cold water. On a second try, the shock is anticipated, but the adjustment is no easier.
"The first attempt, he gave away a piece of himself, whether he knows it or not," Bestine says. "When he tried it out West, he gave away another piece of himself. He's going to face that mental part of it again. … He's either going to eat the bear, or the bear is going to eat him."
Danny Chew, a legendary Pittsburgh cyclist who twice won the Race Across America, says Domos must average at least 18 mph in order to break the record. He must limit time off the hand cycle to no more than 15 minutes during the entire 24-hour trial or risk losing momentum.
"He has to be able to get through the mental highs and lows," says Chew, who was paralyzed during a freakish bicycle crash in Ohio two years ago. "It's tough to stay awake and he has to work through the tough hours of the night. I think because he's a night owl and he usually doesn't get up until noon, starting at 5 p.m. is a better idea."
For the mental challenge of the race, Chew advises breaking the race into chunks of around 50 miles apiece.
"When I was in the Race Across America, I was just worried about getting to the next state-line border," Chew says. "There were 10 states, so you only do about 300 miles until you get to the border of the next state. Then when you get there, you set a new goal to get out of that state."
It's nearly impossible to train for 24 hours of anything. It's beyond impractical get ready for 24 hours on a hand-cycle. To get to the Bud Harris Track in his low-slung bike, Domos has to dodge potholes, pedestrians, and careless drivers. He's been cursed and laughed at, and worst of all, ignored.
A disaster is one distracted driver away. "I don't rely on anyone to see me," Domos says. "You do that [and] you're asking to get hit, and that's what happens to a lot of bicyclists. But I feel totally safe."
Domos has adjusted his training regimen since Borrego Springs, doing more work with weights. He thinks the "home-track" advantage will be significant. Despite a broken-foot injury form a couple of months ago, his fitness is peaking at the right time.
Bestine is optimistic Domos can achieve his goal. "The fact that he's going to try to do it again, that, to me, means he's ready," Bestine says.
Domos will counteract the inevitable mental fatigue with mathematics. His mind will automatically log the miles and hours: an 18-mph pace will yield 432 miles and a comfortable margin of error; a 17-mph per pace, 408 miles, a mere five-mile cushion. A good start is essential because it will be hard to make up time. Asked how he rates his chances on a scale of 1-10, he answers "11."
"If you want to break a record, you have to jump on it early and hold on for dear life," Domos says, "because you will die as you go along."
Follow featured contributor Rege Behe on Twitter @RegeBehe_exPTR