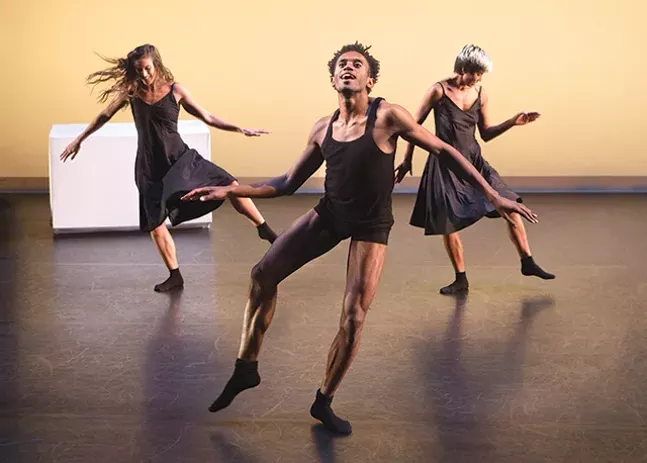 A new dance-theater work, Halfway to Dawn, explores the life of Pittsburgh jazz great Billy Strayhorn.
Written, directed, and choreographed by Los Angeles-based choreographer David Roussève, the piece explores Strayhorn's life and career as an openly gay African-American jazz composer, pianist, lyricist, and arranger. The work, says Roussève, "redefines 'biography' as the intersection of fact, conjecture, comment, abstraction, and fantasy" and will be performed by his dance company REALITY making their Pittsburgh debut, February 1-2 at Strayhorn's namesake Kelly Strayhorn Theater in East Liberty.
Born in Dayton, Ohio, Strayhorn's family relocated to Homewood where he attended Westinghouse High School and went on to become the main arranger/writing partner for Duke Ellington. Strayhorn wrote or co-wrote such jazz standards as "A Train," "Satin Doll," and "Lush Life" and was a major influence on singer Lena Horne's career as well as a friend of Dr. Martin Luther King, Jr.
Co-commissioned by KST, the 90-minute piece was inspired by Roussève's attraction to "unanswerable philosophical questions of life."
"At the core of Strayhorn's life is a dialogue around the very meaning of life, or the nature of legacy. Is life about the genius achievement or about the fame that comes with it?" he says.
In telling the story of "Sweet Pea" or "Strays," as his band mates called him, Roussève says he took a more abstract approach.
"A core question behind the piece was 'how do you capture the truth of a life beyond the mere facts of a life?'" Roussève says. "This meant creating a dialogue around the emotional tones and deeper emotional subtexts of his life and narrative. So text conveying his narrative timeline is video-projected above the heads of the dancers. But the best way to capture the emotional strands of Strayhorn's life was to leave a linear narrative mode and create a dream-like terrain danced to his music … or an interpretation through dance of the bittersweet emotional through lines of his music."
Set to a suite of over a dozen of Strayhorn's compositions compiled by d. Sabela grimes, Halfway to Dawn unfolds in two acts. The first is set in a 1950s jazz club, and the second in Roussève's "dream-like terrain." The cast of eight includes former August Wilson Center Dance Ensemble dancer Raymond Ejiofor and Cleveland-native Dezaré Foster, who like many involved in the piece, had not heard of the unassuming Strayhorn until recently.
"I had only heard of Duke Ellington and not Strayhorn, so this project was quite the learning experience that included reading Strayhorn's biography," says Foster.
She describes Roussève's movement language for Halfway to Dawn as being a mix of jazz, modern, ballroom, and social dance of the era. "The work creates a world that [Strayhorn] may have lived in and explores the struggles and internal battles he may have gone through," says Foster. "We as dancers tell his story through the relationships we portray in it."