Don't let the lack of curb appeal fool you. Gus's Cafe, a low-slung, concrete block building with glass-block windows of the type that usually portend a dive bar, is so much more than it seems.
The vibe inside is a little bit basement, a little bit rock 'n' roll. An online music station surfs from classic rock to '80s hair metal and back, improbably, to The Beatles. Booths and tables, set on a concrete floor, are brightly spot-lit amid walls adorned with black chalkboard paint, upon which beer lists, nightly specials and upcoming events are inscribed. (Gus's also offers a vape menu.) A couple of TV screens, some paintings by local artists, and a black-and-white cartoon mural complete the decor.
The mural depicts members of owner George Haritos' family hanging out in front of the Harris Grill, on Ellsworth Avenue; the family operated the Shadyside eatery for 60 years and sold it in 2003. Gus's is named after Konstantinos "Gus" Haritos, the family patriarch, who opened the Harris Grill in 1951. The younger Haritos has taken his family's tried-and-true bar-and-grill concept and updated it for Pittsburgh's current ground zero of hip, Lawrenceville.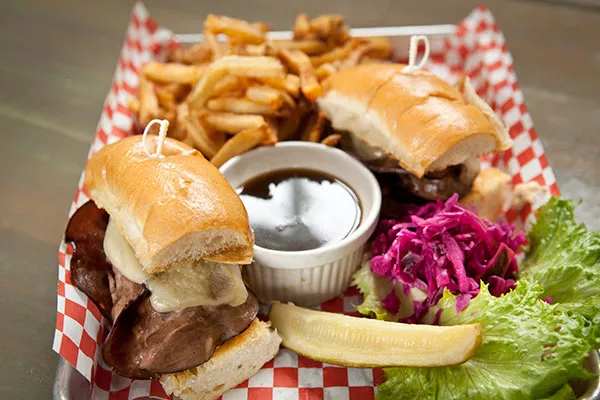 And among current trends is the desire for gluten-free dining. After debuting with a 100 percent gluten-free menu, Haritos has since added burgers and dogs on wheat-flour buns. But gluten-free options remain a focus of the menu, which seems designed not only to feed gluten abstainers well, but to open the minds of gluten-adherents. Of course, most beer isn't gluten free, but Gus's full bar offers plenty of gluten-free cocktails to go with those "tachos" — tater tots served nacho-style — and gluten-free beer-battered fries.
Tortilla chips don't typically feature gluten, but Gus's sidesteps the issue with its innovative tachos, in which a tray of tater tots is drizzled with "spicy" house-made cheddar sauce, jalapeño salsa and diced tomatoes. Unfortunately, this great idea suffered from lackluster execution. The fried tater nuggets were nice and crispy, but the cheddar sauce lacked spice or sharpness, the salsa was bland, and the late-winter tomatoes were about as sad as they come. 
Gus's also had an alternate approach to wings, serving enormous whole wings instead of the traditional segments separated at the joint. Traditional wings get enough crunch from the fryer to withstand thick saucing, but these were char-grilled for flavor and had plenty of plump meat that fell off the bone. We didn't take advantage, but since Gus's wings can be ordered by the piece, one could sample the extensive sauce menu one wing at a time.
Hormone- and antibiotic-free "burgh'ers" and "dogz" make up the bulk of the menu, some served on pretty good regular buns, some on gluten-free substitutes like waffles or English muffins. Angelique sampled the latter option with her Mexican-style "Jalapeño Salsa Muffin" burger, but ended up extracting the burger and leaving most of the bun; it was nearly flavorless and quickly became heavy with absorbed juices from the burger, lacking the airy yet crusty texture that is essential to English muffins. 
The burger itself, made with local grass-fed beef, was a solid contender, however. We liked that Gus's recognizes that one size does not fit all as far as patties are concerned. Some of the signature burgers weigh in at a quarter pound, others double that, and either way, the kitchen got the cooking right, leaving a little pink in the middle. Jason's was French-dip style, with roast beef on top, tons of provolone and a side of jus, and it was brilliant. The double beef really worked, slightly distinct flavors and textures building on each other, while the jus — made "on the spot," according to our server — was exceptional.
A bahn mi hot dog was topped with tangy pickled carrot and red onion, strips of jalapeño and sweet red-pepper aioli. It was balanced and complex, with the wiener butterflied for ease of eating. Beer batter was not really in evidence on the fries, but despite not being browned much, their flavor and texture were good.
A dessert plate of gluten-free waffles dusted with powdered sugar tasted slightly (and oddly) of malt, but as a vehicle for Nutella (or chocolate, caramel or maple syrup), the waffles' texture was perfectly acceptable.
Come warm weather, dining outdoors on Gus's appealing side patio will enhance the enjoyment of all its offerings, gluten-free or not.