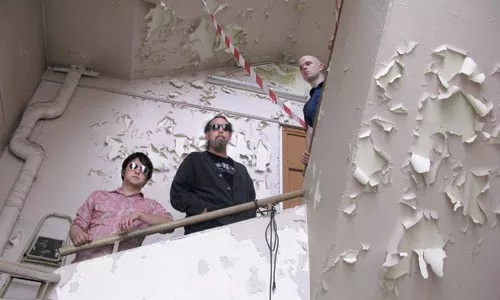 Despite their often-worldly creations, many "world musicians" seldom leave the confines of the recording studio. The casual click of a button now affords them virtual voyage far beyond; mining for nuggets of influence online, they dig around exotic locales where they'd never dare drink from the local well. Sir Richard Bishop drinks the waters -- as well as the musical customs and daily rituals -- native to the last hidden corners of the world.
Across three decades, he has approached experimental guitar as a vehicle for circumnavigating the globe to absorb, and always record, folk traditions purveyed by some of the least famous musicians on the planet. Bishop's new experimental power trio Rangda, which bears the name of an ancient, temperamental Javanese demon queen, is a banshee force to be reckoned with.
In 1979, Bishop and his brother Alan set out from Arizona alongside percussionist Charles Gocher in the seminal "ethno-freak" trio, Sun City Girls. Their slew of cassette-only releases spread like wildfire throughout the 1980s tape-trading circuit and established their rather shadowy artisanship.
Soon, there were more tours and, of course, never-ending travel arrangements for three questing nomads to trek through Africa and the Middle East and visit remote stretches of Southeast Asia. From its early experimentations (available in limited pressings) to some of its later trad-folk leanings, the band always projected every psychedelic pixel of its eclectic influences, its sound morphing in harmony with each detour from the studio.
Eventually, however, channeling inspirations just wasn't enough for the guys in Sun City Girls. So, in 2003, they founded a preservationist label, Sublime Frequencies, dedicated to offering Western releases of various ethnographic recordings and forgotten chart-toppers. Albums like Princess Nicotine: Folk and Pop Music of Myanmar (Burma) Vol. 1 and 1970's Algerian Proto-Rai Underground have since liberated otherworldly music to let it resonate with (our) foreign ears.
Gaining traction within certain orbits of outsider art, the trio recycled its revenue to support such musicological explorations. When cancer finally took Gocher's life in 2007, the brothers Bishop dutifully laid Sun City Girls to rest alongside their dearly departed friend. Once the sting of mourning passed, both brothers began pursuing even more exigent means of expression.
While Alan took over operations at Sublime Frequencies and began performing gently aliased material on his own, Richard embarked on a new journey, carrying on as a solo instrumental artist. Not one to forget his American guitar roots along the way, Sir Richard Bishop released his first proper solo recording, Salvador Kali (1998), on John Fahey's Revenant Records. Each subsequent offering refracted a kaleidoscope of moods and textures with sliding focus on different acoustic and electronic elements of the guitar.
Upon recording the sweet, yet sinister While My Guitar Violently Bleeds (Locust Music) in 2007, Bishop signed to Drag City Records. A foray into filmmaking (one of Gocher's passions) the following year spawned God Damn Religion (Locust Music), a hyper-travelogue video-mash of esoteric imagery gleaned from other worlds. Last year's The Freak of Araby (Drag City) marked a return to collaboration for Bishop, who shaped the record's Eastern accents around the nimble stylings of Egypt's beloved '70s guitarist/composer Omar Khorshid.
Enter: Rangda. Bishop's side-winding, totem pole of a career trajectory soon found him entertaining a long-running joke turned pipe-dream with two labelmates, guitarist Ben Chasny (Six Organs of Admittance, Comets on Fire) and decorated percussionist Chris Corsano (Björk, Evan Parker and others).
Rangda's debut, False Flag, twists open with the belligerent noise coils of "Waldorf Hysteria"; from there, this sonic rollercoaster of a record keeps dipping to dangerous depths, and then climbing back toward the clouds. Corsano alights between arrhythmia and wrecking-ball syncopation with a sage feel for the requisite improvisation. Chasny, in turn, lays down thick bricks of riff on "First Family," throwing Bishop's unwieldy wailing into high relief before the feedback fades and a pointillist mirage of "Sarcophagi" drifts into frame. When "Plain of Jars" finally twinkles down the tracks, the ride is over.
But the ride never really ends for Sir Richard Bishop. Music forever his caravan, Bishop travels onward, guitar in hand, just to see what he might hear. The show is presented by frequent CP contributor Manny Thiener.
Rangda with Kohoutek and Tusk Lord Band. 8 p.m. Sun., Sept. 5. Garfield Artworks, 4931 Penn Ave., Garfield. $10 ($12 at the door). All ages. 412-361-2262 or www.garfieldartworks.com