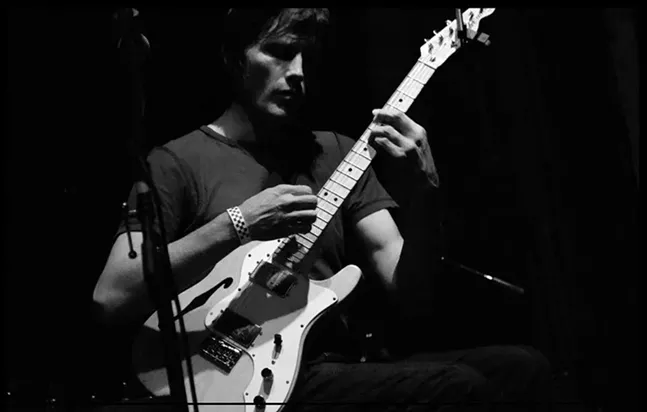 Bill MacKay had gotten a late start to his day. He was traveling by train as he spoke with
City Paper
and things were getting hectic. "Can I call you back in seven minutes?" he asked. The noise was proving to be too much, so we hung up, and in precisely seven minutes, MacKay called back.
MacKay
is hyper-aware of everything going on around him. From the sounds of a busy city to the leaves on a tree, he takes in his surroundings and lets them back out through art. Composing, improvising, playing guitar, MacKay is a creative master and a product of everywhere he's been, specifically, Pittsburgh. He calls the Steel City his spiritual hometown.
"It was really influential, the whole landscape and typology of [Pittsburgh]," says MacKay. "Besides the people and the things that happened, the feeling of that land, it had a strong poetic impression on me as far as art goes, and music."
Sat., Oct.13, MacKay plays a late-night show at
Club Café
in South Side. The next day he plays an afternoon show at Carnegie Library of Pittsburgh in Oakland. Since leaving Pittsburgh, he has rarely been back to perform and hopes to make a tradition out of returning to the city to play and soak up inspiration.
The singer/songwriter/musician was born in Tarrytown, N.Y., but spent some formative years in Pittsburgh during the '80s. He attended both Chartiers Valley High School and Penn Hills High School, before heading to the Berklee College of Music in Boston. His short time in Pittsburgh was pivotal.
"It seemed like it was decades. [Those years] made a big impression on me. Sometimes a lot of things happen during a certain five or six years of your life," said MacKay.
Local jazz guitarist, Eric Susoeff, had an impact on MacKay. Along with Joe Negri or Handyman Negri from
Mister Rogers' Neighborhood
, Susoeff taught the budding musician. Besides helping MacKay with guitar, Susoeff would give tips on how to approach things differently in the music world. He turned MacKay on to new music, brought him to shows, introduced him to people in the Pittsburgh music community, and helped put together and record his demo tape for Berklee.
MacKay really appreciated Susoeff's effort with him. "He'd be like, 'hey, you should check out this act, it would be good for you to hear," said MacKay. "Susoeff was a teacher, mentor, and friend as well. And still is."
He now lives in Chicago, which MacKay says, "is a stimulating place [with] a lot of sensory information in the air [that] infiltrates and impresses itself on you and [will have] things come out of that, if you let that happen." But he misses the energy of Pittsburgh and the different way the leaves change in fall. He misses his teenage hometown.
"Those images and things, that are really potent, they stay with you for a long time. I think [Pittsburgh] is sort of an enigmatic place; it has a lot of mystery to it in a lot of ways. Those things that you're always unraveling, and you never quite get to the end of it, they stick with you."
Also Sun., Oct. 14. 2 p.m. Carnegie Library of Pittsburgh – Main, Oakland. Free. carnegielibrary.org