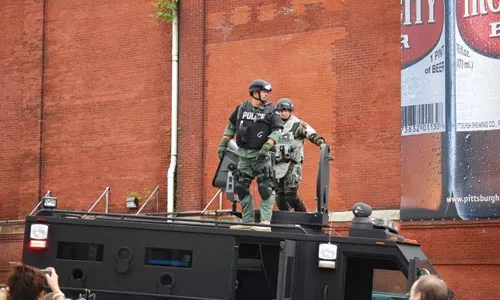 Hype: Over the summer City Paper reported that the city was "looking at a wide range" of new crowd-control tools, including "cutting-edge stuff" like a sonic disruptor -- which uses painful sound waves to disperse crowds.
Reality: Police did use a sonic disruptor, and made some noise about the fact. "City officials said they believed it was the first time the sound cannon had been used publicly," The New York Times reported. The paper also quoted Pittsburgh Police Chief Nate Harper asserting, "Other law enforcement agencies will be watching to see how it was used. It served its purpose well."
Hype: On Sept. 17, the Associated Press reported that when asked to estimate the number of protesters they expect, city officials were "latching onto 10,000 without giving a reason." On Aug. 20, KDKA-TV reported that "there could be a thousand protesters waiting to get in front of a judge" on charges stemming from G-20 protests.
Reality: Police logged just under 200 arrests, more than half stemming from an altercation involving students in Oakland after the summit ended. In a Sept. 28 press conference, Chief Harper estimated that "somewhere possibly around 5,000" protesters actually came. That's one-tenth the estimated turnout at Seattle's 1999 WTO protests.
There were more than 3,000 armed officers in town, and they frequently outnumbered demonstrators. Was that overkill? reporters asked. Public Safety Director Michael Huss replied with a grin: "I liked our odds last week."
Hype: Police officials, media accounts and widely circulated e-mails warned that protesters would use a variety of disturbing tactics -- fecal matter, squirt guns filled with urine -- as well as chaining themselves together with PVC pipe.
Reality: None of these tactics were used. Window-smashing did take place: Police estimated vandalism damages at $50,000: Almost half of that, they contend, was caused by a single out-of-town protester.
Hype: "Pittsburgh could provide ... a historic opportunity to forge the financial framework for a new ... agreement on reducing global greenhouse gas emissions," predicted Pittsburgh Post-Gazette environmental writer Don Hopey, and many others. "The timing is right. The momentum on climate change issues has never been greater."
Reality: Little progress was made on the issue. "With green-minded leaders in the richest countries, the timing seemed right," reported Forbes magazine on Sept. 25. "But the issue seems an afterthought."