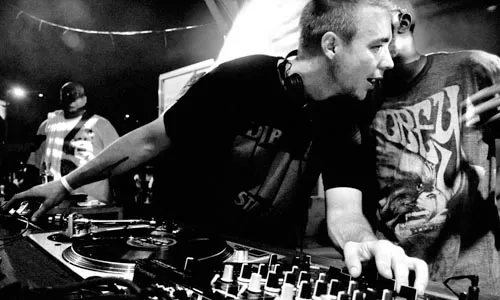 Every music nerd's got a friend like Diplo: You seek him out when you want a new track, an unexpected remix or an early whiff of a global genre that's kicking up some local dust.
Born Thomas Wesley Pentz, Diplo is first and foremost a DJ, but he's also a songwriter, producer, promoter and rad party-thrower. (His personal label's North Philadelphia hideaway, The Mad Decent Mausoleum, has hosted some of the most raging warehouse bashes this side of 1995). Most of all, Diplo's a ringleader of sorts for anyone interested in music that makes you dance first, think later. But think nonetheless.
In an age when production, distribution and consumption have all sped up and collapsed across borders and technologies, being a DJ of Diplo's caliber has nothing to do with spinning dusty 45s for a cluster of cloth-eared already-converts. For the Philly-based dude who never seems to stay for long, everything is about mixing up mobility and stasis, breaking down the barriers across cultures and genres, and bringing the party home.
Diplo's made a name for himself scouring Africa, South Asia and Central and South America for unexpected artists and beats, and making them familiar by re-imagining them into pop, hip-hop and electro sounds. He's worked that magic already with terrorist-chic superstar M.I.A. (though in the past he's perhaps taken too much credit for his ex-G.F.'s success) and with Bonde do Role, a Brazilian baile funk act whose With Lasers was the raunchiest, silliest and most exciting thing of summer '07. He's also remixed everyone from Kanye and Britney to Hot Chip and the Yeah Yeah Yeahs.
Now, Diplo's Mad Decent label is partnering with Downtown Records to release stuff by Philly punk act POPO and London dubstepper Rusko. The move makes sense, as Downtown's already home to some of Diplo's closest collaborators, including Spank Rock, Santigold (note the recent switch from Santogold) and potty-mouthed rapper chick Amanda Blank.
Blank's upcoming debut, I Love You, features production work by Diplo, Switch and XXXChange, and guest appearances from Lykke Li, the Cool Kids and, of course, label-mate and nighttime-soap soundtracker Santigold. Be prepared for Blank's I Love You to become Diplo's latest bragging right when it comes out in July.
Diplo with The Commonwealth Family, DJs Nugget, Cutups and Keeb$. 9 p.m. Thu., April 16. Diesel Club Lounge, 1601 E. Carson St., South Side. $10. 412-431-8800 or www.dieselpgh.com