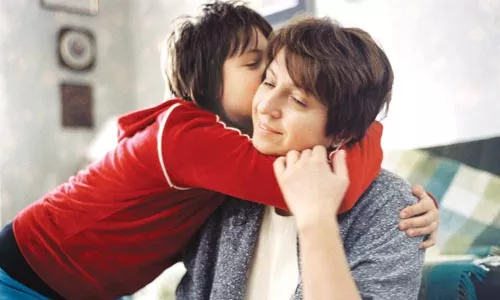 Esma lives a familiar life. A single mother, she works as a waitress and takes sewing jobs on the side. She goes to a support group, where the women cry or giggle nervously or lash out with defensive arrogance. Her 12-year-old tomboy daughter, Sara, gets into a fight at school with a boy who disrespects her.
But Esma (Mirjana Karanovic) and the other women in the group aren't just divorced or widowed. They're casualties of the ethnic wars in the former Yugoslavia. And while their hometown of Sarajevo, all sunshiny and bustling, has begun to recover and prosper, their hearts and souls still bleed from the scars of war and the memories of their dead husbands and fathers.
In Grbavica, 33-year-old writer/director Jasmila Zbanic offers a slice of life about Esma's -- and her country's -- inconceivable challenge of moving on. This would be a Lifetime drama were it not for what we know about their past. Through most of her film, Zbanic keeps the sadness and tragedy well below the surface of what we see, until now and then it casts an ominous breeze, like an approaching storm. Finally it explodes as we knew it would, and just about how we suspected.
Esma's central conflict, at least on the outside, is her need to raise 200 euros for Sara's class trip, which is free for kids whose fathers died in the war -- if they can produce a death certificate. Sara can't because they haven't found his body yet. People in this community bond over remembrances of how their loved ones died: Sara and the boy she punched on the playground reconcile with talk about their dead fathers; Esma's suitor, who looks after his dotty old mother, first approaches Esma with an offer to stroll, and then a story about the day he went to identify his father's body, found in one of the country's myriad mass graves.
"Those who aren't six feet under have run off," Esma's gal pal says when she learns that only 11 of their 41 classmates will attend a reunion. Esma's shady barroom boss observes, ironically, "People loved each other more during the war." These assertions are all very matter-of-fact in Zbanic's coolly bittersweet drama.
This is every bit as grim as it sounds, although there are no unforgivable monsters in Grbavica, except for history, which permeates everything its characters do and say. Zbanic opens her film with her camera gliding over a tapestry, surely a symbol, and then across a room filled with women as a soft voice sings of their shared pain. Her film is an anthem for a nation in recovery, and for a young generation that must find a way to reconcile with a past that won't soon fade away. In Serbo-Croatian, with subtitles.

Starts Fri., May 4. Harris