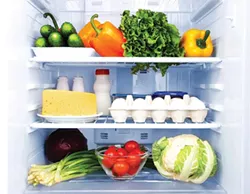 Pittsburgh has a few large-scale initiatives to encourage building-owners to conserve energy and other resources — long-running programs like the Green Building Alliance's 2030 District and Sustainable Pittsburgh's Green Workplace Challenge. But a new, smaller-scale project is attempting something similar by harnessing the power of neighbors.
Grassroots Green Homes intends to help residents of Oakland and Uptown save energy and cut utility bills. Starting in May, "energy coaches" from the nonprofit Conservation Consultants Inc. fanned out through those neighborhoods, distributing fliers and even knocking on doors to encourage residents to join the Energy Challenge.
Each month, participants receive a tool and a tip. The tool might be something as simple as gaskets for electrical outlets to retain cool indoor air in the summer and warm air in winter. Corresponding tip: In summer (if you have air-conditioning), set your thermostat to 78 degrees to cut humidity, and use a ceiling fan to create "wind chill." You'll save energy and feel just as cool.
As of Aug. 10, CCI reported it had signed up 200 participants who'll vie to save the most energy over the course of a year. (CCI's program is an expanded version of an earlier program run by the nonprofit GTECH.) One key is that the challenge's seven energy coaches are all neighbors themselves — people like Uptown's Caroline Roach, who has registered 35 households to participate.
"It takes a lot of footwork," says Roach, a mother of four with a background in community outreach. Not everyone she contacts wants to register, and those who do have different motives, ranging from green consciousness to saving money. "Some people," she adds, "like getting a tool to use." But she says it's definitely beneficial to be a recruiter from the neighborhood. "It's just been good to have that community feel," says Roach.
The competition helps, too. "We're trying to make it fun," says Roach. Incentives include gift cards (starting at $10) for turning in monthly surveys. Overall winners will be tallied after this year's Challenge ends, in April.
The Energy Challenge focuses on small changes that could save homeowners up to 15 percent on their gas and electric bills, says Alison Steele, CCI's manager of community programs and advocacy. That helps the environment, because nearly half of the energy Americans use is for heating and cooling spaces. But participants must stick to it. "It's not just a one-time thing," says Steele. "It's behavior change. It's perception change, and really to build habits and build awareness [about] energy efficiency." Ultimately, CCI hopes to register 500 participants.
Complementing the challenge is CCI's Weatherization Plus program, in which up to 30 qualifying homeowners in Oakland and Uptown will receive a free energy audit and help connecting to resources (like government or utility-company programs) to improve insulation and sealing of their houses.
Like many older homes, Anna Hilliard's lacks much insulation at all; in particular, the attic in her 100-year-old house on Oakland's Terrace Street is freezing, she says. After seeing fliers at her church and the corner café, Hilliard enrolled in both Weatherization Plus and the Energy Challenge.
Steele says work on some Weatherization enrollees' houses might start this fall. Meanwhile, Hilliard keeps collecting Energy Challenge tips and tools. The retiree, who lives with her sister and daughter, admits she hasn't yet used the free refrigerator-coil cleaning brush she received, meant to help fridges run more efficiently by removing dust. But she did follow the tip to make sure her fridge stayed two-thirds full, which helps it run colder.
Hilliard simply loaded in a few water jugs. And she says that although she expected her electric bill to be "sky-high" with this summer's heat, it actually dropped, from more than $100 to $80-some.
She thinks that maybe the extra containers did it, and adds, "If that's the case, I'll put a couple more jugs in!"
On Aug. 27, from 11 a.m.-3 p.m., CCI holds its Grassroots Green Homes Summer Celebration, with the latest tool distribution and food, games and prizes. It's on Flagstaff Hill in Schenley Park, and all are welcome. For more information, see www.ccicenter.org.