It's been six years since Pittsburgh City Paper last spoke with singer, songwriter, and producer Kevin Garrett. Since then, the Point Breeze native opened for X Ambassadors, Alessia Cara, James Bay, and Mumford & Sons, among others, worked on tracks for Banks' III, Rudimental's Toast to Our Differences, and Beyoncé's 2016 Lemonade — the latter of which resulted in a Grammy nomination — and earlier this year, released his first full-length album, Hoax.
So it's safe to say Garrett has a taste of fame. He could have easily left Pittsburgh in the rearview mirror, but his hometown stays close to his heart. Now living in Lawrenceville (although he jokes he has only spent about a month at his place this year), Garrett has always aspired to build up the vibrant music and arts community already in Pittsburgh.
"I think I can speak to a lot of [national] acts that go on tour and say that we don't actually go through Pittsburgh that often," says Garrett. "And as a music fan from here, I missed a lot of acts that never toured in Pittsburgh when I was younger. It was something I was always curious about. ... So now, I'm just trying to be involved in as many ways can I can."
Garrett dreams of opening a club in the city and building up relationships between local businesses, venues, and musicians. Ahead of his Nov. 30 homecoming show at Thunderbird Café & Music Hall — the first time Garrett will set foot in the renovated venue — City Paper chatted about Hoax and his goals for the local music scene.
How have you stayed involved in the Pittsburgh scene over the years?
One thing at a time I guess, starting small by trying to build my audience in Pittsburgh even more and holding small events that hopefully can build into other things. Like earlier this year I put an album out, and had a release show at this store, kind of down the street from my house, called Mello & Sons, and connected that to an after-party at Walter's BBQ, making that sort of two-block span the event space for the evening. I'm doing something similar with this party at Thunderbird.
Trying to incorporate local music and businesses and from there, you can build into things that are truly centered around the music, and utilize the venues that are starting to pop up, like Thunderbird and Roxian. My ultimate goal is to open a club in Pittsburgh one day and help bring talent in that way too.
Speaking of Thunderbird, have you been to the new venue since it has been renovated?
No, I haven't seen the space. I've seen the stage plots as we've been talking back and forth about getting the production ready. But the last time I was in the Thunderbird was when it was the old layout and I was watching probably the usual Chris Parke, Dave Throckmorton group that would play there, at least over the holidays. But once Chris moved out to New York, it became a little more sporadic.
So, will your show be the first time you step into the new Thunderbird?
Yeah, I'm beating out going there. I'm going to see Cautious Clay the week after. I'm excited.
The music scene has been grown considerably in recent years. How does that feel, as someone who grew up here in the mix?
When I first started going to concerts on my own, you saw this decline in venues. There were venues Downtown and some other places that couldn't stay open, I guess. So we lost some stages where you would normally go see even just your friends play.
There's obviously a lot of young people moving here for school and work and so worth, so the creative scene is definitely expanding, it's nice. I know Lawrenceville, I keep talking about my neighborhood, but Lawrenceville was desperate for Thunderbird to reopen and I think having a place like Roxian, where people who wouldn't normally go to [McKees Rocks] to see a concert, helps spread the community out. It's good for the city and I think there's a lot more that could be done to welcome different sized touring acts to the town. I honestly think because the city loves sports so much that those take precedent six days out of the week. There's more work that can be done to really embrace the city as a music town. And then from that point, give more local acts opportunities in front of bigger crowds as more touring acts come through.
My little taste of success that I've had so far has given me the opportunity to connect with other artists much further along than me that could come to Pittsburgh, and that could play, the night before their big show, like a crammed pop-up event at a small club and put a local on that and give them something to build off of because that's how I started. I opened for a guy named James Vincent McMorrow at the Hartwood Acres stage in I think 2012, and he ended up contacting me a few years later when I had put some of my own stuff out. I ended up touring the country with him. It's those kinds of singular moments that are one, good for the city, we all want to see more music, but two, give local artists more of a launchpad to go for it.
You released your first album, Hoax, this year. What has life been like since putting that out?
It's been the same. … No, I'm kidding. [Laughs] I got to do [The Late Show with Stephen Colbert] this year and got to work with a pretty good team at AWAL.
Before the album came out, I was kind of stuck with some people around. We just weren't on the same page. I needed sort of a new framework around my music and worked with a couple different producers on some demos and stuff and finally settled on the album. I mean, I have folders with some songs on the record which have six or seven versions.
It was a weight lifted off my shoulders once the record was done, and after the spring tour, I was kind of eager to just go in and start doing new stuff.
We put out a song called "Factor In" and just wrapped a tour with Banks, which was great.
Was "Factor In" a song that would have made it onto Hoax? Or did you start that after?
"Factor In" never existed until June or July. The one thing that I was curious to pursue with that song, because of how long the album took, I mean I was sitting on some of these songs for six or seven years, I wanted to kind of, not care less, but not be as possessive about every single detail in the song and the process and the release strategy. You know, get something out and see what happens. I think that mindset has given me a new landscape to be creative. [I'm working] with a guy in L.A. who gives me that space to write kind of freely, but because of the way we work together it's kind of expedited, the production and process. We have a system sort of dialed in now that makes making new music sort of doable in a shorter amount of time, so that's been exciting.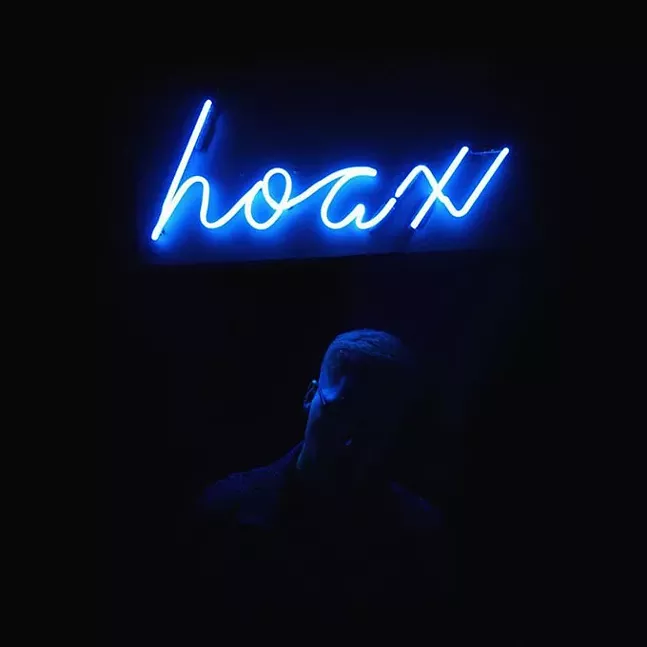 Backtracking a little bit to the talk of old songs, I heard you say on Katie O's Scene Unheard podcast that "Faith You Might" was a written with your old band Noble Hunter. Have you been playing any other songs from those days when you go on tour?
When I tour, especially in Texas and in very specific cities — they always call it out in Austin — there's a song off the first Noble Hunter record called "Jane" that people ask about a lot. I've played it a few times, but I try and keep things separate. I know we're still a few years removed but I think it was a couple years back that the Noble Hunter record turned five. I've been texting the guys to see if maybe in another few years when it's the 10-year anniversary, we could do a thing.
That moment for me was very singular and special, and in terms of performing those songs again, I would want to make it something equally as special and keep the original guys involved.
"With Faith You Might," that was off an album that never came out, so there's certainly some other songs that I really love that I might try repurposing again for another project in the future.
Since Thunderbird is in Lawrenceville and you're coming home after a time away, will you be doing anything special for your Pittsburgh show?
We have some special merch that I'm going to be making. We have a holiday-themed thing, and then we'll be down the street again at Walter's for a little after party thing where we can all indulge in the finest meats. I'll be in the city for a few things going into the pre-Christmas, holiday season. But the night of the show will be a hang at Thunderbird and then a hang down the street at the restaurant.
I might try to do something else that weekend but I'm focusing on putting on a good show. I haven't really played a proper show in Pittsburgh for a while. I think that last time I was on any stage [in the city] I just sang one song with Mumford & Sons at the arena. And the last time I brought the full production was when I was opening for those guys in 2017 at the amphitheater.
But that's pretty much the whole thing in a nutshell, right? There wasn't really a club or venue, something that hits that sweet spot for like Cautious Clay and a lot of friends of mine who are in the same sort of scale as me and [Clay] are. We're hungry for a venue like that in pretty much every city.
I was joking with my band that I've really only been at my place maybe a month? So, it feels like I'm coming home and the holiday thing adds to it. Should be really fun and I'm excited to go through new stuff and old stuff with everyone for the first time in a while.