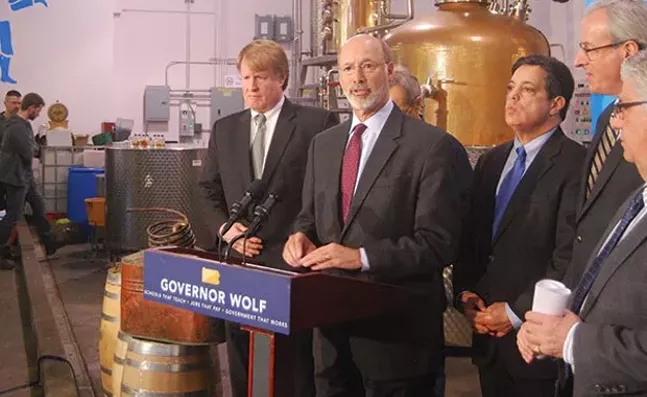 During a
Twitter Q&A
on Wednesday, Pennsylvania Gov. Tom Wolf (D-York) hinted at a change of heart in his stance toward recreational marijuana legalization in the commonwealth.
"I think it is time for Pennsylvania to take a serious and honest look at recreational marijuana," tweeted Wolf in response to a question asking when Pennsylvania would catch up to other states in this regard.
More and more states are successfully implementing marijuana legalization, and we need to keep learning from their efforts. Any change would take legislation. But I think it is time for Pennsylvania to take a serious and honest look at recreational marijuana. https://t.co/LHOmYKzMyp

— Governor Tom Wolf (@GovernorTomWolf) December 19, 2018
California, Washington, and Colorado have dispensaries where anyone can purchase legal marijuana. After a successful ballot initiative,
Michigan legalized marijuana
on Dec. 6. New Jersey's recreational weed bill
cleared committee recently
and is one step closer to becoming law. Delaware isn't far behind.
Before the election in November, Wolf was more sheepish on recreational marijuana, going as far to say in an August interview with KDKA radio that he didn't think "citizens of Pennsylvania are ready for it." He said he was happy with the progress and reforms to the state's medical marijuana program, but
didn't indicate openness to backing recreational use
.
Of course, a poll taken in September 2017 showed that
59 percent
of Pennsylvanians do support recreational marijuana. Advocates like Lt. Gov.-elect John Fetterman (D-Braddock), Auditor General Eugene DePasquale (D-York), and Pittsburgh Mayor
Bill Peduto
have pushed recreational marijuana as a way to bring in hundreds of millions of dollars into state coffers.
Chris Goldstein of marijuana advocacy group Philly NORML takes Wolf's comments as a positive sign for recreational marijuana's prospects in the state.
"It is a big shift in position for Gov. Wolf," says Goldstein. "Previously, he was in the wait-and-see mode. Maybe now he sees that recreational marijuana is a good choice."
Goldstein thinks Wolf's latest statement can be influential in moving others towards supporting recreational marijuana.
"Pennsylvania was kind of this one standout state," says Goldstein. "And everyone was looking at Gov. Wolf's opinion, and that was kind of holding back some progress."9
Pennsylvania state Rep.
Jake Wheatley
(D-Hill District) introduced a recreational legalization bill earlier this year. Goldstein hopes the governor can get behind that or a similar bill.
The Pennsylvania House and Senate are both controlled by Republicans, though less so than before thanks to Democratic victories in the midterm elections. Typically, Republicans are less amenable to marijuana reform than Democrats, but Goldstein told
City Paper
in November he believes there is room for
bipartisan support
.