At around 11 a.m. on Friday morning, Republican gubernatorial candidate Scott Wagner began a Facebook Live video, streaming from the side of a road in York, Pa. He stood under a billboard, next to stacks of checks sitting on a folding chair.


"I'm standing in front of a billboard that Tom Wolf and his Democrat cronies have put up," says Wagner, pointing to the billboard, which reads "Scott Wagner's Penn Waste sued 6,979 Pennsylvanians" and encourages people to go to the website of Penn Waste Alert.

After ranting about the contents of the billboard, Wagner addresses Governor Tom Wolf directly and says, "Between now and November 6, you'd better put a catcher's mask on your face, because I'm gonna stomp all over your face with golf spikes because I'm gonna win this for the state of Pennsylvania."

The video sparked ridicule on social media for the outlandish violence of the threat, as well as the setting in which it was filmed. It's not every day that political candidates yell from the side of the road.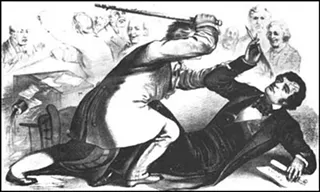 "The bizarre and unhinged manner in which he's speaking … I don't know if I've ever witnessed anything like that in American politics," says Democratic candidate for lieutenant governor and Braddock mayor John Fetterman. "Scott's always been unstable, unkind, now he's just exploded. Who talks like that?"


Andrew Romeo, a spokesman for Wagner's campaign, said in a statement that "Scott's comments were not to be taken literally. He wanted them to be a metaphor for how he will approach the final stretch of the campaign."

<!———————StartFragment———————>Golf spikes are special cleats designed so that a golfer doesn't slip while taking a swing. They only need to be sharp enough to pierce golf turf.

Fetterman added that the billboard to which Wagner's referring has "no association with our campaign whatsoever."


Sponsored by the left-leaning organization Pennsylvania Spotlight, Penn Waste Alert points out business, environmental, and political transgressions made by Penn Waste, the waste management company founded by Wagner in 2000. Neither the billboard nor Penn Waste Alert are sponsored by incumbent Democratic candidate Wolf.
Update: In a notably more toned down video posted Friday evening, Wagner apologized for the comments he made towards Gov. Wolf, stating "I may have chosen a poor metaphor. I have had a poor choice of words. I shouldn't have said what I said. But you know the bottom line is we have a governor who refuses to have town hall meetings."
_