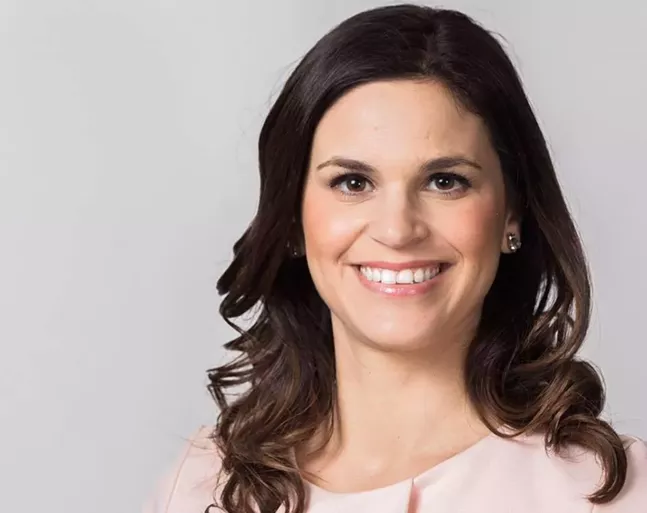 In August,
City Paper
reported state Rep. candidate Natalie Mihalek (R-Upper St. Clair) posed as an
everyday citizen
in an ad for U.S. Rep. Brian Mast (R-Florida). The ad didn't mention Mihalek was seeking elected office as a Republican, or how she has been boosting Pennsylvania Republicans for almost a year.
"As a working mom, I am thrilled with the middle-class tax cut," Mihalek said in the ad.
Mihalek, who is currently facing off against state Rep. candidate Sharon Guidi (D-Peters Township) in Pennsylvania state House District 40, also ran as a Republican for state Senate in 2015.
Pennsylvania Democratic Party spokesperson Brandon Cwalina told
CP
in August that Mihalek is "working for millionaires in Florida, all the while pretending to be something she's not."
It turns out that Mihalek wasn't just posing for one congressional candidate; she actually appears in two dozen ads boosting Republicans throughout the country. The
American Action Network
ads show Mihalek imploring viewers to thank
24 U.S. Reps.
including Brian Fitzpatrick (R-Bucks), Mimi Walters (R-California), Erik Paulsen (R-Minnesota), and Kevin Yoder (R-Kansas).
Hardworking Minnesotans in #MN03 are seeing lower taxes, higher salaries, and expanded benefits. That means families have more financial stability and peace of mind thanks to @RepErikPaulsen's commitment to pro-growth tax reform. pic.twitter.com/iCYDnNRH5n

— American Action Network (@AAN) March 21, 2018
Dennis Roddy of local political consultancy Cold Spark Media spoke on behalf of the Mihalek campaign and said it makes sense the ad was aired in multiple districts, because this is "how advocacy commercials work."
Roddy also said the ad was taped before Mihalek announced her run for state House. "The idea of a Republican candidate speaking for a Republican tax bill hardly strikes me as odd," said Roddy. "Under no circumstances did she present herself as a citizen of any given state; she simply spoke favorably of a bill that affected the entire country and every taxpayer."
But Mihalek's official
campaign Facebook page
has been active since Nov. 15, 2017.
A commenter on her campaign Facebook took issue when she posted the ad on March 6.
"It's really quite disgraceful that this commercial presents you as an average American benefiting from the Trump tax codes when in fact, you're an attorney running for elected Republican office," wrote Facebook user Betty Atlas in response to the ad.
Also on her campaign Facebook page, she announced her support for Republican U.S. Senate candidate Lou Barletta (R-Hazelton) in November 2017. She also wrote in November 2017, "Excited to be amongst the State Committee members who stand behind Senator Wagner!" indicating her support as a Republican Party committee member for Republican gubernatorial candidate Scott Wagner.
According to campaign finance reports, Mihalek's campaign group has accepted $1,000 from Republican state Senator and U.S. Rep. candidate
Guy Reschenthaler
's PAC, $2,500 from former GOP chair Rob Gleason's Great American Pennsylvania Fund, and $5,000 from
Wagner
's PAC.
In January, Mihalek hosted a campaign event for state Rep.
Rick Saccone
(R-Elizabeth), who unsuccessfully ran for Congress and touted the benefits of the tax cuts during his campaign.
American Action Network did not respond to a request for comment on this story.
Cwalina of the PA Dems said "Mihalek can tout the GOP tax scheme all over the country, but no matter where she tries to sell it, it doesn't change the fact that it helps millionaires at the expense of working families."
Mihalek's Democratic opponent,
Sharon Guidi
, said she thinks it was "disingenuous" of Mihalek not to disclose her political affiliation in the ads, but added that "everyone has the right to support the organizations that best fit their beliefs."
Guidi feels that Mihalek's appearance in the ads shows Mihalek "will work to serve these interests and not those of the people of the 40th."
"In contrast, I have taken no money from corporations or out-of-state special interests," said Guidi.
Guidi also took issue with Mihalek not appearing at a scheduled forum for 40th District candidates put on by the League of Women Voters. She was disappointed Mihalek choose not to attend.
Roddy declined to address questions about the LWV forum.
Judy Clack of LWV of Greater Pittsburgh said Mihalek declined to attend today's event. Clack said Mihalek's campaign told her she was too busy knocking on doors to attend, and Clack said she was let down that Mihalek declined.
"This is an open seat, and neither [candidate] is an incumbent," said Clack. "If both people were there to answer our screened questions, their constituents would be there to compare and contrast the candidates."
The forum was canceled because LWV cannot appear partisan if only one candidate commits. Guidi has pledged to hold a town hall in Bethel Park
tonight
, in lieu of the forum.