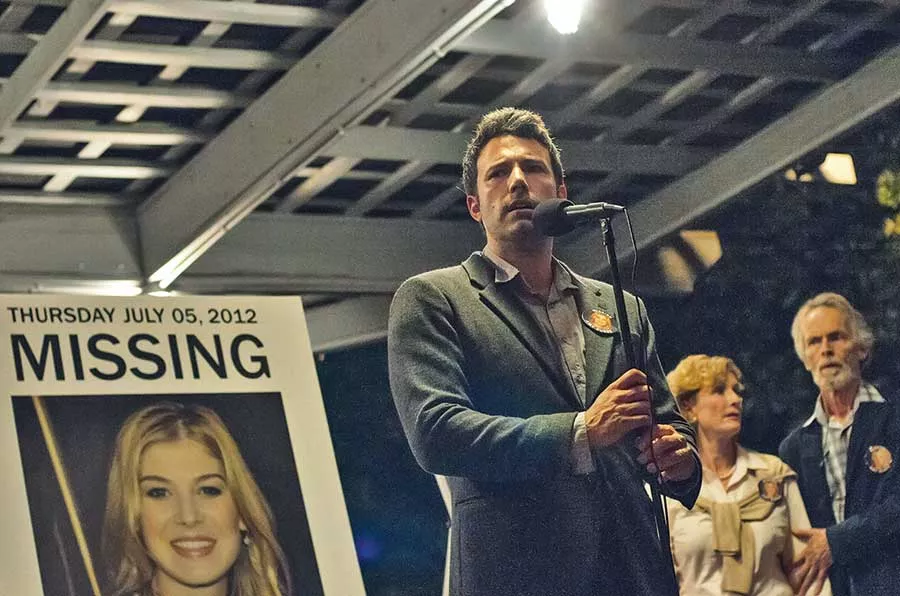 "The primal question of any marriage — what have we done to each other?"
Let's just say few marriages go as epically wrong as that of the Dunnes, once breezy Brooklyn bohos and now grumbling along in a small Missouri town. And on their fifth wedding anniversary — a date formerly marked by playful treasure hunts — Amy Dunne (Rosamund Pike) goes missing and the police are giving her husband Nick (Ben Affleck) the benefit of their suspicions.
The zillions of fans of Gillian Flynn's best-selling novel Gone Girl will be thrilled to learn that David Fincher's movie adaptation is very faithful to the page; Flynn herself penned the screenplay. All the twists and turns are intact, as is the book's dual narrative structure, in which Nick shows us the present and Amy's diary fills in the past.
Conversely, what worked well in print doesn't fare as well acted out on a big shiny screen, leaving Gone Girl the movie a qualified success. Outrageous storytelling — even of the prosaic bad-marriage variety — is easier to digest slowly when sunning lazily by the pool or staying up late compulsively riding another shocking-twist high. But compressed into two-plus hours of wham-bam scenes and play-acted by fine but not great actors, the inherent pulpiness of Gone Girl belies the film's straight-faced seriousness.
Maybe it should have been campier? Its antecedents include the psycho-sexual relationship thrillers of the 1980s (has it really been nearly three decades since Glenn Close hurt that bunny?), as well as that decade's anxiety about status vis-à-vis jobs and houses. ("Want to test your marriage's weak spots?" Amy Dunne asks: "Add one recession and subtract two jobs.")
More recent influences tap the media's round-the-clock obsession with missing blonde women (Missy Pyle portrays what could be charitably called a Nancy Grace caricature) and the importance of "branding" the crime early, whether you're the victim or the suspect.
Director Fincher made his bones directing unnerving dark dramas, such as Se7en, Fight Club and Zodiac — works that thrum with tension and paranoia — but doings here are perfunctory despite Gone Girl's teasing of murder and psychopathology.
That said, book fans should have fun with this read-aloud, as well as the advantage of supplying background information missing from the story's later acts. If you're new to Gone Girl, your enjoyment will likely be plotted on the Continuum of Lifetime Movies which spirals deliriously from Ripped From Real Life And Sort of Meaningful to Insanely Plotted But I Can't Stop Watching. If your tastes lean toward the latter camp — and there's no shame in that — get a ticket to Gone Girl, and get it early before all the plot twists go public.