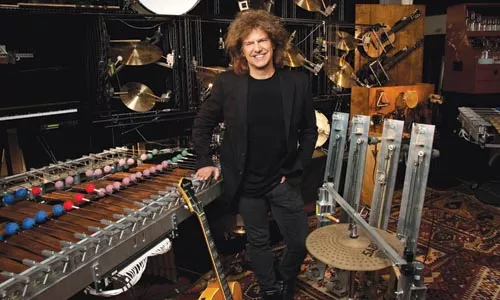 Fusion-guitar virtuoso Pat Metheny is no stranger to unconventional repertoire ... or to advances in music technology. This is the man who plays the 46-string Pikasso guitar, after all. So who better to issue Orchestrion, an album performed entirely by Metheny via a range of robotic instruments?
"Orchestrion" is the name given to early-20th-century mechanical instruments that extended the player-piano concept. The mechanical drum, organ and other music you hear on antique carousels, for example, is furnished by an orchestrion.
Metheny's variant makes use of much higher-tech devices, like the Yamaha Disklavier ... and instruments pioneered by Eric Singer and his colleagues at LEMUR.
"Pat was looking to do a tour like this, backed entirely by automatic, robotic, mechanical instruments, and he found us," says Singer. "He looked at our work, he came out to a bunch of our shows. It didn't take much convincing for him to say, 'Great, here's a list of instruments I want,' and 'How much will it cost?'"
Most of LEMUR's output involves creating entirely new instruments, with the robotics built in. Metheny, though, was seeking mechanical ways to play conventional instruments -- like marimba, vibraphone, orchestra bells, percussion -- by having them retrofitted with robotic controls. Most of that work was done in three months, says Singer. (By contrast, it took him the better part of a year redesigning and building the tour-ready GuitarBot 2.)
In February, Metheny took the "band" on the road for the first leg of the Orchestrion tour, which resumes in October. In concert, he "plays" the instruments directly from his MIDI-equipped guitar, foot pedals and other controls, setting up loops and layers and patterns as he plays.
"With a guitar, pen or keyboard I am able to create a detailed compositional environment or a spontaneously developed improvisation," Metheny writes on his website (www.patmetheny.com, which also features an excellent video introducing the project). "On top of these layers of acoustic sound, I add my conventional electric guitar playing as an improvised component."
Citing his childhood interest in his grandfather's player piano, Metheny writes, "This project is the result of a lifelong dream in this area that dates back to my early youth."
"The feedback on it has been incredibly positive," says Singer -- especially from a jazz audience whose members can be conservative. With the robots, "there's a hook to draw people in, even if they come in with their arms crossed, and say, 'Prove it to me.'"
Few audiences anywhere have seen a high-profile performance by robotic instruments, of course. That's partly why Singer's pleased to have LEMUR robots presented by such a well-known musician.
"There's no one alive who saw the first player piano, but I bet that was an amazing experience," says Singer. "Now at least 50,000 people in the world have seen Pat Metheny, jazz musician, performing with robots. And it works -- not at all as a gimmick, but on a musical level that pushes the boundaries of modern performance."