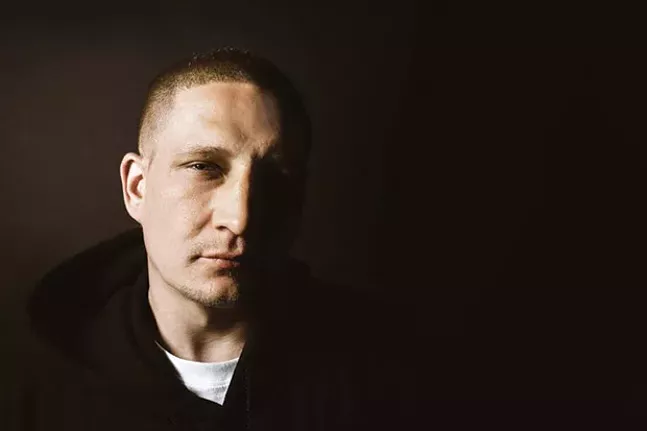 It's not the first time he's been on the Smiling Moose's stage, but on this night, he's the de facto emcee on a bill featuring several other hip-hop artists. A dozen smartphones rise above the crowd to capture the man in the spotlight. "[I] made a lot of sacrifices for this," he says. "We 'bout to turn the f*ck up."
Goest Ryder has been through a lot to get to where he is today. Née Andy Streshenkoff, Goest Ryder went from troubled youth to successful contractor and business owner to drug addict and incarcerated individual.
Now five years out of prison, he's spending his time putting out music and supporting other musicians through his label/collective Lafiosa Enterprise. Lafiosa is an acronym for "Loyalty Amongst Family Is Our Strength Always."
Streshenkoff began writing most of the lyrics to his forthcoming record Goest Stories: The Prologue while he was incarcerated. As a kid he'd freestyle with friends, but he never took it seriously until he was in prison.
"The name Goest Ryder actually came from my passion to ghost write. I never saw myself as an artist, but I'd battle dudes [in prison] and they'd be like, 'You're not a ghost writer you're a ghost rider,' because the shit was hot," explains Streshenkoff.
When he got out, he went into the studio with lyrics, never having put a full song together. Not long after recording some tracks, he found himself opening for Juicy J. And the songs Streshenkoff has written are intensely personal.
"There are so many people that relate to these things — drug addiction, being in juvenile detention, being in prison as an adult, living a blue collar work ethic, growing up in a single parent home," explains Streshenkoff.
But he has no problem writing and performing the vulnerable, honest music he's written. "It's genuine," he explains. "It's all from my own personal experience."
In addition to hustling musically, Streshenkoff is giving back by speaking to troubled youth at the school where he spent some of his teenage years, George Junior Republic, as well as the Shuman Center in Pittsburgh.
"I'm trying to use my position to show these kids that they can accomplish anything in life if they set their mind to it," says Streshenkoff.
"It's good for the kids, and it's good for me. To be at [George Junior] as a child, never thinking I would be here where I'm at right now, and being able to go back — I've been in that position so I know what they're going through mentally, emotionally, being away from home, going through legal problems. It's giving them a glimpse of hope, saying, 'you can achieve anything you want to achieve, be anything you want to be.'"

Check out Goest Ryder's music and upcoming performances at goestryder.com