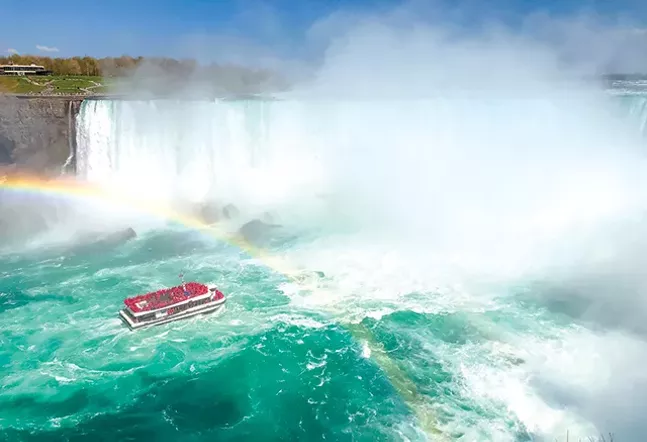 It's safe to say this is a shitty time to be hanging out in the United States. Instead of spending a weekend putzing around Pennsylvania, take a four-hour drive to Niagara Falls. Driving to the Canadian side takes about the same amount of time as staying on the American, but when a coworker says, "What'd you do this weekend?" you can say, "I left the country!" instead of, "I ate chips on my couch."
Located on the Niagara River, Niagara Falls is actually made up of three different falls that spread into both the U.S. and Canada. And, even though leaving the country sounds fancy, the trip can be affordable since staring at nature is free.
Walking along the top of the falls offers a great view and a light misting. Every night, the three waterfalls are illuminated by colorful lights that look not unlike rainbow sherbet. Depending on the schedule, there might even be fireworks.
Those are just the basics for seeing the falls, which are certainly breathtaking, but if you really want the breath robbed from your lungs, then there are plenty of fancier ways to see inside, outside, and behind the falls. There are cruises that go right by the base, heavily misting passengers. Presumably, the boat captain will also be open to impromptu boat marriages, like when Jim and Pam on The Office ditched their real wedding. There are helicopters that fly over the falls, in case a peasant's eye level view isn't enough. There are even ziplines that soar over the water, which is definitely very cool and not scary.
In the surrounding areas, there are plenty of activities that don't involve wearing a protective poncho. The nearby Dufferin Islands include 10 acres of secluded land with trails and bird-feeding stations. The Niagara Parks Botanical Gardens (which are free) are also located nearby and include a butterfly conservatory and a massive clock made of flowers.
After a day of traipsing around, and a meal at Canadian specialties like Rainforest Café and Ruth's Chris Steak House, get a relaxing, and possibly terrifying, night's sleep at one of the several hotels that have rooms overlooking the falls, watching other fools on the zipline.
If you don't want to tuck in early, there are plenty of nighttime activities, like three different escape rooms, three wax museums, a haunted house, a fun house, and something called an Upside Down House, which is exactly what it sounds like.
Vacations are what you make them, and a trip to Niagara Falls can be as natural or kitschy as you like.