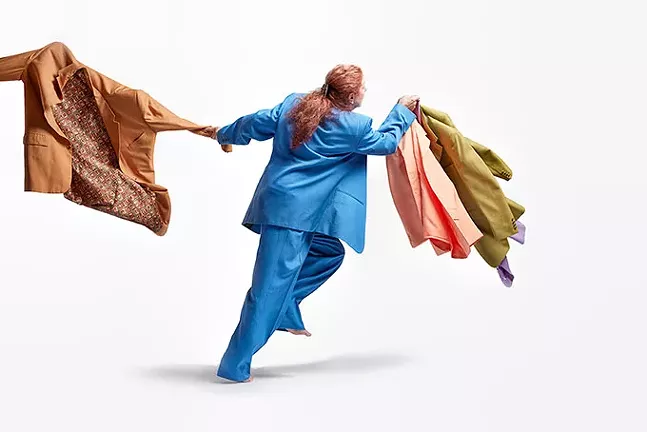 The dance-focused Glue Factory Projects may come off as tongue-in-cheek, as the name draws a parallel between seasoned, mature dancers in a youth-obsessed field and the unfortunate fate of retired racehorses. But after a few minutes of talking with Beth Corning, the creator of Glue Factory and the modern dance theater company CorningWorks, the name makes more sense, as her dark, candid sense of humor shines through.
That quality, she says, will be evident in the next Glue Factory show The World As We Know It, running from Oct. 23-27 at the New Hazlett Theater. In celebration of CorningWorks' 10th anniversary season in Pittsburgh, The World As We Know It will feature six new contemporary solo dance performances by female dancers over 45 years old.
Still, Corning denies any deliberate attempts to elicit laughter.
"For me, my work is not entertainment," says Corning, who once served as the artistic/executive director of the local modern dance company Dance Alloy Theater. "It's got humor and has been talked about as being sardonic and imagistic and cinemagraphic, but I don't think I've ever gone into a work thinking, 'I'm going to make a funny work.'"
This is clear in CorningWorks' description of the show as an "original and bold take on #MeToo and the proverbial glass ceiling." It also fulfills Corning's mission to highlight contemporaries she has always respected, and who have made names for themselves on a national or international level. This goes back to Glue Factory's debut in 2000, when ballerina Bonnie Mathis and classic jazz dancer Danny Buraczeski took the stage at the Theatre de la Jeune Lune in Minneapolis, Minn. The show was consistently sold-out through 2003.
"I thought, 'Oh, well all I need is a bunch of old people and I will sell out,'" says Corning. "Who knew?"
Glue Factory was re-launched in 2010 in Pittsburgh, where, over time, it has featured over 35 performers and collaborators, many new to the city.
​Adding to that list are the women of The World As We Know It: Li Chiao-Ping, Heidi Latsky, Simone Ferro, Charlotte Adams, Endalyn Taylor, and Corning.
"I was very honored when they invited me to be one of the soloists," says Corning, who refers to her fellow dancers as "extraordinary women with extraordinary backgrounds." Collectively, she says, they have over 200 years of experience.
Unlike Glue Factory, she says, shows for younger dancers are more concerned with physical spectacles like huge grand jetés. At one point, Corning felt as though she was using "big, fast, fabulous dance vocabulary" to please younger dancers as opposed to "furthering along a thought" that she had. "That was a huge problem for me," she says.
Projects like Glue Factory allow for the more subtle or, as she puts it, "silent" moments that she believes only dancers of a certain age can achieve.
"I think what has always attracted me to using people who are over 45, and what has continued to attract me to only using this age group primarily, is the nuances available, the layers of life that just exude from their pores," says Corning, adding that most of the performers have spent more time on stage than anywhere else in the world.
Even so, the solos, most of which are choreographed by the performer, come off as bold and exciting – parts of the program contains nudity. A synopsis promises "travelers" clad in clown-like business suits, traversing an "almost [Sisyphean] landscape," all the while "baring bits of their lives, shedding skins, and scars of collective memory."
She adds that the show will also continue her tradition of creating works that, whether she means to or not, wade into political territory. In March 2020, Corning says she will put on her "biggest and most overtly civic work ever created" with the currently-titled Refuge, a show about the refugee crisis made in collaboration with the nonprofit Doctors Without Borders.
She calls Refuge a "catalyst" to explore her "deep concerns about humanity and the world," including how climate change will worsen the crisis and create more political upheaval as countries reject migrants.
Despite the heavy themes and claims that she doesn't do "entertainment," she sees The World As We Know It as an accessible work that will resonate with any audience.
"It's entertaining in the sense that women and men and everybody in between will find bits of themselves in it while also looking at the world from someone else's perspective and seeing how it reflects on your own."