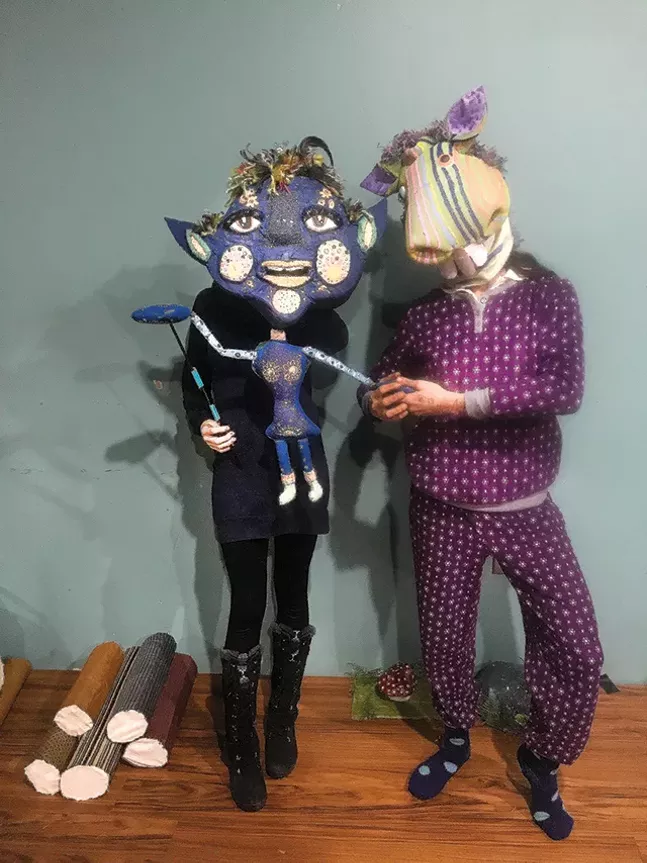 Running The Glitter Box Theater has its perks. If not for the Oakland venue, co-owner and playwright Teresa Martuccio might not have a regular place to stage her incredible, DIY musical productions. Where else could she put on her latest original creation, the dark, magical, feminist romp La Strega?
Set in the Dolomites mountain range of northern Italy, La Strega — which opens on Nov. 30 — follows a witch who lives in the woods with a variety of strange creatures. "A lot of the characters are not human," says Martuccio, adding that she based them on figures from the region's folklore. When the Catholic Church declares war on women and magic, the witch and her forest friends come together to fight for their home.
"Because we don't have a budget, I would always [rehearse] in my house or in a park, then we would get into rental space the day before the show," says Martuccio, who runs Glitter Box with Matt Eaker, Nick Stocks, and her boyfriend, Chris St. Pierre. "Now that we have the Glitter Box it's really nice. We have a whole month to be in there."
La Strega adds to the many imaginative productions from Martuccio, whose previous works include Amelia: The Musical, a revisionist take about how Amelia Earhart faked her death to live as an openly gay woman, and The Soiled Dove, a work based on the true story of Jennie Rogers, a Pittsburgh woman who became a legendary Wild West brothel owner in the late 1800s.
She also wrote Meow!, a musical inspired by the extended disappearance of her own cat (don't worry – the cat returned after 17 days).
"It was about the stages of grieving," says Martuccio, describing how the main character in the story built a rocket and blasted into another dimension, where her cat lives as a dog.
Though the subject matter varies wildly, Martuccio's shows share a few commonalities: They satisfy her obsession with history and her desire to write for women and queer people, and feature fantastical elements like time travel. They're also done on a shoestring budget, with the cast, crew, and musicians all chipping in to make a show happen.
"People who see [my shows] will reach out and say, 'hey if you do a play again I want to be in it,'" says Martuccio.
For La Strega, Martuccio wanted to write about the European witch trials and pay tribute to Italy's Dolomites region, where her mother's family originates. In keeping with the setting, the music, written in collaboration with Jeremy Mikush, takes from the style of Baroque and Italian folk.
Martuccio also drew inspiration from The Night Battles: Witchcraft and Agrarian Cults in the Sixteenth and Seventeenth Centuries, a nonfiction book about the benandanti ("good walkers"). Active in northeastern Italy during the 16th and 17th centuries, the benandanti were powerful men and women believed to have protected the community from malevolent witches. Martuccio even based some parts of the musical on actual church archives in the book.
She also cites the election of Donald Trump as motivation for writing the musical, as his misogynistic behavior and promise to install conservative judges had women throughout the country concerned for their civil and reproductive rights. As a result, the show delves into some heavy subject matter, including abortion and the mass executions of women that happened throughout Europe after Pope Innocent VIII decried witchcraft in 1484.
Even so, Martuccio wanted the show to transcend its bleak origins.
"I realized that it didn't have the most hopeful ending, because I wasn't feeling that hopeful," says Martuccio. "And then I was like, 'we need hope.'"
Though the musical was inspired by events that happened centuries ago, she hopes highlighting that era of women's history will help people make a connection to the horrors still inflicted by the patriarchy. She also wants it to inspire people to produce their own work.
"The fact that we do it without money, maybe someone will see it and think, 'Oh my gosh, I have this story that I want to write,'" she says.