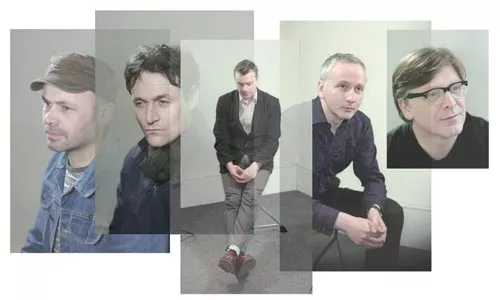 When it comes to pop classicists, you can't do much better than Teenage Fanclub. The Glasgow band formed in 1989 around Norman Blake, Raymond McGinley and Gerald Love, who share singing and songwriting duties. Their combined efforts have tended to ensure a high level of quality across the band's nine studio albums.
Having three songwriters produces a certain diversity of themes and some subtle sonic idiosyncrasy, but they're inspired by similar guitar-pop touchstones, primarily the killer B's -- Byrds, Big Star and Badfinger. Although Blake is usually regarded as the finest writer of the three, all emphasize infectious melodies, bright harmonies and ringing guitars with occasional dollops of Brill Building pop elegance.
Teenage Fanclub never veers far from that template, though its catalog contains moments of Neil Young worship and country-rock experimentation. Indeed, the consistency of the band's sound has sometimes been a point of contention for those less in thrall to that jangle/power-pop style. But it seems a particularly ill-humored complaint given the sterling craftsmanship the group brings to bear.
Arguably its finest album was 1991's Bandwagonesque, its third release, which famously topped Spin's year-end list, ahead of Nirvana's Nevermind, My Bloody Valentine's Loveless and Pearl Jam's Ten. The album sounds like Big Star's triumphant return, from the earnest, head-nodding love paean "What You Do to Me" to the chiming wintry melancholia of "December" and the summery insouciance of "Alcoholiday." The album perhaps teased expectations too much, certainly in America, where Teenage Fanclub would never create a furor to equal it.
However, for sheer quality, the group's latest, Shadows, may be its equal. Following 2005's somewhat disappointing, John McEntire-produced Man-Made, the polished Shadows offers rich sonic sophistication and a wealth of terrific songs. It's a masterful journey from the swooning orchestral sweetness of chamber-pop openers "Sometimes I Don't Need To Believe In Anything" and "Baby Lee," through the moody piano pop of "Dark Clouds," the organ-fueled garage folk of "Shock and Awe" and the woozy country-psych closer, "Today Never Ends."
It's probably too late in the game for Teenage Fanclub to find a bunch of new fans, but those already in the know will feel greatly rewarded by this new disc, and rediscover their love for some of indie-pop's finest stylists.
Teenage Fanclub with The Radar Brothers. 8 p.m. Sun., Oct. 3 (doors at 7 p.m.). Mr. Small's Theatre, 400 Lincoln Ave., Millvale. $20. All ages. 412-821-4447 or www.mrsmalls.com